Travel services stocks have performed well lately, with many leading stocks trading near their highs. The group is benefiting from both rising occupancy at lodging and casino facilities, as well as increases in rates that for the first time are approaching pre-recession levels. The share prices of many stocks in the group have seen multi-fold increases since the 2008/09 recession, as earnings have staged a strong recovery, and in many cases have exceeded pre-recession levels.
Although the global economy continues to be in turmoil, expectations are rising, as are analyst forward year earnings estimates, that operating metrics will be increasingly favorable looking ahead as demand rises for lodging and other travel related services while the supply, especially in the lodging industry, is stagnant due to lower investment since the recession. We believe now maybe a good time to scout for investments in the sector. In this article, via an analysis based on the latest available Q1 institutional 13-F filings, we identify the travel services company stocks that are being accumulated and those being distributed by the world's largest fund managers.
These mega fund managers, such as Fidelity Investments, Goldman Sachs, BlackRock Inc., Vanguard Group, and 22 others, manage between $100 billion and over $1 trillion each, and together control about 40% of the assets invested in the U.S. equity markets. Together, these mega fund managers are bullish on the travel services group, adding a net $854 million in Q1 to their $57.81 billion prior quarter position in the group. However, overall they are still under-weight the group by a factor of 0.6; that is, taken together, the 25 mega funds have invested 0.9% of their assets in the group, slightly more than half of the 1.4% weighting of the travel services group in the overall market (for more general information on these mega funds, please look at the end of the article).
The following are the travel services companies that these mega fund managers are most bullish about (our coverage of the group for the prior quarter can be found here):
Wyndham Worldwide Corp. (NYSE:WYN): WYN is a leading hospitality company that if a franchisor of over 7,200 hotels worldwide under the Wyndham, Super 8, Howard Johnson, Microtel, Days Inn and other brands, and it also offers vacation ownership, rental and exchange services. Mega funds together added a net 8.95 million shares in Q1 to their 38.71 million share prior quarter position in the company, and taken together mega funds held $2.38 billion or 32.7% of the outstanding shares.
The top buyer was mutual fund powerhouse Fidelity Investments, with $555 billion in 13-F assets, that purchased 5.56 million shares. Other large mega fund purchasers included JPMorgan Chase & Co. (1.40 million shares), with $1.4 trillion in assets under management, and the world's largest and most prominent asset manager, Blackrock Inc. (1.29 million shares), with over $3.5 trillion in assets under management. Overall, however, institutional investors were neutral on WYN in Q1, cutting a minor 0.09 million shares from their 133.99 million share prior quarter position.
In its Q1 (March), WYN beat analyst revenue and earnings estimates (60c v/s 55c), and guided FY 2012 EPS higher. Its shares already in a strong rally prior to the report have accelerated upwards, up 32% YTD and up over 15-fold from the trough sub-$4 levels in the depths of the 2008/09 recession. Its gains in fact have far outpaced the average stock in the lodging and gaming group, as represented by the Gaming ETF ($BJK), that is flat YTD and up about 150% from the bottom in 2008/09.
WYN shares currently trade near all-time highs, at 14 forward P/E and 3.6 P/B compared to averages of 29.8 and 4.5 for its peers in the hotels and motels group. Earnings, meanwhile, are projected to rise at a strong 19.4% annual rate from $2.49 in 2011 to $3.55 in 2013. Wall Street analysts too continue to be bullish on the company, with a mean price target of $57, above current prices in the $50 range.
Other travel services companies that mega fund managers are bullish about include:
The following are travel services companies that mega funds are bearish about (see Table):
Wynn Resorts Ltd. (NASDAQ:WYNN), an operator of casinos in Las Vegas and Macau, in which mega funds together cut a net 4.96 million shares from their 27.97 million share prior quarter position in the company;
TripAdvisor Inc. (NASDAQ:TRIP), that is an online travel research company, aggregating reviews and opinions of members about destinations and accommodations such as hotels, resorts, restaurants, vacation packages and travel guides, in which mega funds together cut a net 5.95 million shares from their 40.07 million share prior quarter position in the company; and
Starwood Hotels & Resorts Worldwide (HOT), that is one of the world's largest hotel and leisure companies, primarily operating luxury and upscale full service hotels and resorts under the brand names of St. Regis, The Luxury Collection, W, Westin, Le Meridien, Sheraton, Four Points, Allott and Element, in which mega funds together cut a net 3.69 million shares from their 83.05 million share prior quarter position in the company.
Furthermore, the following are additional travel services companies that are among the top holdings of mega funds in the group (see Table):
Penn National Gaming Inc. (NASDAQ:PENN), that is a diversified gaming and para-mutuel wagering company, in which mega funds together hold 19.50 million or 25.5% of the outstanding shares;
Royal Caribbean Cruises (NYSE:RCL) that operates in the cruise vacation industry in North America and internationally, in which mega funds together hold 28.12 million or 12.9% of the outstanding shares; and
Melco Crown Entertainment (NASDAQ:MPEL), an operator of casinos in Macau, the former Portuguese colony now a part of China, in which mega funds together hold 28.26 million or 5.1% of the outstanding shares.
Table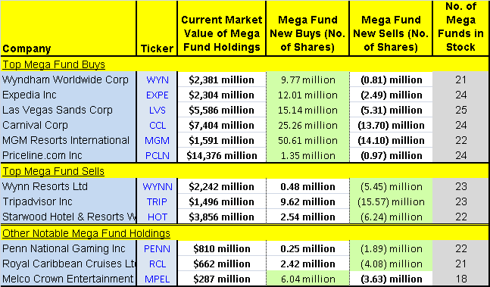 General Methodology and Background Information: The latest available institutional 13-F filings of the largest 25 mega hedge fund and mutual fund managers were analyzed to determine their capital allocation among different industry groupings, and to determine their favorite picks and pans in each group. These mega fund managers number less than one percent of all funds and yet they control almost half of the U.S. equity discretionary fund assets. The argument is that mega institutional investors have the resources and the access to information, knowledge and expertise to conduct extensive due diligence in informing their investment decisions. When mega Institutional Investors invest and maybe even converge on a specific investment idea, the idea deserves consideration for further investigation. The savvy investor may then leverage this information either as a starting point to conduct his own due diligence.
This article is part of a series on institutional holdings in various industry groups and sectors, and other articles in the series for this and prior quarters can be accessed from our author page.
Disclosure: I have no positions in any stocks mentioned, and no plans to initiate any positions within the next 72 hours.
Disclaimer: Material presented here is for informational purposes only. Nothing in this article should be taken as a solicitation to purchase or sell securities. Before buying or selling any stock you should do your own research and reach your own conclusion. Further, these are our 'opinions' and we may be wrong. We may have positions in securities mentioned in this article. You should take this into consideration before acting on any advice given in this article. If this makes you uncomfortable, then do not listen to our thoughts and opinions. The contents of this article do not take into consideration your individual investment objectives so consult with your own financial adviser before making an investment decision. Investing includes certain risks including loss of principal.