The retail sector has staged a strong recovery, with the S&P Retail Index ($RLX) rising to almost three-fold from the bottom of the 2008/09 recession, and up about 15% YTD after just 3% appreciation in 2011. While the global economy continues to be in the doldrums, and the domestic unemployment numbers are still weak, housing is beginning to show less weakness and consumer confidence is slowly rising. Meanwhile, many retailers have staged a strong recovery in earnings growth since the recession, and others are showing improving same-store sales growth.
While it appears that 2012 may not be the year the U.S. economy picks up strongly, the stage may indeed be set for recovery next year, and retail stocks should do well in that scenario. In this article, via an analysis based on the latest available Q1 institutional 13-F filings, we identify the small- and mid-cap retail sector company stocks that are being accumulated and those being distributed by the world's largest fund managers.
These mega fund managers, such as Fidelity Investments, Goldman Sachs (NYSE:GS), BlackRock Inc. (NYSE:BLK), Vanguard Group, and 22 others, manage between $100 billion and over $1 trillion each, and together control about 40% of the assets invested in the U.S. equity markets. Together, these mega fund managers are bullish on the retail group, adding a net $2.77 billion in Q1 to their $352.37 billion prior quarter position in the group. However, overall they are still under-weight the group by a factor of 0.8; that is, taken together, the 25 mega funds have invested 5.2% of their assets in the group, less than the 6.8% weighting of the retail sector in the overall market (for more general information on these mega funds, please look at the end of the article).
The following are the small- and mid-cap retail sector companies that these mega fund managers are most bullish about (our coverage of the group for the prior quarter can be found here):
GNC Holdings Inc. (NYSE:GNC): GNC operates as a specialty retailer of health and wellness products, including vitamins, minerals and other specialty supplements; and sports nutrition, diet and energy products via over 7,600 company-owned and franchise locations in the U.S. and in over 53 other countries worldwide. Mega funds together added a net 4.97 million shares in Q1 to their 21.89 million share prior quarter position in the company, and taken together mega funds held $1.03 billion or 25.2% of the outstanding shares.
The top buyer was Wells Fargo & Co., with $157 billion in 13-F assets, that purchased 2.34 million shares. Other large mega fund purchasers included mutual fund powerhouse Fidelity Investments (1.14 million shares), with $555 billion in 13-F assets, Morgan Stanley (0.69 million shares), with $186 billion in 13-F assets, and diversified financial services provider Ameriprise Financial (0.62 million shares), with $144 billion in 13-F assets. Overall, institutional investors added 5.7 million shares to their 97.2 million share prior quarter position.
GNC shares have rallied strongly, up 140% from its $16 IPO price about fifteen months ago, buoyed by strong revenue and earnings growth, and beating analyst earnings estimates every quarter since its IPO. In its latest Q1 (March), the company beat analyst revenue and earnings estimates (60c v/s 52c), and raised FY 2012 earnings guidance to $2.05 from prior guidance of $1.82. While earnings beat is more of the norm for GNC, it is the same-store sales growth of 15.8% for its domestic company-owned stores, and 18.4% growth for domestic franchise locations that stand out in the Q1 report.
GNC shares currently trade at 15-16 forward P/E and 3.9 P/B compared to averages of 14.5 and 2.7 for its peers in the retail drug stores group. Wall Street analysts are also bullish on the company, putting a mean price target of $46, well above current prices in the $38 range.
Other small- and mid-cap retail sector companies that mega fund managers are bullish about include:
The following are small- and mid-cap retail sector companies that mega funds are bearish about (see Table):
Furthermore, the following are additional small- and mid-cap retail sector companies that are among the top holdings of mega funds in the group (see Table):
Dicks Sporting Goods (NYSE:DKS), a leading sporting goods retailer in the U.S., operating over 470 Dick's Sporting Goods stores and over 80 Golf Galaxy stores, in which mega funds together hold 39.31 million or 33.3% of the outstanding shares;
Green Mountain Coffee Roasters Inc. (NASDAQ:GMCR), probably most famous for its patented single-cup coffee and tea brewing systems for offices and homes sold under the Keurig brand name, a distributor of approximately 200 whole bean and ground coffee selections, cocoa, teas and coffees, in which mega funds together hold 83.11 million or 53.5% of the outstanding shares; and
Supervalu Inc. (NYSE:SVU), the nation's largest supermarket retailer and largest food distributor, in which mega funds together hold 80.74 million or 38.0% of the outstanding shares.
Table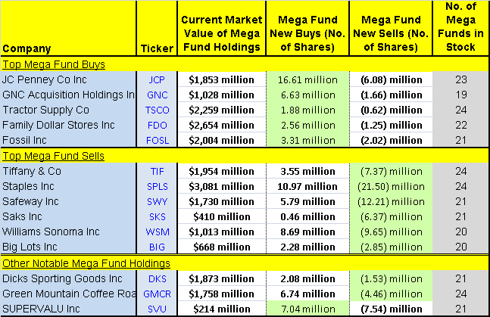 General Methodology and Background Information: The latest available institutional 13-F filings of the largest 25 mega hedge fund and mutual fund managers were analyzed to determine their capital allocation among different industry groupings, and to determine their favorite picks and pans in each group. These mega fund managers number less than one percent of all funds and yet they control almost half of the U.S. equity discretionary fund assets. The argument is that mega institutional investors have the resources and the access to information, knowledge and expertise to conduct extensive due diligence in informing their investment decisions. When mega Institutional Investors invest and maybe even converge on a specific investment idea, the idea deserves consideration for further investigation. The savvy investor may then leverage this information either as a starting point to conduct his own due diligence.
This article is part of a series on institutional holdings in various industry groups and sectors, and other articles in the series for this and prior quarters can be accessed from our author page.
Disclosure: I have no positions in any stocks mentioned, and no plans to initiate any positions within the next 72 hours.
Disclaimer: Material presented here is for informational purposes only. Nothing in this article should be taken as a solicitation to purchase or sell securities. Before buying or selling any stock you should do your own research and reach your own conclusion. Further, these are our 'opinions' and we may be wrong. We may have positions in securities mentioned in this article. You should take this into consideration before acting on any advice given in this article. If this makes you uncomfortable, then do not listen to our thoughts and opinions. The contents of this article do not take into consideration your individual investment objectives so consult with your own financial adviser before making an investment decision. Investing includes certain risks including loss of principal.