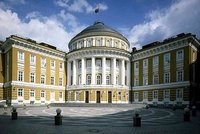 Russia has a strong growing economy and as a BRIC stock, is one of the four horsemen for worldwide investment opportunities, along with the 'B' in BRIC, Brazil, the 'I' in BRIC, India, and the 'C' in BRIC, China. Russian stocks have become so popular that some alcoholic drinks are named after Russian stocks. The following are companies that are based in Russia that trade either on the New York Stock Exchange or NASDAQ.
You can find information on Ukraine stocks and Kazahkstan stocks here and here.
Disclosure: The author does not own any of the above.
• • •
Picture is courtesy of the Kremlin Presidential Press and Information Office.