Norwegian-based Yara International (OTCPK:YARIY) is thought of as a fertilizer company, but it is much more than that.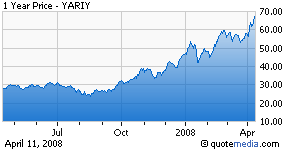 It is true that Yara is positioned right in the middle of the ongoing agricultural boom. It is the world's largest supplier of plant nutrients in the form of mineral fertilizers. The core business of Yara is the production and marketing of nitrates, urea and ammonia.
A key component in the production of urea, nitrates, NPK and other specialty fertilizers is energy. The process involved to produce these fertilizers is quite energy intensive and uses large amounts of natural gas. This is where Yara has a competitive advantage over its competitors. Yara owns 25% of the Qafco, which is based in Qatar. The owner of the remaining 75% of Qafco is Qatar Petroleum. So Yara has access to extremely cheap natural gas, allowing it to produce fertilizers at a much lower cost. Yara also has a similar arrangement in the Caribbean with Trinidad & Tobago, the world's largest exporter of ammonia. Yara is also expanding its reach in the fertilizer market; it entered the phosphate market with last year's purchase of KemiraGrowHow in Finland.
Yara has smartly positioned itself in all the key overseas markets through the use of joint ventures such as Qafco in Qatar. The company has joint ventures in other large markets such as China, India and Brazil, along with smaller markets such as those in Africa. Yara is currently selling products in over 120 countries.
Yara is also involved in other markets. In the commodities-related markets, it produces inorganic phosphates, magnesium supplements and acidifers used in animal feed. Yara also produces nitrates used in explosives for mining and chemicals for the oil industry.
Last year, Yara set-up a joint venture with Praxair for its industrial gases business. These gases are used in all types of industries, such as the food and beverage business where Yara is a leading European supplier of CO2. Yara has a green side to its business as well. The company has products to reduce nitric oxide from the air and hydrogen sulfide from the water.
Yara is not well known in the U.S., but global investors have begun to realize what a fine company Yara is. Over the past 6 months, its stock has more than doubled, which is outstanding even for ag-related stocks.This performance is better than Potash (NYSE:POT) or CF Industries (NYSE:CF) and right up there with Mosaic (NYSE:MOS). It may be a stock to consider adding to the portfolio on any pullback.
Disclosure: Author has a long position in YARIY.PK