By: Brendan Gilmartin
Overview
Intel (INTC) is slated to report 2Q 2012 earnings after the closing bell on Tuesday, July 17. Results are typically available between 4:05 p.m. and 4:15 p.m. EST with a conference call to follow at 5:30. Other tech names are often impacted by the results, along with related ETFs such as the PowerShares (QQQ) & Market Vectors Semiconductor ETF (SMH).

Outliers & Strategy
Key Measures:
Non-GAAP Earnings Per Share: Intel is seen posting EPS of $0.52, the midpoint of analyst forecasts ($0.47 to $0.56). (Source: Yahoo! Finance)
Revenues: Intel previously stated it sees revenues between $13.1 bln and $14.1 bln. The consensus is $13.57 bln.
Gross Margins: Intel stated back in April it expects Non-GAAP gross margins of 60% - 65%.
Keep an eye on the following guidance measures for the 3Q 2012 period:
Revenues Guidance (Est. $14.64 bln).
Gross Margins Guidance. GMs have been running in the mid-to-low 60s. A lower adjustment could be negative.
On July 9, rival Advanced Micro Devices (AMD) WARNED revenues for the 2Q period would fall shy of previous forecasts, due to softer sales in China, macroeconomic weakness in Europe, and a tepid consumer spending environment impacting the OEM business. Similarly, Applied Materials (AMAT) announced a day later that sales for FY2012 would fall shy of previous projections, due to "weaker than expected near-term demand in its semiconductor equipment business, primarily among foundry customers."
On July 11, IDC reported the worldwide PC market fell 0.1% in the 2Q from the year-ago period, pressuring Microsoft (MSFT) and Intel shares given their exposure to the PC market. The report cited the "environment of tech transition and soft economics." Gartner IT reported the same day a modest y/y quarterly decline in light of the weakness across various economies.
Recent News
07/09: Stifel Nicolaus maintained 3Q EPS & revenues estimates on Intel ($0.53/$13.6bln), but lowered the outlook for 4Q, according to a post on Barron'sOnline. The firm cited weak PC sales and challenging macro conditions. The same report showed Williams Financial lowered 2Q estimates on negative PC data points.
05/07: Intel approved a 7% increase in the quarterly cash dividend to $0.225 per share ($0.90 an annual basis). As part of the release, CEO Paul Ottellini stated, "2012 is expected to be another year of record revenues for Intel, with strong demand in our core business and significant progress in smartphones and other new growth areas."
Technical Review
Intel shares recently slipped to a new low for 2012 and are off more than 13% from the May 2 YTD closing high ($29.18). The shares also managed to hold the June closing low on Friday July 13, forming a bullish "Double-Bottom" formation. The shares also found support right at the 50-Week SMA near $24.75 - a positive signal given how weak the sentiment has become in the past several weeks. From here, the aforementioned low is the first support in the event of a downside surprise and a tepid outlook. Conversely, there is resistance at the 200-day SMA near $25.50, followed by $26.00 and $27.00. (Chart courtesy of StockCharts.com)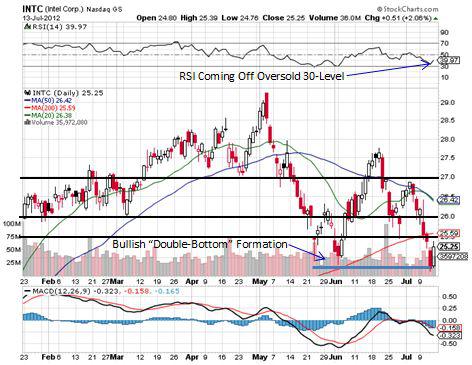 Summary
Intel shares have come under pressure in recent weeks, tracking dismal outlooks from rival Advanced Micro Devices and chip equipment-maker Applied Materials. Weakening PC shipments, evidenced by prominent industry reports from IDC and Gartner, and weakening economic backdrop, particularly in Europe, are the primary concerns contributing to the 13% pullback from the May 2 highs. But with Intel holding key long-term support levels, and the shares trading at less than 10x forward earnings (PEG ratio <1.0), much of the anticipated weakness may be priced in at these levels.
DISCLAIMER: By using this report, you acknowledge that Selerity, Inc. is in no way liable for losses or gains arising out of commentary, analysis, and or data in this report. Your investment decisions and recommendations are made entirely at your discretion. Selerity does not own securities in companies that they write about, is not an investment adviser, and the content contained herein is not an endorsement to buy or sell any securities. No content published as part of this report constitutes a recommendation that any particular investment, security, portfolio of securities, transaction or investment strategy is suitable for any specific person.
Disclosure: I have no positions in any stocks mentioned, and no plans to initiate any positions within the next 72 hours.