In the Internet Age, life is one big stream of superlatives. That's the funniest thing you ever saw, this is the greatest game ever played, now is the most politically fraught time in the world, etc. We are loaded with information and stimulus, and to give ourselves a rope to climb out of this data overload swamp, we latch onto the idea of the present moment as being the most vital, the most "-est" at something, until that moment passes and the next thing comes along.
It's the same rapid-fire, superlative-filled, live or die mentality that seizes the market on any given day and through any given quarter or year. We have entered a pivotal earnings season. The biggest earnings season ever, it seems. The looming uncertainty in the global economy, the fear of a nonexistent recovery, and markets that are still up for the year after a strong first quarter all leave investors with a need for resolution and a clear indicator of where the market is going. Investors sit like anxious, guilty kids who know they've done something wrong and are just waiting to get caught, waiting for it all to go wrong.
Of course, every earnings season seems like the biggest ever, and every earnings season is, in a way, the biggest ever, in so much as it points the way forward for stocks, sectors, and the market as a whole. Until the next earnings season comes along, anyway. But while this might be the most important earnings season ever (like all the others), and while it looks like it's going to be a painful reporting month, especially for cyclical stocks, the long-term investor doesn't necessarily have to dump all his/her cyclical stocks and go into the defensive stock bunker. The hyper-rotational policy advocated by some leads to excessive transaction costs, a lot more work, and maybe more short-term gains (or fewer short-term losses), but also the possibility of missing out over bigger, long-term moves that happen before investors can latch onto the shift.
For this reason, I'm looking at cyclical stocks that are about to go onto sale and analyzing whether they are worth buying for a 2-3 year investing time frame or longer. This leads me to Parker Hannifin (NYSE:PH). Parker Hannifin is a diversified industrials company that is known for making products that manage the flow of industrial fluids. The company calls itself, "the world's leading diversified manufacturer of motion and control technologies and systems, providing precision-engineered solutions for a wide variety of mobile, industrial and aerospace markets." The company's product selection includes flow meters and flow controllers, gauges, aircraft wheel & brakes, O-rings, refrigeration & air conditioning, many others.
The company's business includes the usual red flags for industrial companies. Parker Hannifin splits its business into four segments - the largest is International Industrial products representing 40% of the company's sales in FY 2011. North American Industrial follows at 36%, and aerospace and climate controls fill out the remaining revenue at 16 and 8%, respectively. North America industrial is the most profitable segment, with international industrial and aerospace falling close behind. Parker Hannifin also splits its business evenly between OEM users and the after-market; the company characterizes the latter half as the more stable, higher margin portion of its sales.
Parker Hannifin has had a strong year to date from an earnings perspective. The company had a big Q1 beat with its strongest quarter in its 94-year history. After logging a strong back half of CY 2011 in international industrial sales, the company's sales lagged in Q1, but strength in North America and aerospace made up for it. The aerospace sales and order rates have been up despite coming off very strong comparisons from 2011, when the company had huge growth numbers. The climate control business has been lagging the rest of the company's results. CEO Don Washkiewicz, on the most recent conference call, pointed out that this segment is, "tied directly pretty much to housing starts," and that the company has restructured to take advantage of increased profits in this segment if and when the housing recovery begins. Considering that housing recovery seems to be starting ever so slightly, this could fill a gap in Parker Hannifin's recent performance.
This brings us to the upcoming earnings report, which will be just as pivotal for Parker Hannifin as for most industrial firms. More, perhaps, because Parker Hannifin is reporting a fourth quarter disguised as a second quarter: the company's fiscal year runs July to June. So this will be a year-end report for Parker Hannifin. Included in this quarter's report - the company guiding to report $7.30-$7.50 earnings per share for the year, with analysts expecting $7.42 EPS - will be guidance for next year, which could send the stock plummeting if Parker Hannifin confirms the overall market skepticism. Stephen Rosenman explains how Parker Hannifin's guidance is often inaccurate, and over the course of a typical year it changes often to adapt to different conditions, and so should be taken with a grain of salt. The guidance could still act as a big weight on the stock price in the short term, however.
There are other reasons to view the company's upcoming report with concern. On the aforementioned conference call, VP and Treasurer Pamela Huggins asserted that the company would see a, "substantial increase from third quarter to fourth quarter." This confidence, based on traditional seasonality as much as anything else, has so far held up the analyst estimates, which have not dropped at all amidst the general market slog of the past two-three months. Though the company built European weakness into its guidance, it may not have taken into account the struggles in emerging markets or increasingly in North America, creating the stronger possibility of a downside surprise.
Counterweights exist to oppose the looming risks of an earnings miss or a disappointing guidance. First, the overall hydraulic and pneumatic fluids shipments in North America are above pre-crisis levels and were still growing over tough comparisons earlier this year, even as growth slowed. Parker Hannifin as a leader in the market should benefit from continued, even if slow, growth in the market overall.
(Source: National Fluid Power Association; click to enlarge)

More significantly, Parker Hannifin's earnings are at record levels, much higher than before the crisis. The share price followed to record levels in early 2011, but has not regained those heights. The company, on a P/E basis, is being valued almost at the same levels the company was valued in 2008-2009. We are in a difficult market and macro environment, but things are not as bad as in that immediate post-crisis period, and Parker Hannifin continues to grow. Even an earnings miss and a non-superlative outlook for FY 2013 would not alter the fundamental earnings growth story underlying Parker Hannifin's stock, meaning the post-earnings dip might be a very attractive opportunity.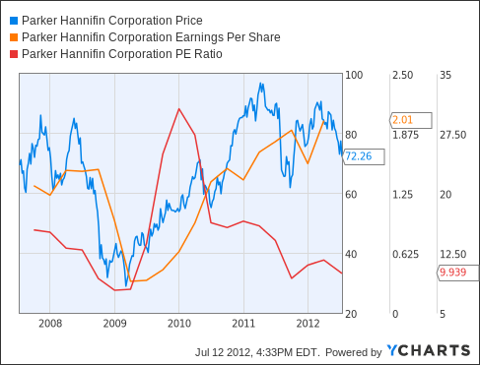 Click to enlarge
That opportunity also becomes clear when comparing Parker Hannifin to peers, whether similarly diversified industrials with smaller hydraulic units - Eaton (NYSE:ETN) and Ingersoll Rand (NYSE:IR) - or smaller industrial fluids peers such as Idex Corp (NYSE:IEX), Graco Inc. (NYSE:GGG), and Sauer-Danfoss Inc (NYSE:SHS). There are other discounted stocks in this group, but Parker Hannifin stands out among them as inexpensive:
(Sources: WSJ, TDAmeritrade, Sauer-Danfoss's website)
| | | | | | | |
| --- | --- | --- | --- | --- | --- | --- |
| As of Q1 2012 | PH | ETN | IR | IEX | GGG | SHS |
| Market Cap | $11.3B | $13.1B | $12.6B | $3.2B | $2.7B | $1.7B |
| Quarterly Revenue Growth (Y-over-Y) | 4.75% | 4.12% | 0.41% | 14.59% | 7.55% | 1.73% |
| Yearly Revenue Growth | 23.55% | 17% | 4.99% | 21.48% | 20.32% | 25.35% |
| EPS Growth (Annual) | 17.75% | 78.50% | 31.60% | 29.53% | 18.10% | 7.72%* |
| Estimated Earnings Growth (next 3 years) | 11.07% | 12.45% | 14.67% | 10.71% | 15.58% | NA |
| Earnings 2011 | 6.37 | 3.96 | 2.82 | 2.55 | 2.32 | 4.74 |
| Earnings 2012 (Est.) | 7.44 | 4.45 | 3.04 | 2.82 | 2.62 | 4.5 |
| Earnings 2013 (Est.) | 8.01 | 5.04 | 3.64 | 3.15 | 3.11 | NA |
| Free Cash Flow 2011 | 5.82 | 1.98 | 2.78 | 2.17 | 2.24 | 6.72 |
| 2011 P/E | 11.34 | 9.37 | 14.06 | 14.29 | 18.45 | 7.65 |
| 2012 P/E | 9.71 | 8.34 | 13.04 | 12.93 | 16.34 | 8.05 |
| 2013 P/E | 9.02 | 7.36 | 10.89 | 11.57 | 13.77 | NA |
| 2011 P/FCF | 12.41 | 18.74 | 14.26 | 16.80 | 19.11 | 5.39 |
| PEG Ratio | 1.02 | 0.75 | 0.96 | 1.33 | 1.18 | NA |
| Price (as of July 12th close) | 72.25 | 37.11 | 39.64 | 36.45 | 42.81 | 36.24 |
| Dividend | 1.64 | 1.52 | 0.64 | 0.8 | 0.9 | 1.4 |
| Dividend Yield | 2.27% | 4.10% | 1.61% | 2.19% | 2.10% | 3.86% |
(Note: Sauer-Danfoss's EPS growth is for one year. Earnings estimates for future years was unavailable, and 2012 Earnings estimates are based on the midpoint of the company's guidance)
Eaton is cheaper, but also has the overhang of its acquisition of Cooper Industries (CBE) and assorted issues weighing down on the stock. Sauer-Danfoss is very under-covered and an usual stock and company. Parker Hannifin compares favorably to the other companies on growth and valuation metrics, and its dividend is better than the other three companies (but not Eaton or Sauer-Danfoss). That dividend, by the way, has been raised for 56 consecutive years, with the most recent hike coming in April.
The yield doesn't provide any obvious support level at this point - no round number until stock price drops 25%. The stock has also dipped below its 200-day MA, which is a dangerous sign. This month should provide plenty of shocks that will send investors fleeing - for example, Parker Hannifin was up about a percent for most of Tuesday's trading, possibly on the news of a small acquisition in India, before the stock tumbled in the wake of Cummins's (NYSE:CMI) guidance warning, losing nearly 3%.
As such, investors interested in Parker Hannifin should tread cautiously. The company has not set a conference call date but is expected to report in early August, by which point the external shocks could take a few bites out of the price. If the earnings or the outlook disappoints, a strong possibility considering the unadjusted earnings estimates, the stock could drop down another leg or two. It's hard to predict what a good entry price might be at that point, but it could be worth one's patience to wait and see where one can get in. For an idea of intrinsic value, if we discount earnings estimates for 2013 by 5%, we get earnings forecast of 7.6/share for 2013. A 12x TTM P/E is not a ridiculous multiple; Parker Hannifin traded above that until the debt crisis debate last summer. That gives us a target price of 91.2, 25% above current levels.
Again, now is not the time to buy Parker Hannifin. With the biggest earnings season ever bound to shock the market several times over, and with many of those shocks likely to be negative, Parker Hannifin's stock price could very well be had for much cheaper in a month than it is now. After all the shocks pass through to the stock price, it could become a very good time to get into a strong industrial company that, while sensitive to the economy, has achieved record earnings levels and is being valued as if the world might grind to a halt again.
There's no need to call this the best stock out there, or the greatest move you might make, or the most obvious trade. Picking up Parker Hannifin after the summer storms would not be a superlative investment. It just might be a good, steady, money-making one. Amidst all the noise and excitement, that's all we can ask for.
Disclosure: I am long ETN.