Performance contracting is the industry that the CEO of Ameresco (NYSE:AMRC) developed. It's a contract with customers that guarantees them energy savings. McKinsey estimates that performance contracting will be worth $520 billion in 2020. We wrote about Amaresco last year, but now is a good time to revisit this promising company and see what has changed.
First, what do they do exactly:
Founded in 2000, Ameresco, Inc. is a leading independent provider of comprehensive services, energy efficiency, infrastructure upgrades, and renewable energy solutions for facilities throughout North America. Ameresco's services include upgrades to a facility's energy infrastructure and the development, construction and operation of renewable energy plants.
Essentially, what it does is embark on an energy 'audit' for an organization and installing energy savings measures, for which the customer pays out of energy bill savings. There is no capital outlay necessary for customers.
Some key statistics:
Market cap: $558M [Yahoo]
Revenue $728.35 (trailing twelve months, ttm)
Cash $38.44M
Debt $215.9M
Cash flow from operations is solidly positive, $30.14M last year [Yahoo]
Analysts expect 85 cents per share in earnings this year rising to $1.03 the next [Yahoo]
While we constantly hear about new alternative energy technologies or breakthroughs, the much less sexy market for energy efficiency is one of the great unexploited business opportunities of today. But as we showed in our previous article from last October, Ameresco is far from the only one, and margins reflect that fact, as the graph below testifies.

However, with energy prices high and local and state budgets facing problems, saving on energy bills, especially when there are no up-front costs involved in some of the performance contracting that Ameresco offers (although typically, local initiatives are financed by issuing bonds), is an attractive proposition. Indeed, from the latest 10-Q:
Our revenue has increased from $20.9 million in 2001, our first full year of operations, to $728.2 million in 2011. We achieved profitability in 2002, and we have been profitable every year since.
The company hasn't just grown organically, but it has taken over fifteen other companies since its inception. Most of these have increased their reach of customers, but they've also branched out (to different parts of the US, to Canada and even Europe) to solar energy with the acquisition of Southwestern Photovoltaic in 2007, which enables them to install their own solar panels at clients in achieving more energy efficiency. Renewable energy generated 22.6% of total revenue in Q1 2012 (versus 27.5% in Q1 2011), primarily due to the completion of the Savannah River Project, according to the 10Q.
Q1 2012
While overall revenue was flat, there were some notable shifts. Here is the table from the 10Q filing:

US Federal and Central US regions showed notable declines, made up from a 62.6% increase in revenue from 'All Other.' The latter turned out to be largely revenues from acquisitions (AEG and AIS) to the tune of $7.2M. Without these acquisitions, there would have been a revenue decline of 4.7%. The biggest reason for that is the completion in Q4 2011 of the Savannah River project, responsible for a $12.9M net decline in revenue.
The flat revenues were expected, but profits missed by 7 cents as a result of an increase in operating expenses, which increased by a whopping 31%. Most of this seems to be a one-off, from the 10Q:
Salaries and benefits. Salaries and benefits increased by $4.3 million, or 42.5%, from the first quarter of 2011 to the first quarter of 2012. We implemented a number of strategic initiatives in 2011 to improve our competitive position, including adding key personnel, opening six new offices and completing three acquisitions. In addition, we increased employee resources devoted to early stage business development activities to drive an increase in proposal volume; this increased salaries and benefits as the business opportunities were too early stage to qualify for classification as project development costs or capitalization as project assets.
Nevertheless, cash flow from operations was a solid $33.2M positive. The company has (per March 31, according to the 10Q) a backlog of approximately $413M in future revenue under signed customer contracts (which typically take 12-24 months to complete, unless they are more complex).
While Q1 results were disappointing, the company reaffirmed revenue guidance for the rest of the year as most of the revenue will come in the second half. The company also said that margins will rise towards 20% (the CC can be listened to here).
The share price has recovered somewhat from the lows in June and will probably consolidate for the time being until Q2 results will be announced. These will be out on August 2, so we're eagerly waiting. Despite the Q1 softness, the shares are still up 25% from when we advised to buy last October.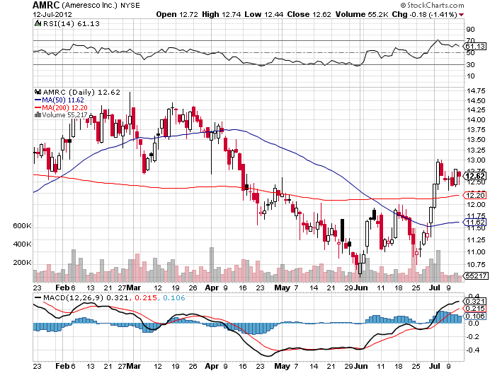 Conclusion
A steady grower (albeit with some seasonality), virtually recession proof, with a healthy balance sheet, and trading at 12x next year's expected earnings, we don't think you can do a lot wrong with this stock, despite the slight disappointment in the first quarter of 2012.
Disclosure: I have no positions in any stocks mentioned, and no plans to initiate any positions within the next 72 hours.