As of July 12th, Freddie Mac (OTCQB:FMCC) reported that 30-Year Fixed Rate Mortgages (FRM) hit new lows. Mortgages originated during the time frame of the report are showing rates of 3.56%, down from 3.62% in the prior week.
For the year, mortgage rates have trended down consistently. After opening up 2012 near 3.9%, rates have risen above 4% before falling to these levels.
click to enlarge images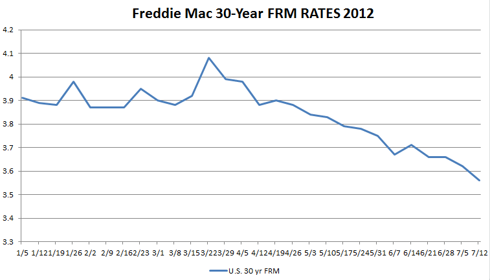 Click to enlarge
The Federal Reserve Bank's program of twisting the yield curve has been extended through December 2012, which has given investors some confidence that they can continue buying bonds without the risk of losing money when interest rates rise. Operation Twist, as the program is known, has effectively pushed the ten-year Treasury rate below 1.5%, also the lowest levels recorded.
For mortgages, these rates provide quite a contrast to rates seen in the early 1980s, when a borrower would have paid more than 18% interest on a loan. During this period, home prices and inflation were also on the rise.
Effects on the Housing Sector
This past week, Warren Buffett said that he saw a noticeable pickup in residential housing off of a low base despite the fact that U.S. economic growth is slowing.
When looking at housing data, we know that home prices are rising, inventory is dropping, pending home sales are strong, and new home sales are improving. Additionally, delinquencies at mortgage insurers like MGIC (MTG) Investment Corp. appear to be dropping.
CoreLogic reports more good news in that the number of underwater homes is also dropping. In the 1st Quarter of 2012, more than 700,000 borrowers gained enough equity in their homes to be in positive territory. Still, 23.7% of homes are underwater, but this puts us at negative equity levels seen prior to 3rd Quarter of 2009.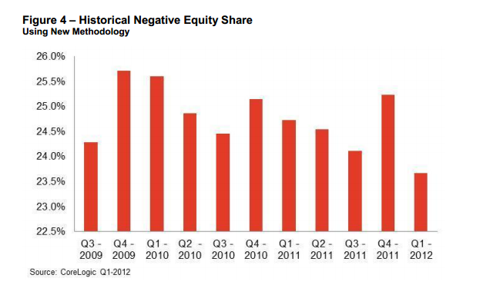 Click to enlarge
The largest number of negative equity homeowners are concentrated in Florida, Nevada, Arizona, and California. In terms of year-over-year home price improvement, this is also where the biggest gains are coming from according to Case-Shiller. Low mortgage rates and reduced foreclosure supply are pushing up prices.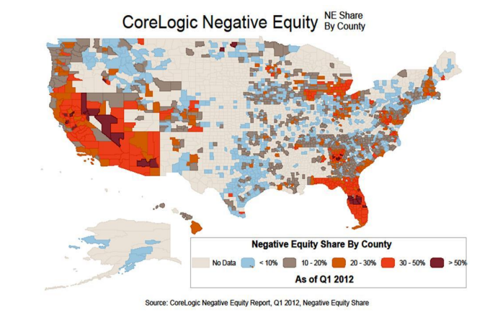 Click to enlarge
Renting Versus Buying
With the record low rates on fixed rate mortgages, we are also seeing an unprecedented period of time where renting is actually more expensive than buying a home. Trulia.com reports in their "Rent vs. Buy Index" that nearly all major metro areas are seeing that it is cheaper to buy.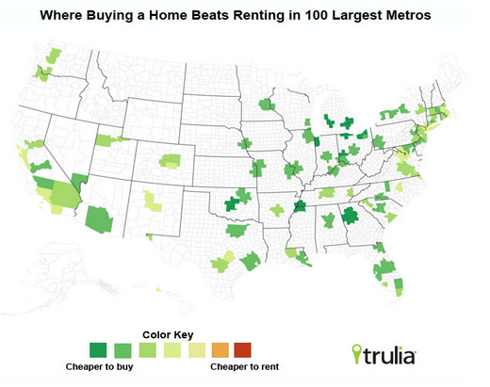 Click to enlarge
Part of the reason for this disparity is that the requirements for buying a home have gotten more stringent. You must have good credit and money for a down payment, which has been hard to find during this recession as unemployment has gone over 9% in the past couple of years.
The bright side for taxpayers is that the FHFA has recently announced robust demand for bulk sales of foreclosures to investors. The investors are required to rent the properties for a period of several years and hold them off the market before selling them.
Lacking a Long-Term Plan for Housing Finance
One of the key remaining pieces to a housing recovery is a long-term plan for housing finance, which is almost fully controlled by government agencies and tight lending standards. There have not been a lack of proposals. Earlier in the year, Jim Millstein, the architect of the AIG bailout, presented his proposal for reform. It is unclear whether the former member of the Obama Administration will have any sway in directing this debate.
Getting Bullish on Housing
Investors that agree with Warren Buffett, who thinks housing has bottomed and showing noticeable improvement, should consider owning the SPDR S&P Homebuilders (XHB). This exchange traded fund has a broad exposure to housing related stocks.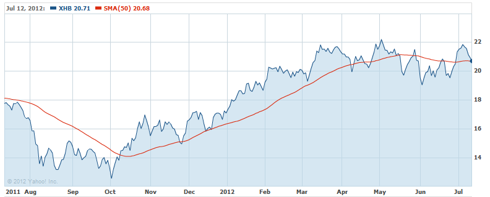 Click to enlarge
The index is up about 20.35% since opening the year at $17.44 and it is currently trading near the 50-day moving average.
Disclosure: I am long OTCQB:FMCC. I am also long GSE junior preferred stock, not common stock.