On Thursday, I added to my position in the financial services firm, Sun Life Financial (SLF). For my thoughts on the company, have a look at my Sun Life Financial purchase post, which I put up on this blog when I initiated my position about a year ago. Back then, Sun Life was trading around C$50 per share, and yielded 2.5%. Sun Life's 2006 earnings per share [EPS] was C$3.58/share, and the company paid a dividend of C$0.32/share.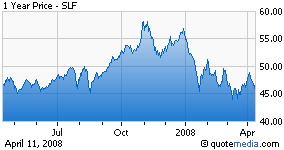 Fast forward to Thursday where I bought Sun Life at C$47.10/share, and it yielded 3.1%. Sun Life's 2007 EPS was C$3.84/share, and it is now paying a dividend of C$0.36/share. Therefore, since I initiated my position last May the following has occurred:
Sun Life has grown its earnings per share by 7.3%.
On a 'constant currency'/operating basis EPS would have been up 13%.
SLF has grown its dividend per share by 12.5%.
The stock's yield has risen from 2.5% to 3.1%.
Its return on equity [ROE] increased from 13.8% to 14.3%.
The P/E ratio has dropped from 13.6 to 12.1.
The share price has dropped by 6.7% to C$47.10.
On my valuation model, Sun Life looks cheap as it is trading more than 20% under its fair value given a 9% EPS growth rate and using a multiple of 11.5x. I will likely keep buying these financials as long as they remain a good value as compared with the rest of the market.
Averaging down on a consistent company such as SLF, as dividends, earnings and other fundamentals continue to grow, is a no-brainer.