Weekly Outlook: The market finished off a rough week on a high note after some positive earnings from JP Morgan (NYSE:JPM) and Chinese data gave the market to be less fearful. The market was hit hard into that report on the back of no more QE from the Fed and a lack of upward catalysts from the market. Additionally, we had a very solid initial jobless claims report that came out this past week as well. Heading into this week, it's all about earnings season with a large slate of very important earnings on the docket. Additionally, we have a very busy week of data as well. Get ready for another fun, crazy week that should leave us with a lot of volatile days.
The market has probably a better shot of upside than downside this week after the recent downside has left the market at a technical bottom that it bounced off of on Friday. Further, we have been selling off into earnings season as many have very low expectations for earnings season, and we believe that pricing in may have been overdone in some places. Some of the most important earnings this week include Citigroup (NYSE:C), Coca-Cola (NYSE:KO), Apple (NASDAQ:AAPL), and American Express (NYSE:AXP) for some of the important bellwethers.
Along with a busy earnings season, we have a lot of data this week that could keep upside in check or allow us to really power higher based on how those reports come out. No one is expecting a slew of data points to show much as far as growth and economic fervor, which is yet another reason that upside may surprise us this week. We start off on Monday with Retail Sales, Empire Manufacturing Index, and Business Inventories. Retail sales were weak in May, so it would go a long way for the market to see an uptick here. On Tuesday, we have CPI, Industrial Production, and NAHB Housing Market Index announcements. All three of these reports are also very key to the market, and we do not let up on Wednesday with Housing Starts, Building Permits, and the Fed's Beige Book. We finish up on Thursday with another full day with initial jobless claims, Existing Home Sales, and Philly Fed Index. It's a full week, so prepare yourself.
Overseas, we are looking at a busy week with Europe. On the data front, we have the Euro-Zone CPI to start the week on Monday. On Tuesday, we get the British CPI and PPI as well as the all-important German ZEW Survey. Wednesday we will get minutes from the Bank of England meeting, and we finish on Friday with producer prices. Other than data, we will want to continue to monitor the Euro situation as it continues to create a negative for the American markets with its weakness. Spain has an important bond auction on Tuesday and Thursday, and Greece has one on Tuesday as well. Tuesday could be a huge day for the markets as far as data, earnings, and Europe is concerned. Nothing too crucial as far as data out of the Asian markets this week.
There are more earnings this week than we can report on, but here are some of the key ones to watch this week. On Monday, we start the week with important reports from Citigroup (C) and Gannett (NYSE:GCI). GCI will be an interesting report to delve into the current state of the newspaper world. Tuesday is a big day with the likes of KO, Goldman Sachs (NYSE:GS), Intel (NASDAQ:INTC), and Yahoo! (NASDAQ:YHOO). Wednesday we get reports from Bank of America (NYSE:BAC), American Express , and eBay (NASDAQ:EBAY). Thursday is a very abundant day of reports highlighted by Morgan Stanley (NYSE:MS), Chipotle (NYSE:CMG), and Microsoft (NASDAQ:MSFT). We finish up Friday with General Electric (NYSE:GE) and Schlumberger (NYSE:SLB).
The Federal Reserve has a pretty light week, and the market has very low expectations at this point for QE3. Yet, we have a key report on ... believe it or not ... Tuesday as Bernanke speaks to the Senate. They then deliver their Beige Book on Wednesday, and Bernanke speaks to the House as well that day. The Philly Fed report on Thursday finishes up the week. We do not expect much to come from them, and the market has priced that in at this point. As always though, the Bernanke speeches will be looked at very carefully.
So, where are we headed this week?
We see the market as having some potential for upside if the market can get some decent data points or earnings reports. It's a gigantic week of reports, so it is hard to know what the market will latch onto for movement. We would guess that whatever is the most shocking news point will be the key to this market this week. Tuesday is a gigantic day of news and headlines, so we should definitely watch this day for a big move. Earnings will be at the center of this week, but they may actually take a backseat to data if it comes out bullish or even more bearish than people think. Overall, it's a very busy week. Strap in for a ride.
Stocks To Trade:
The two trades we like for this week are first off perhaps looking at being a bit more cashy this week along with reverse iron condors in high-beta names like F5 Networks (NASDAQ:FFIV), Freeport-McMoRan (NYSE:FCX), and Wynn Resorts (NASDAQ:WYNN). This week is definitely hard to predict, and when you do not have a solid feel for where things are headed, a great trade is no trade at all. Staying cashy overall and limiting position sizing may be very beneficial. Additionally, we like small positions in reverse iron condors for August expiration in companies that make large moves on earnings like the three listed above. With a reverse iron condor, you are betting on a large move over direction. These companies are all historical culprits of 10%+ moves on earnings, and we expect another set of big moves for all three as each has a lot to prove with their report this week.
Position #1: Cash.
Position #2: RICs in FFIV, FCX, and WYNN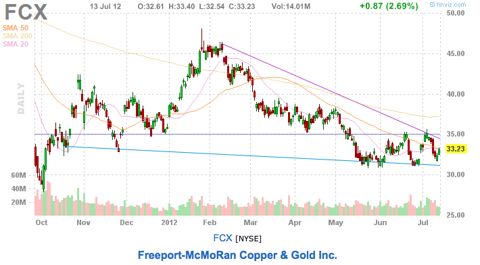 Oxen Group Holdings:
In our Short-Term Equity Portfolio we are long Dollar Tree (NASDAQ:DLTR), Ashland (NYSE:ASH), Chipotle Mexican Grill. We are short Pall (NYSE:PLL), McDonald's (NYSE:MCD).
In our Options Portfolio, we are long Starbucks (NASDAQ:SBUX), Dicks Sporting Goods (NYSE:DKS), Dollar General (NYSE:DG) and AutoZone (NYSE:AZO). We are short Aflac (NYSE:AFL), Garmin (NASDAQ:GRMN), and Under Armour (NYSE:UA). We have a reverse iron condor on Apple and Direxion Daily Financial 3x Shares (NYSEARCA:FAS).
In our Earnings Alpha Portfolio, we are long JetBlue (NASDAQ:JBLU), Susquehanna Bancshares (NASDAQ:SUSQ), Seagate Tech (NASDAQ:STX), Apple , Capital One (NYSE:COF), Disney (NYSE:DIS), Ashland , Vertex (NASDAQ:VRTX), Intuitive Surgical (NASDAQ:ISRG), Marriott (NYSE:MAR). We are short Pitney Bowes (NYSE:PBI), Schlumberger and Walgreen (WAG). We have a reverse iron butterfly in Decker's Outdoor (NASDAQ:DECK).
In our Goldman Sachs Up/Down Paper Portfolio, we are long State Street (NYSE:STT) and Dean Foods (NYSE:DF).
Disclosure: I am long PNRA.