Health care REITs specialize in various types of health care properties including senior living, skilled nursing facilities, medical office buildings, and hospitals of various types. Most of them do not engage in health care businesses that are conducted at these properties; rather, in most cases they lease them, on a "triple-net" basis, to companies that are in the health care business.
The "triple-net" leases are structured to provide for stable income and some protection from normal cyclical downturns in these businesses, and modest upside from rent growth when business is good.
Alternatively, some of the health care REITs lease properties to a taxable REIT subsidiary and in that structure the property is managed by an independent company. This type of structure, enacted as the REIT Investment Diversification and Empowerment Act (RIDEA) was formed in 2008 and this structure allows the REIT to participate more fully in the property's upside (and also its downside).
Several of the larger healthcare REITs have been particularly active in the TRS strategies and by combining the "triple net" investment strategies, these REITs have been successful at protecting investors with the triple-net long-term leases (which also offer a bit of upside based on revenues) generated by the operator or fixed rent bumps built into the leases.
Health care REITs have recently won respect as a significantly weighted sector (12.4 percent as of June 29, 2012) within the FTSE NAREIT All REITs Index (all sector market cap is $504 billion). They deserve a place in every diversified REIT portfolio and despite their modest internal growth prospects and the reliance of many of their tenants on government reimbursement in the skilled nursing and hospital subsectors, health care REITs have several key investment attributes that makes them attractive to investors.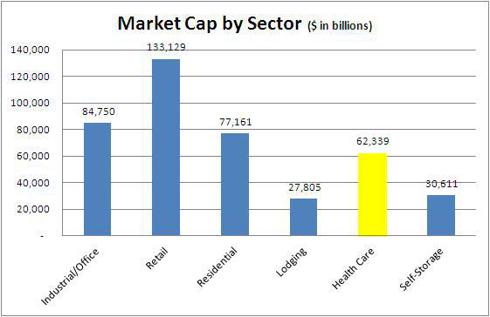 Perhaps the most important is that these properties tend to be recession resistant; demand for health care services is relatively inelastic, and those who require a nursing home, assistance with daily living needs, or simply a doctor's visit are, for the most part, going to find a way to get what they need. Most health care REITs, and their stocks, performed quite well during the Great Recession.
One driver for health care demand is the recent Supreme Court's decision to uphold the constitutionality of Obamacare. By owning health care facilities, owners (and investors) will benefit from income streams that enhance performance of health care operators - especially the landlords seeking sustainable and dependable rent checks.
Healthcare spending is projected to increase by 20 percent of GDP by 2020 (source: CMS National Health Expenditure Projections) while the 79 million baby boomers are now turning 65. The staggering growth can be best illustrated with this snapshot below comparing growth in population to growth in over 85 (seniors). The senior population is growing at over 3 times the national average: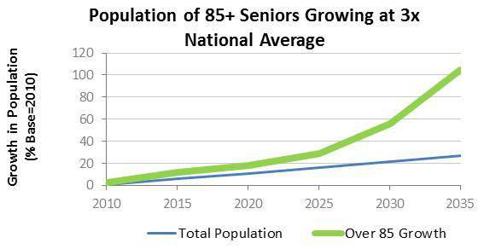 Another favorable attribute for health care properties is that competition from new development hasn't often been an issue. New construction starts have been modest in recent years and are down considerably since early 2008; and while the supply of medical office buildings is expected to increase, it is likely that favorable demographics will increase the demand for physicians and nursing services and the usage of medical office space.
Finally, the shares of health care REITs have historically traded at lower multiples of free cash flow and at higher dividend yields than has been the case in other sectors; this is probably due to the perception of more modest cash flow and dividend growth, cost reimbursement issues among tenants, and the higher prevailing market cap rates for health care properties.
The Health Care REITs
Several of the health care REITs have recently hit 52-week highs, some during the past week. On Friday, Ventas Inc. (VTR) stock hit an all-time high of $64.48 and Omega Healthcare Investors (OHI) also hit an all time high of $23.85 on Friday the 13th. Healthcare REIT (HCN), National Health Investors (NHI), and HCP Inc. (HCP) also hit new 52-week highs before Friday's close. LTC Properties Inc. (LTC) hit a new all time high of $37.93 on July 5th and Healthcare Trust of America (HTA) is trading at around $9.88, close to its recent listing price of $10.05.

Ventas: A Best in Class Health Care REIT
Ventas Inc. is one of the largest healthcare REITs today and also the largest owners of senior housing and healthcare assets. With over 1,400 properties in the U.S. and Canada, Ventas is also one of the biggest medical office owners, with over 21 million square feet in the U.S.
Ventas has a geographically diverse platform that consists of over 1,400 facilities located in 47 states and provinces (including owned assets and joint ventures). The breakdown of assets include 686 senior housing properties, 395 skilled nursing properties, 320 medical office properties, 47 hospitals, and 8 others.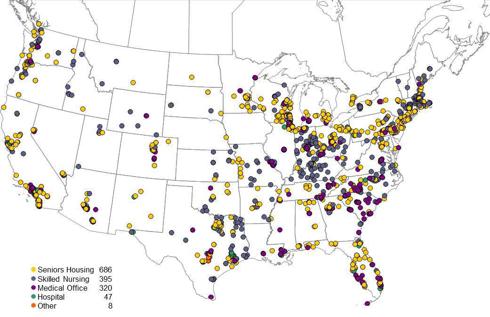 Ventas is a leading diverse health care REIT with considerable scale and strength and with an asset base of around $17.189 billion, Ventas has grown its well-balanced platform into many major U.S. and Canadian markets. In 2011, Ventas closed on Nationwide Health Properties ($7.6 billion) and Atria ($3.1 billion).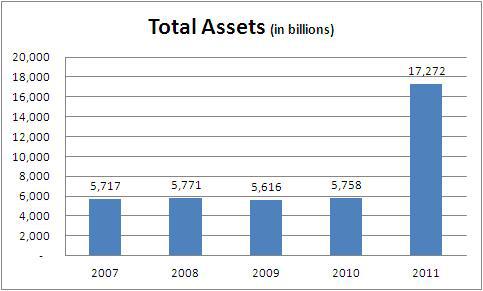 With around $1.5 billion of NOI, Ventas has one of the most well-balanced health care platforms that includes around 80 percent private pay by revenue. The Ventas business model is comprised of senior housing or triple-net (27 percent), senior housing operating assets (26 percent), skilled nursing facilities (23 percent), medical office buildings (15 percent), hospitals (7 percent), and loan investments (2 percent).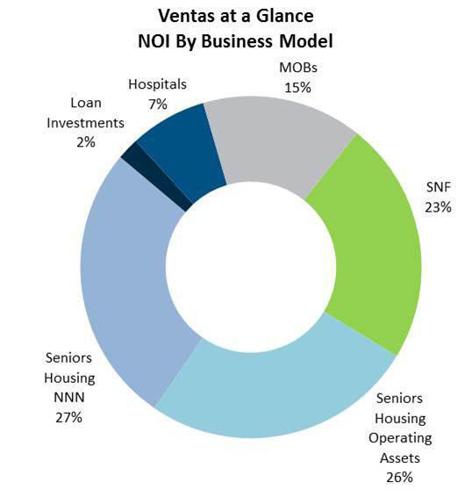 In the past 12 months Ventas has acquired $12 billion in assets and the S&P 500 company has increased revenues by almost double from 2010 through 2011. In 2011 total revenues were $1.959 billion and estimated earnings for 2012 are projected to be around $2.336 billion.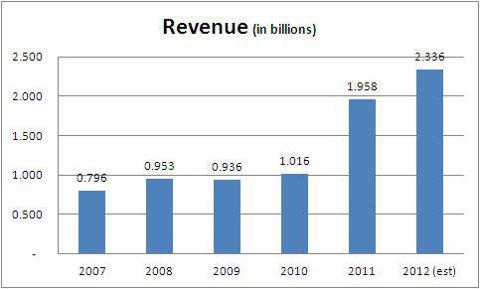 The diverse revenue ($1.5 billion of NOI) is comprised of a well-balanced tenant/operator profile that includes many top tier operators (over 75 percent) such as Kindred (11 percent), Atria (29 percent), Sunrise (21 percent), Brookdale (7 percent), and Elmcroft (4 percent) - among others.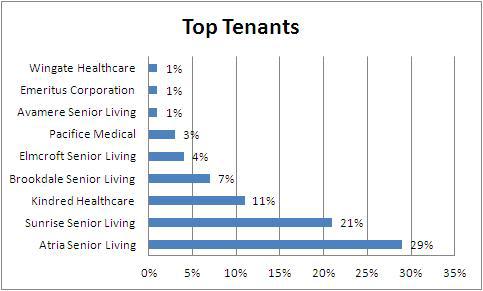 In addition, the Ventas operational platform is highly weighted towards the more risk-averse "triple-net" model while the well-balanced senior housing and medical office building subsectors provide attractive growth and income.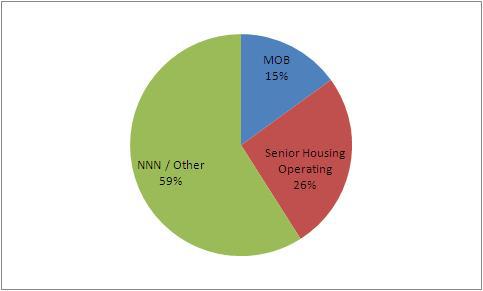 Ventas: Senior Housing
As Ventas' largest subsector (53 percent senior housing), senior housing consists of 686 properties with 46 operators. This diverse revenue model (approximately $790 million NOI) consists of around 51 percent of "triple net" income and around 49 percent of operating portfolio revenue. As noted above, the triple net income in anchored by quality tenants with contractual rental income (and increases) while the operating income provides more granular cash flows and higher growth.
The senior housing portfolio (86 percent located in the Top 100 MSA's) enjoys strong occupancy (of around 89 percent) and NOI growth (Q1 NOI up 3.9 percent). The slight uptick in occupancy is bucking historical trends and has allowed the company to benefit from limited new construction activity.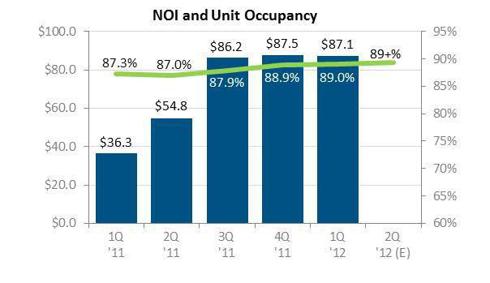 Ventas: Medical Office
With a portfolio of around 408 buildings (owned or managed), Ventas is one of the largest owners of medical office properties. Recently Ventas' MOB subsidiary (Lillibridge) acquired Cogdell Spencer for around $760 million (including 71 MOB facilities) - or $200 per square foot (in the low 7 percent property level NOI cap rate). Ventas Lillibridge owns (or manages) around 21 million square feet (was 15 million square feet prior to Cogdell Spencer acquisition) and is in 29 states (was 25 states prior to Cogdell Spencer acquisition). The MOB subsector represents around 15 percent of Ventas' overall NOI and around 96 percent of Ventas Lillibridge MOB's are on-campus (or affiliated with hospitals).
Ventas - The Power of Triple Net
Around 57 percent of Ventas' NOI is comprised of long-term triple-net leases. That amounts to around $857 million of NOI (triple-net) or 919 assets. The average lease term for the triple net portfolio is around 7 years and the rent growth from escalations provide for significant cash flow coverage (senior housing is 1.3x, skilled nursing is 2.0x, and hospitals are 2.4x).
Ventas: Funds from Operations
Ventas has doubled its FFO from $100,988 (Q1-11) to $214,791 (Q1-12) and the latest acquisitions (closed during 2011) should provide the leading healthcare REIT with future dividend growth. Here is a snapshot of the company's historical FFO results: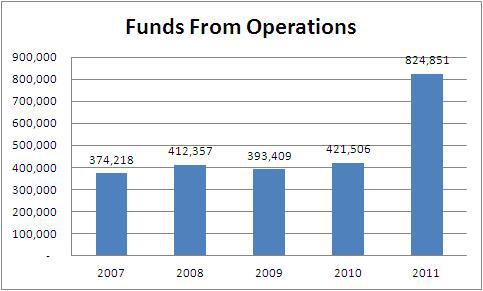 As noted, FFO growth between 2010 and 2011 was around 95.69 percent: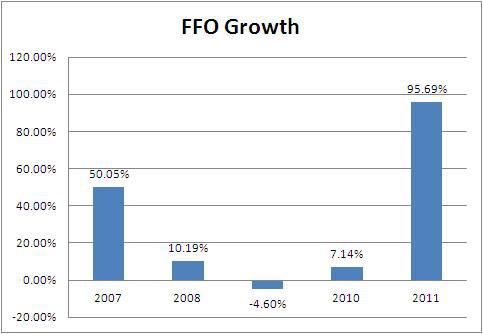 In addition, FFO per share has increased from $2.67 (per share) in 2010 to $3.57 (per share) in 2011. Analysts estimate that FFO will reach around $3.68 per share in 2012: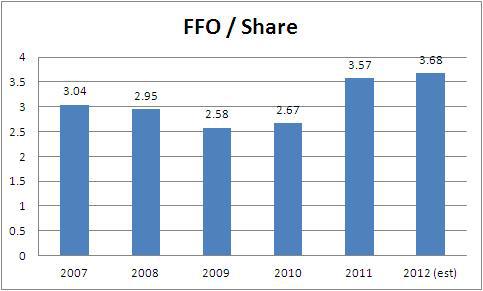 Over the past ten or so years Ventas has focused on recapitalizing its balance sheet and focusing on conservative financial stewardship. Accordingly, Ventas has lowered its debt ratios (debt to total capitalization is 27.89 percent) and the company was upgraded to investment grade (BBB). Currently Ventas has debt of around $6.454 billion (Q1-12) that is comprised of $979 million in variable rate debt and $5.474 billion in fixed-rate debt.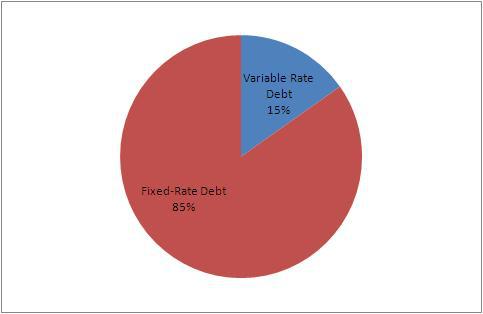 The Phoenix Rises
Debra Cafaro is Ventas' chairman and CEO and when she took over in 1999 Ventas had 271 properties and a $240 million market cap. At that time, Ventas had only one tenant (that was also in bankruptcy) and the company's debt was coming due at once.
Having grown the struggling enterprise into a dominating REIT is an extraordinary feat and the articulated strategy for restructuring, growth, and diversification has been an amazing story of a "phoenix rising from the ashes". Recently Cafaro interviewed with Real Estate Forum's Howard Roth and Cafaro explained the REIT's value proposition:
The main thing, really, is that we're always trying to determine whether this transaction, this group of assets, create value for Ventas' stakeholders. We're really proud of our record. For 10 years, Ventas has had a 23 percent-plus return for shareholders, fueled by all these deals as well as good internal growth on the assets after we've acquired them.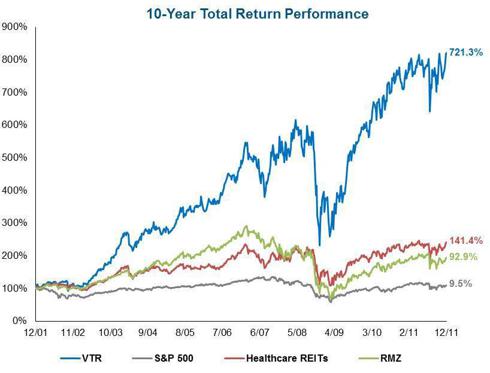 Ventas has made an extraordinary flight to quality and the rise from the ashes has elevated the "best in class" REIT from a phoenix (mythology for immortal bird) to a SWAN (sleep well at night). In addition, the fundamentals for health care investments are perfectly aligned for Ventas to continue its rise to success. Cafaro, CEO (of Ventas) explains (in an interview in the June 2012 edition of Real Estate Forum),
Positive supply-demand fundamentals are also a factor. Healthcare real estate is a $1 trillion market, and it's growing as the demographics continue to support increased demand. The over-85 cohort is the fastest growing segment of the population, and the first of the 79 million baby boomers became Medicare eligible in 2011.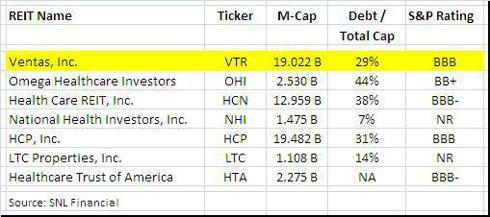 Ventas has a current market capitalization of $19.022 billion and current stock price (after 52-week high) is $64.48. The current dividend yield is 3.85 percent. Ventas and many of the health care REITs are trading at premium levels (Ventas is trading at 53 percent above analysts' median NAV estimates of $41.65) and I credit the yield decline to a bid up to quality. Also, I believe that investors are looking for health care REITs to continue the trajectory of higher earnings expectations as consumers gain access to health care services at all levels (as all become insured).
Source: SNL Financial and Ventas Investor Presentation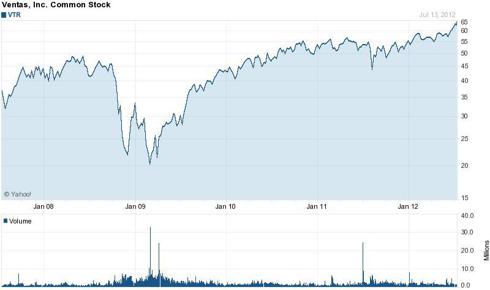 Disclosure: I have no positions in any stocks mentioned, and no plans to initiate any positions within the next 72 hours.