LM Ericsson Telephone Company (NASDAQ:ERIC) reported in-line revenues but lower-than-expected earnings for 4Q07. The company experienced operator consolidation and delays in mobile telecom roll-outs across Europe and Asia, where political uncertainty played havoc as well, causing its product mix to be more heavily weighted towards lower-margined products and services. This, in turn, reduced the company's overall margins and earnings significantly during the fourth quarter.
Although the company's share price has undergone a severe correction, we remain concerned about the near-term outlook for the industry as a whole as competition continues to drive pricing lower. Ericsson's shares lost nearly 9.2% of their market value since our last report due to the current crisis in world markets.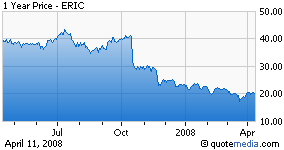 While the company expects results in 2008 to be more stable, we remain concerned that this was not a one-off delay in orders but a larger trend of more-competitive pricing by the equipment vendors as new deals become harder to win, and delays are causing large disruptions in earnings to most major players in the marketplace. Based on these issues, we are lowering our 2008 outlook for the company, and while the shares are trading much lower than a month ago, we believe it will take management a long time to gain back the trust it lost with the financial community.
Additionally, the premium to its peers that the company used to command has now gone to Nokia Corporation (NYSE:NOK) and we believe shares are fully-valued at its current levels, which are now closer aligned with its peers. Our newly-lowered $20.75 price target (from our previous $23 target price) is based on the company selling at 9.1x our 2008 earnings estimate, which equates to a forward EV/2008E sales multiple of 1.02x, slightly higher than the industry average but more in-line with the company as it has a low debt balance and a large cash position.