What a difference a day can make. En route to a losing week, the bulls strike back in a big way on Friday, doling out just enough buying to bring stocks back into the black for the week. Yeah, a 0.15% gain is microscopic, but considering the market was in the hole by 2.1% at one point last week, the bulls have little to complain about. Heck, from the way things unfolded last week, the bulls may have a lot to celebrate this week.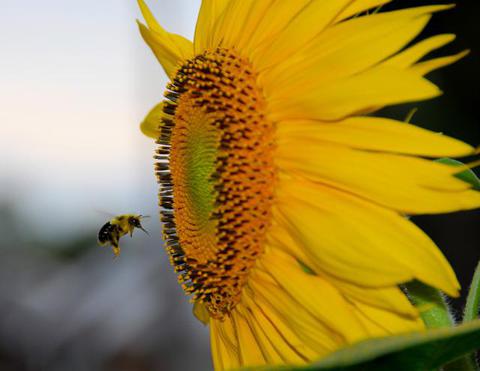 As always, we'll explain the market's upside and downside below, right after dissecting last week's and this week's economic numbers.
Economic Calendar
Last week wasn't exactly riveting in terms of economic data. We didn't get much, and what we got wasn't all the important. There are a couple of highlights worth exploring, however.
First and foremost, unemployment claims dropped rather significantly. New claims fell from 376K to 350K, while continuing claims (which are one week behind new claims) fell from 3.318 million to 3.304 million. It's not an earth shattering improvement, but it is the lowest new-claims level we've seen in months. Continuing claims still aren't making significant drops, however.
New, Continuing Unemployment Claims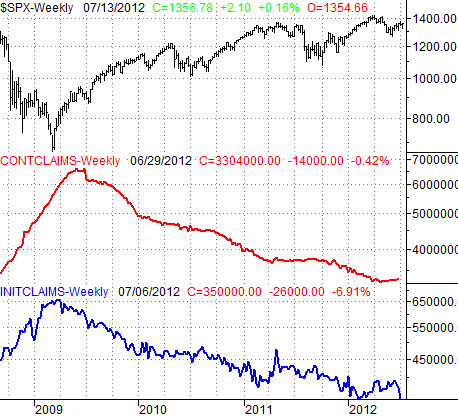 The only other item of interest was June's producer inflation rate. Analysts were expecting another dip overall, and a modest rise on a core (ex energy and food). Instead, producer prices rose 0.1% overall, and were up 0.2% - as expected - on a core basis. On an annualized basis, the producer inflation rate now stands at 0.7%… on the low side of normal.
Economic Calendar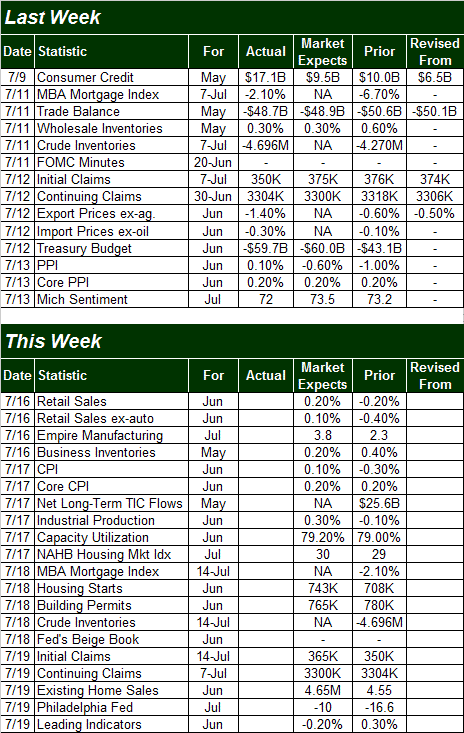 The coming week is going to be much busier, and harder-hitting. Here are the biggies to keep in mind. We discuss this week's individual company earnings reports in this BigTrends article.
* Monday: Retail sales were a tad ugly in May, off by 0.4%. T he pros think things improved in June, by 0.2% with cars, and 0.1% without automobiles.
* Tuesday: We'll round out the inflation picture on Tuesday with the consumer inflation rate. Forecasters say a 0.1% increase is in the cards, but that's a 0.2% increase on a core (without energy and food) basis. The annualized consumer inflation rate now stands at 1.7%, which like the PPI rate, is a little too far under the norm to be fully healthy.
* Tuesday: We've said it before, but it bears repeating now… Tuesday's industrial productivity and capacity utilization figures are the best indicators (via correlation) of the market's long-term trend. If they're rising, so is the market. Both have continued to rise, and are expected to continue doing so. It's been a tepid rate though.
* Wednesday: June's construction-activity report card begins to get filled in on Wednesday, with housing starts and building permits. Both were pretty solid last month (for May). In fact, both are at or near multi-year highs. Both are expected to be strong last month too.
* Thursday: Unemployment claims will be posted, though this story has gotten a little stale.
* Thursday: Though not directly construction-related, Thursday's existing home sales will still tell us about the health of the real estate market. The pros say look for the rate to hold steady, up from May's 4.55 million to 4.65 million.
Stock markets
Last week was the fourth winning week in the last six, and reversed the previous week's modest slide lower. Perhaps more important is the fact that the bigger uptrend that was jump-started in early June is still intact. In fact, with the 20-day moving average line having just moved above the 50-day average, and with the 200-day moving average line still sloped upward, everything a long-term bull really wants or needs to see is on the chart.
It's still no time to get overly bullish though.
The fact of the matter is, while the market's been in bullish mode for weeks, it's not been tested (meaningfully) yet. But, there is a meaningful test on the horizon - the upper 20-day and 50-day Bollinger bands, which are converging right around 1380 on the S&P 500 Index (SPX) (NYSEARCA:SPY). We've already seen the upper 20-day band (blue, thick) cap the rally a couple of times since its early-June inception. Though in neither instance did a new downtrend start, in both cases the market did get set back a little. With the upper 50-day Bollinger band (orange, thick) set to lend a hand the next time the 20-day Bollinger band is tested, the market's running straight at a very tall hurdle.
S&P 500 & VIX (NYSEARCA:VXX) Daily Chart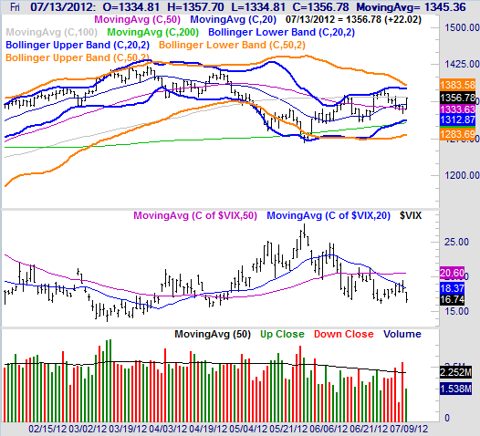 That's not the only red flag, though. While Friday's pop salvaged what would have been an otherwise bearish week, it was a low-volume effort, while the selling the rest of the week was, well, on stronger volume than Friday's rally. Indeed, though the market's (NYSEARCA:DIA) (NASDAQ:QQQ) (NYSEARCA:IWM) been on the rise since June 6th, the buying volume has not only never been strong during that time, but the selling volume has actually started to perk up (when we've had bearish days) over the past three weeks.
Translation: If the market's going to achieve escape velocity and hurdle itself above 1380 in any meaningful manner, it'll need more buyers.
Disclosure: I have no positions in any stocks mentioned, and no plans to initiate any positions within the next 72 hours.