What to watch: Japanese earnings forecast (downward) revisions; U.S. earnings releases; Tuesday; 4/15 Mansion (condo) sales for March; Wednesday 4/16 U.S. CPI for March
Ongoing: External factors; Investors are apprehensive of bad news; General Electric (NYSE:GE) delivered worse than expected earnings early Friday, sparking a broad market selloff in the U.S. Shares of GE dropped nearly 13% or the whopping equivalent of about $47 billion in market capitalization! The direction of the yen will continue to be watched closely with the same knee-jerk reactions (weak yen = good; strong yen = bad) to be expected.
Markets: Stocks are likely to gap down on Monday following the broad selloff in the U.S. (see above). Nikkei 225 futures in Chicago held 13,000 on Friday, settling at 13,055, compared to N225 futures in Osaka, which had finished earlier up 400 points to 13,360. For equities, there's the threat of more downward earnings revisions ahead of the upcoming fiscal year-end earnings season (see the revision index chart below current as of early April by way of the Nikkei/Nomura Securities). At the same time, investors will be keeping an eye on earnings in the U.S. The 13,000 level for the Nikkei may prove tough to regain/hold by week-end, assuming there will be a lot of red on Monday.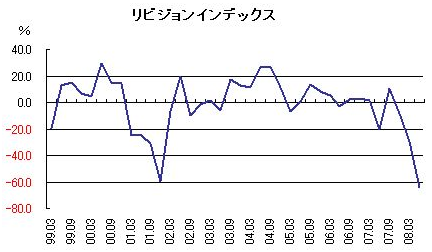 Weekly recap: First down week in a month — the Nikkei 225 lost just under 1% to 13,323.73, but if it weren't for the big rally (TOPIX 1st Section advancers outnumbered decliners by more than 10:1) on Friday, the N225 was off 3.75% as of Thursday's close of 12,945.30. The weekly low was 12,898.49 on Thursday and the high was 13,485.90 on Monday. (See chart below).
As of Friday's close the N225 is trading at 14.9x trailing earnings, 14.8x forward earnings, 1.5x book, 1.4% trailing yield and 1.6% forward yield. By comparison, the broader TOPIX (1st Section) is trading at 16.7x trailing earnings, 15.5x forward earnings, 1.4x book, 1.7% trailing yield and 1.8% forward yield.