Colony Financial, Inc. (CLNY) issued an additional 4,000,000 shares of its existing 8.50% Series A Preferred Stock at a public offering price of $25.685 per share. The public offering price includes accrued dividends from and including May 15, 2012 to, but excluding, July 16, 2012.
The details of the offering are:
| | |
| --- | --- |
| Issuer | Colony Financial Inc |
| Issue | 8.50% Series A Cumulative Redeemable Preferred Stock |
| Ticker | CLNYPrA |
| Offering size | 4,000,000 shares ($102,740,000) |
| Offering Price | $25.685 |
| Yield | 8.30% |
| Dividends | Quarterly 15th of each January, April, July and October. |
| Use of Proceeds | To repay amounts outstanding under their revolving credit facility. If there are any proceeds remaining, they will be used for portfolio investments. |
| Call Date | March 20, 2017 |
Issuer Description
Colony Financial is a real estate investment and finance company that primarily acquires, originates and manages a diversified portfolio of real estate-related debt instruments. In addition, as part of its business strategy, it has acquired and expects to continue to acquire interests in single-family homes for the purpose of renting homes to tenants (through its investment in Colony American Homes).
Colony focuses primarily on acquiring, originating and managing commercial mortgage loans, which may be performing, sub-performing or non-performing loans (including loan-to-own strategies), and other commercial real estate-related debt investments.
Essentially, Colony is an opportunistic CRE mREIT. Instead of taking a modest spread and levering it 7x-9x as RMBS mREITs do, the REIT uses more moderate leverage and buys higher spread product. It is just a shift in risk - lower leverage and higher risk product.
Colony Financial is externally managed and advised by Colony Financial Manager, LLC, which is a wholly owned subsidiary of Colony Capital, a privately held independent global real estate investment firm founded in 1991 by Thomas J. Barrack, Jr., CLNY's Executive Chairman.
Portfolio Snapshot: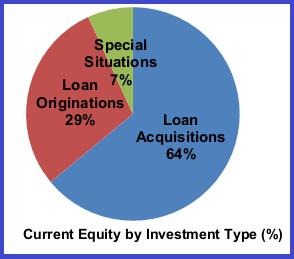 As I said earlier, this is essentially an opportunistic CRE debt fund. A further breakdown of the portfolio by asset type:
Click to enlarge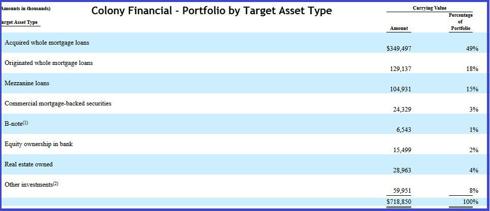 Source: Company Filings
Relative Value
For purposes of determining value, the table that follows uses the following peers:
Armour Residential REIT (NYSE:ARR) - Residential mREIT
NorthStar Realty Finance (NRF) - CRE mREIT
Resource Capital Corp (NYSE:RSO) - CRE mREIT
MFA Financial (NYSE:MFA) - Residential mREIT
Annaly Capital Management (NYSE:NLY) - Residential mREIT
The peer selection was made to show how the security compares to other CRE mREITs and RMBS mREITs.

Equity Snapshot
Two-year price history: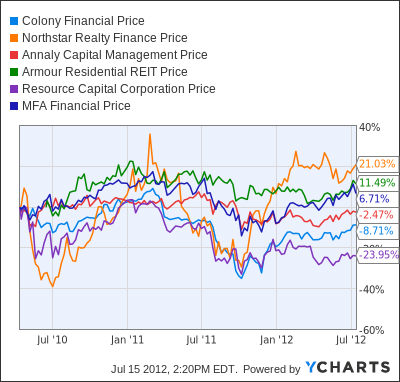 Year-to-date price history: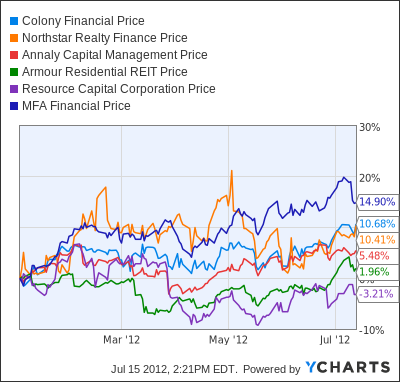 Bottom Line: Colony Financial is, essentially, an opportunistic CRE debt fund. The managers compensation (1.5% and 20%) is structured like a fund and the company invests like a fund. The investment universe for the company ought to increase as more CRE debt comes due over the next two years and the CMBS and bank market will not refinance all of the coming maturities, especially of those issuers that are stressed.
The preferred that has been reopened is attractive relative to the capital structure, as it has a higher yield than the equity, while being higher in the capital structure - something that is not seen with the other CRE mREITs. As such, this preferred warrants consideration by investors.Colony's preferred is a good diversifier within the mREIT preferred universe and can compliment a REIT portfolio (mREIT and/or eREIT).
One thing to note within the REIT preferred sector is that more REITs are tapping the market, either through new issuances or re-openings. This is due to the ability to raise perpetual funds at relatively low rates and the demand for yield product. The rates at which issuers are raising capital is a trend worth watching, as mainstream issuers are coming tighter than expected (see the recent VNO offering) and non-rated REITs and mREITs are raising capital with existing and new shares without a problem. There is a lot of demand, which is beginning to bother and concern me.
Disclosure: I have no positions in any stocks mentioned, and no plans to initiate any positions within the next 72 hours.
Additional disclosure: This article is for informational purposes only, it is not a recommendation to buy or sell any security and is strictly the opinion of Rubicon Associates LLC. Every investor is strongly encouraged to do their own research prior to investing.