For having figured out how to dramatically alter the energy equation of bringing Bitumen (Oil Sand) to market in a cost effective and very ingenious manner that is patent protected, environmentally friendly, and has been tested by all the major producers with investment in Oil Sands, the market seems to not have noticed Ivanhoe Energy (NASDAQ:IVAN). The stock has been under accumulation for a couple years now, but it is still news dependent.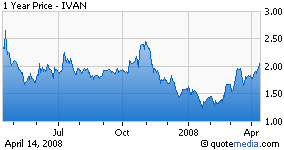 Nevertheless, she's making me wonder what the runaway breakout price for crude is before oil-sands begin to look like an acceptable solution to America's energy needs? If we see crude get through $125, people will certainly begin to notice. Plus, the longer crude prices stay up in triple digits, the long term rolling averages used to price baskets of crude will begin to rise as well.
This certainly has a trickle down effect in many areas. Right now, energy stocks appear to be where tech stocks were in 1997: just about to enter their 2 year climax.