Global banking giant JP Morgan Chase (JPM) reported stronger than expected earnings Friday. Though the Street expected earnings of $0.75 per share, JP Morgan was able to earn $1.21 per share. Although this number is down year-over-year, it includes the firm's $4.4 billion trading loss, which amounted to $0.69 per share. While most of the conference call focused on issues related to the CIO office in London, which we will address, we thought the results from other segments were more significant and telling on the broader economy.
Chase, the retail arm of JP Morgan's empire, saw credit card sales volumes grow 12% year-over-year. This underscores both increased spending, as well as the shift to a cashless society that will benefit payment solutions companies like Visa (V) and Mastercard (MA), in our view. The firm also saw mortgage applications grow 37% year-over-year thanks to low interest rates and increased refinancing activity. Mortgage loan originations grew 29%, suggesting increased activity in the housing market. That's not to say housing markets have bottomed or that prices are on the way up, but it suggests low interest rates and higher rents are making home-buying a relatively more attractive endeavor.
In addition to stronger lending results, the firm's retail banking results were satisfactory, in our view. The firm now has a branch footprint in excess of 5,500 locations and continues to grow the total amount of checking accounts it services. However, retail banking runs on fairly thin margins. The firm's net interest margin fell from 2.72% in the second quarter of 2011 to 2.47% in the second quarter of 2012. With interest rates so low, the firm simply cannot earn the same level of profitability that it could several years ago. This chart, taken from the bank's second quarter earnings presentation, explains its predicament: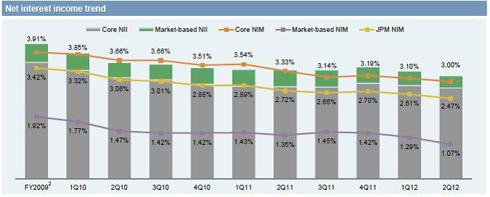 Chase wasn't alone in its solid performance. JP Morgan, which is the umbrella name used for commercial banking, investment banking, asset management and treasury services, performed reasonably well in the second quarter.
The entire investment banking sector has been challenged over the past several years. Merger & acquisition activity has been weak, and the IPO market has been fairly slow after the Facebook (FB) IPO debacle. Investment banking fees fell 35% to just $1.2 billion, but the segment is ranked number 1 in the sector for global investment banking fees year-to-date. Revenue in the equity and fixed income markets also fell 9% and 17% respectively. Still, we think JP Morgan's investment banking business is performing reasonably well compared to its peers.
Commercial banking revenue grew 4% year-over-year to $1.7 billion. Dimon called Corporate America healthy, middle markets strong, and he noted that small businesses are doing okay. Commercial loans grew 16% year-over-year, and middle market loan balances increased 18% year-over-year. Net income in the segment grew 11% from last year's quarter, to $673 million. Also, the bank still has plenty of room to expand its asset management business (up 2% in the quarter), which remains dwarfed by the likes of Merrill Lynch (BAC) and UBS (UBS).
Recently, the market has focused on London trader Bruno Iksil and JP Morgan CIO Ina Drew who are being held responsible for the bank's huge trading loss. The firm estimates the total loss will come out to $5.8 billion. Drew and Iksil have both left the company, but many critics have questioned the leadership of Dimon, and his reputation as a skilled risk manager is tarnished. We think these criticisms are valid, but there is reason to believe that some of the losses were hidden from him.
Yet, he continues to deal with the issue in an incredibly honest and transparent fashion, generally unseen from CEOs of such large companies. We think his skillful handling of the situation has actually prevented further deterioration in the firm's share price, and it could help shield the company from too much government scrutiny. Further, a $5.8 billion loss, though painful, won't put a meaningful dent in the company's capital position.
Still, the loss reinforces what we continue to believe about financials: the tail risks are just too great to invest in one. We hold the Financial Select Sector SPDR ETF (XLF) in the portfolio of our Best Ideas Newsletter to diversify our risk to financials, but also expose ourselves to valuation upside from the group driven by improving housing-market conditions. JP Morgan is trading near the low end of its fair value range (click here for the report), but diversified exposure to financials remains our preference at this time.
Disclosure: I have no positions in any stocks mentioned, and no plans to initiate any positions within the next 72 hours.
Additional disclosure: XLF is included in the portfolio of our Best Ideas Newsletter.