Much has been said of late about the potential of Implant Sciences (IMSC.PK) to quickly infiltrate the U.S. homeland defense market with its next-generation Quantum Sniffer explosive trace detection (ETD) technology, assuming a TSA approval this summer, but not much has been discussed about the overseas possibilities for expansion, especially in regions of the world where terrorist attacks on commercial and private infrastructure loom as a daily threat - notably Africa.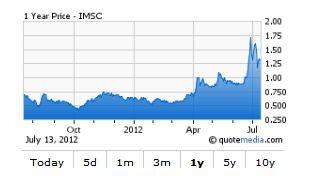 As outlined in a recent report from the U.K.'s popular weekly, 'The Economist', Africa may be quickly becoming the new front against Al Qaeda, whose forces have been pushed out of their former strongholds in areas such as Iraq and Afghanistan. Being a continent where civil war, poverty and anarchy are rife, Africa may be the safe haven for which Al Qaeda and similar groups seek to conduct their plotting, planning and operations.
In fact, such threats loom all across Asia and the Middle East as well as Africa and it should come as no surprise that Implant's technology has been gaining traction in these regions while progress is being made towards receiving a TSA approval in the United States.
Along those lines, Implant announced last week that it had received an order from a private sector hotel in Lagos, Nigeria as part of that location's security plan against the threat of terrorist and anti-government rebel activity. Unfortunately, religious tensions in the country are starting to flare into all-out warfare, not a welcome development by any means, but a situation in which company's such as Implant could use their technology to potentially save lives and important infrastructure.
While some who like to live off quick trades and fast riches may consider the order small in size and scope - a total of six units were shipped - it is significant in that it is a follow-on from an established customer and emphasizes the growing security needs of the region.
In regards to this purchase by the Nigerian hotel, Implant Vice President of Global Sales & Marketing, Dr. Darryl Jones, noted that:
We have been increasing our sales to private sector customers across the African continent, including office buildings, industrial facilities, and hotels. The fact that six units are being deployed by one hotel is an indication of the growing demand for security devices in private sector settings and showcases the potential Implant Sciences has to meet the needs of this emerging market.
CEO Glenn Bolduc added:
We expect to see additional sales to Nigeria as well as to the rest of Northern and Sub-Saharan Africa. Because our systems do not use any radioactive materials, they are the desired choice for use in private sector settings. Our sales and distribution teams continue to win contracts due to our Quantum Sniffers' superior performance and technology. These competitive advantages enable us to effectively execute around the globe.
Many countries, such as Japan and others of the developed world, rely on the TSA clearance to do business in the ETD market - hence the necessity for Implant to receive that agency's approval for its technology to hit the mass markets, but the less-developed world, such as Nigeria, can be considered free game and Implant looks to be capitalizing on that market.
The above-mentioned Darryl Jones is one of a slew of recent key management and advisory additions to the Implant staff who are having a quick impact on the business model as the company gears up to hit the mainstream.
Investors and other commentators will key in on the expected August TSA decision and pending December mandate that all air cargo bound for the U.S. on passenger airlines will be screened for explosives, but in the meantime Implant is looking to leave its mark in regions of the world where threats to national and local security occur every day.
Also, for those that may have missed it, the Quantum Sniffer was chosen earlier this year by Colombian security forces to participate in a layered security plan for the Summit of the America's in Cartagena. The summit was attended by numerous heads-of-state, dignitaries and presidents, including US President Barak Obama.
While TSA approval is paramount, it could be foolish to discredit the growing presence of the QS technology in the developing world.
Still one to consider on the pullbacks, after having quadrupled in price earlier in the year.
Disclosure: Long IMSC.