As investor sentiment remains lukewarm (at best) for precious metals, emerging market central bank buying continues to provide an important source of demand while the world waits to see what new money printing efforts will be launched by central banks in developed nations as gold and silver prices push further into their corrections that began in the spring and summer of last year, respectively, with most not expecting higher prices until later this year.
For the week, the gold price rose 0.4 percent, from $1,582.40 an ounce to $1,589.40, and silver gained 0.8 percent, from $27.10 an ounce to $27.34. Gold is now up 1.4 percent for the year, down 17.3 percent from its 2011 high, and silver is 1.9 percent lower in 2012, some 44.8 percent below its peak 15 months ago.
The official sector (i.e., central banks) remains the most consistent buyer of gold and, as noted in prior commentary, this has surely provided some level of price support since, after this group purchased over 450 tonnes of the metal last year, they are on track for similar buying in 2012.
As shown in the graphic below from the World Gold Council's latest Gold Demand Trends, this change really only began last year following the transformation in 2010 when central banks became net buyers for the first time in decades.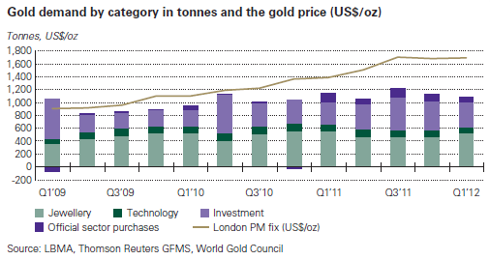 More importantly, given the deplorable state of affairs in the finances of developed nations, there is little reason to think recent emerging market central bank appetite for gold will wane anytime soon.
In almost all cases, their reserves are over-invested in the U.S. dollar and euro currencies and remain well below the minimum 10-15 percent allocation that has become the norm in the West.
Looking at the longer-term perspective on gold demand in the chart below from this item at FT Alphaville, it becomes clear that demand has changed in rather remarkable ways over the last ten years, increased central bank buying being only the most recent development.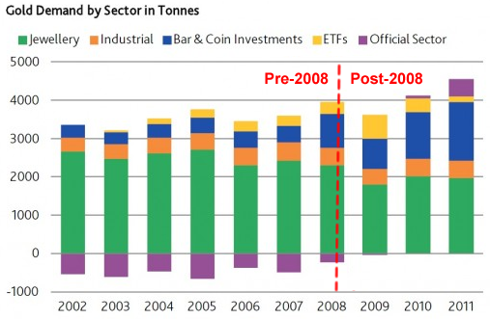 In fact, a close look at the pre-2008 versus post-2008 periods perhaps says more about the state of global finances than any other similar metric - following the loss of confidence in financial markets and the current monetary system in 2008, investment demand soared first, followed by stepped up buying by emerging market central banks.
Meanwhile, western central banks virtually halted gold sales that had been ongoing for more than a decade and jewelry demand (at sharply higher prices) played a lesser, though still very, important role.
Given the intractable problems faced in developed nations related to too much debt that, in recent years, have been "papered over" by too much money printing, it is not at all clear why investors or emerging market central banks would stop buying gold.
Not until confidence is restored…
As Europe quickly approaches the three year anniversary of its sovereign debt crisis with no end in sight and with the day of reckoning still ahead for the U.S., we are likely to see a continuation of the Post-2008 trend for some time to come, though prices will surely have more ups and downs.
There were a slew of new price forecasts released last week that paint a very positive picture for gold later in the year when more Fed money printing and/or more fiscal irresponsibility in the U.S. should weaken the dollar and propel metal prices higher.
In the annual GFMS Gold Survey from Thomson Reuters, renewed investor demand is seen pushing the gold price as high as $1,800 an ounce by the end of the year with new all-time highs on tap for 2013.
Analysts at BNP Paribas said the gold price should average nearly $1,700 an ounce this year (implying average prices of about $1,750 an ounce in the second half) and could reach a "peak" at $1,900 an ounce next year. Merrill Lynch puts the gold price at $2,000 an ounce by the end of the year and, in the latest Erste Group report, the gold market is seen entering a new phase with prices soon breaching that level.
Disclosure: I am long GLD, SLV.
Additional disclosure: I also own gold and silver coins and bars.