As we patiently watch the erosion of the natural gas storage overhang due to record natural gas demand and slowly ebbing supply we have established three general plays to benefit from the ongoing and future recovery of natural gas prices:
The "I'm leveraged, gassy, and my stock price has been beat down by fear over my ability to weather low gas prices with all this debt" play,
The "I'm gassy but I'm an industry stalwart and I'm rapidly using my horizontal experience to get oily" play, and
The "I'm a good proxy for natural gas prices and you get paid to wait" play.
Today I'm addressing that last play with comments on the gassy and completely unhedged San Juan Basin Royalty Trust (NYSE:SJT).
SJT is a 99% Rockies gas with good BTU count (liquids component) royalty trust. Its properties are in the San Juan Basin which are actively drilled by Burlington (now COP) who is spending enough to keep production essentially flat.
As you look at the charts below of NYMEX versus received natural gas prices note that the delta is not a hedge effect but is a liquids driven divergence. In talking to the trustee they note that a lot of people have recently asked about the divergence and while Conoco does not break out NGLs as a separate reporting stream the trustee confirmed they have some liquids. It's likely COP opted to reject more ethane in 1Q, leaving more molecules in the stream as NGL pricing came off in general and ethane prices in particular collapsed in 1Q.
Notably, unlike with some trusts that have a certain amount of reserves designated to the trust at the end of which the trust terminates, this one has no drop dead date. In fact, each year SJT asks COP when the reserves will run out and each year they have been told that that event is probably 10 to 15 years off. They have been telling SJT this for 20 years.
Nutshell: We like the thought that production will be flat or even maybe slightly up this year, that they are all gas with a high BTU count, and that they are unhedged (in light of my thoughts on natural gas being up and slowly to the right). The 2Q12 distribution will be down slightly but then we model a modest recovery in distributions to arrive at a fairly predictable yield in the 6.5 to 7.5% range.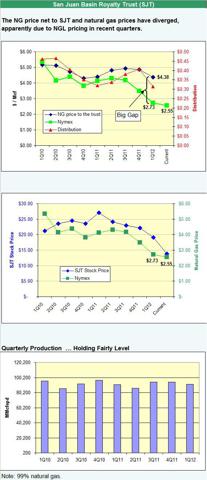 Some longer term perspective charts showing the high correlation between gas prices and the SJT distribution.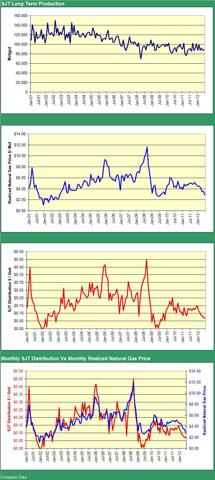 Disclosure: I am long SJT.