Intel's (NASDAQ:INTC) earnings Tuesday after the market close could move the "buy semiconductor chip stocks in the fall" mantra forward to July. So far only two semiconductor chip companies have warned. Lattice Semiconductor (NASDAQ:LSCC) on June 14th and Advanced Micro Devices (NYSE:AMD) on July 9th. The Lattice Semiconductor revenue warning was for a sequential 2Q guide of down -3% to flat from prior guidance of flat to up 4%. AMD's revenue warning was more serious. The guidance for 2Q went from flat to up 6% to down 11%.
Both Altera (NASDAQ:ALTR) and Texas Instruments (NYSE:TXN) reconfirmed and narrowed the range of their 2Q revenue guidance around the original midpoint in June. In addition, Microchip Technology (NASDAQ:MCHP) has been silent on their 2nd quarter which is a good sign. Microchip is always out with the news (good or bad) faster than anyone.
Below are the calendar 2Q sequential revenue guidance ranges, revenue guidance mid points, including any mid quarter updates or warnings for 33 semiconductor chip companies.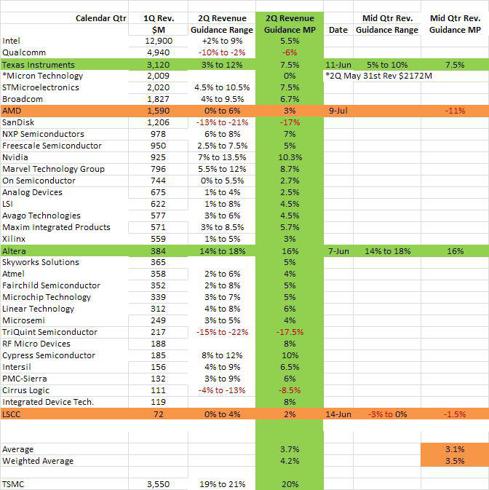 As Intel goes so goes the semiconductor chip stocks. With the AMD warning on July 9th, the bears have been all over Intel. The midpoint of Intel's revenue guidance for Q2 is 13.6B with analyst estimates for revenue coming in at $13.7B and GAAP earnings of $0.52/share according to Yahoo Finance.
Some have extrapolated AMD's warning and IDC's 2nd quarter PC sales figures to Intel.
July 11, 2012. The worldwide PC market saw growth stall in the second quarter of 2012 (2Q12), with shipments falling 0.1% from a year ago, according to the International Data Corporation IDC Worldwide PC tracker. The results are slightly below IDC's May projections of 2.1% year-on-year growth, but in-line with projections of a slow second and third quarter before faster growth by year end.

Part of the reason for slow 2Q12 sales was disappointing sell-out of distribution channels during the first quarter. This limited demand from channels that are wary of building inventory ahead of new product launches this fall. Moreover, consumers remained reluctant about purchasing PCs in this environment of tech transition and soft economics. Ultrabooks have not yet produced a significant rise in volumes - in part due to anticipation of improvements such as Windows 8, which is expected later this year, but also due to pricing. Constrained demand in Europe and the U.S. has also been felt in emerging markets for some time, but the second quarter brought another milestone of sorts as Asia/Pacific (excluding Japan) showed flat year-on-year growth; its worst performance in year.
AMD's warning is less of a concern because it has in reality become a minor player in the X86 microprocessor market. The IDC 2nd quarter PC sales and 3rd quarter sales estimates are worrisome.
Applied Materials (NASDAQ:AMAT), a major semiconductor equipment manufacturer did warn on July 10th:
For the fiscal year ending October 28, 2012, the company expects net sales to be below the previous outlook of $9.1 billion to $9.5 billion, with non-GAAP earnings per share below the previous range of $0.85 to $0.95. The company will provide a new target range during its August 15 earnings call, however it expects that the demand changes could have a $0.15 to $0.20 impact on full-year non-GAAP EPS results.

Applied expects financial results for the third quarter of fiscal 2012 ending July 29, 2012, to remain within the outlook ranges provided during its second quarter earnings call on May 17. Net sales for the third quarter are expected to be at the low end of the previous outlook of flat-to-down-10 percent from $2.54 billion in the second quarter. The company expects non-GAAP EPS for the third quarter to be in the lower half of the previous outlook of $0.21-$0.29.

The company also revised its calendar year 2012 industry forecast for wafer fab equipment spending to $30 to $33 billion, compared to its previous expectation of $32 to $35 billion, in line with the market changes.
Of course, if Intel meets 2Q revenue guidance then all eyes will turn to 3rd quarter guidance. Below is a graph of Intel's quarterly results with the 3rd quarter actual sequential revenue in percent highlighted.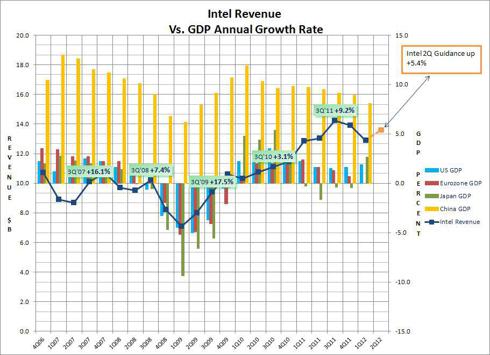 The average of the last 5 years for Intel's 3rd quarter revenue has been a positive 10.7%, but this includes the 17.5% increase in 3rd quarter 2009. Analyst expectations according to Yahoo Finance are for an 8.2% sequential revenue increase.
Conclusion
Guidance and expectations have been set pretty high. I expect Intel to meet its 2Q guidance but in light of the IDC PC data released on 7/11 there is a good chance that the 3Q guide might not meet expectations. After earnings, Intel's forward annual dividend of $0.90 - annual yield of 3.56% (At Friday's closing price of $25.25 and the announced 3rd quarter dividend of $0.225/share) should support the stock.
How the stock price reacts post earnings will determine whether the buy semiconductor stocks mantra in the fall has been moved forward to July. One way to play this is through the semiconductor ETF (NYSEARCA:SMH) as well as through individual semiconductor stocks such as Intel.
Data from company's earnings' releases, 10Qs, and 10Ks
Disclosure: I have no positions in any stocks mentioned, but may initiate a long position in INTC, SMH, MCHP over the next 72 hours.