Shares of U.S. Airways Group Inc (LCC) hit a new 52-week high on Friday despite a recent surge in oil prices over the past few weeks.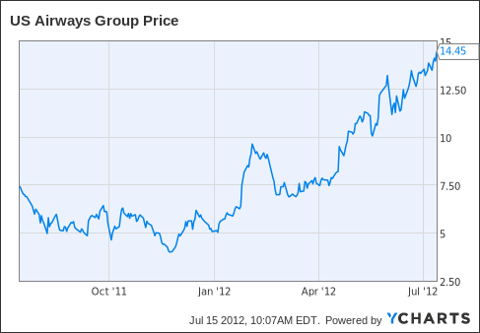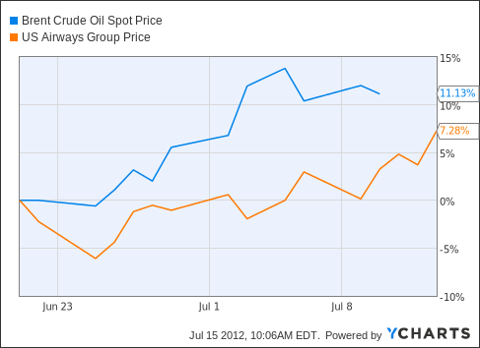 Brent Crude Oil Spot Price data by YCharts
Oil Rally
The recent rally in oil prices should be a major headwind for LCC as airline stocks tend to move inversely with oil. Over the past few months, LCC has benefited from weaker oil prices.
AMR Merger
On Thursday, LCC said it is now a creditor of AMR Corp. (AAMRQ.PK). With LCC now as a creditor, a merger between the two companies is more likely. With AMR now considering all possible mergers, LCC is the most likely candidate. United Continental (NYSE:UAL) is not likely to make a play for AMR as the company only recently completed a merger between United & Continental to for United Continental. Delta (NYSE:DAL) is also unlikely to make a play for AMR as the company is already the world's largest carrier and is still working on integrating its newly purchased refinery.
Short Interest
As of June 29, short interest in LCC stands at 22.65 million shares or 16.2% of the float. This is a slight decrease from the short interest figures provided at the end of May. (24.69 million shares or 17.7% of the float) While the short interest has decreased somewhat, the short interest remains very high. This is a good sign as it means there are still plenty of shorts who need to cover. As the stock continues to move up, the pressure to cover continues to grow.
My Take
Since my initial positive piece on LCC, the stock has nearly doubled. The stock is also much higher than where it was when I maintained my bullish stance. In total, LCC is now up more than 180% so far in 2012. Investors sitting on large gains should consider selling a portion of their position to lock in gains. However, I would still keep a small position in the stock. While LCC may still may move higher because of the high short interest and potential AMR merger, it would be greedy not to take some gains. The recent rise in oil prices is also a concern. If oil continues to move higher, I expect LCC will have a difficult time.
Disclosure: I have no positions in any stocks mentioned, and no plans to initiate any positions within the next 72 hours.