Consensus estimates for Apple Inc.'s (NASDAQ:AAPL) upcoming quarter are a tepid $10.34, all the more surprising coming after last quarter's blow-out $12.30. Analyst forecasts represent a sharp departure from the historical norm: Apple's third-quarter profits have been greater than the preceding second-quarter earnings nine years in a row. Judging by their predictions, analysts are expecting a miserable earnings report—a clear belief that Apple's juggernaut growth is faltering.
The analysts are way off-base: Apple is going to report near-record earnings and sales in the upcoming quarter. Once again, Apple will print a blow-out quarter, clobbering analyst forecasts.
Consider first Apple's record of strong sales production. Apple has increased the number of units sold year after year. Last quarter, the company sold 58.6 million devices (iPhones, iPads, iPods and computers). Third-quarter unit sales have met or exceeded second-quarter sales for nine years. These trends have been predictable for years. The momentum indicates a likely 62 million units were sold this quarter. Extend Q3 line in the graph below and you'll register 62 million for the upcoming quarter.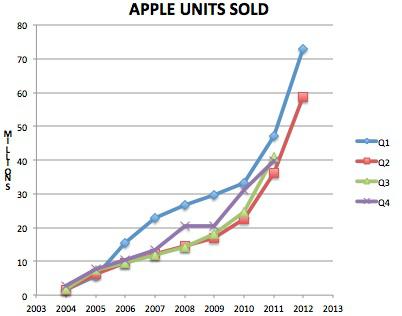 Climbing Unit Profits
Remarkably, Apple has been earning more money from its average unit sale even as it sells more goods. Last quarter, Apple made $263 in operating income from each unit sold. That's in sharp contrast to Nokia Corporation (NYSE:NOK) and Research In Motion Limited (RIMM), which lost $3 and $80, respectively on each unit sold.
Again, the momentum is strong. Apple's third quarter has closely paralleled the preceding second quarter. It's likely this third quarter will again top its last second quarter's $263 unit profit figure. I am modeling $266 in operating income per average unit. Using the graph below, you can estimate $250-$268 unit profit for this quarter.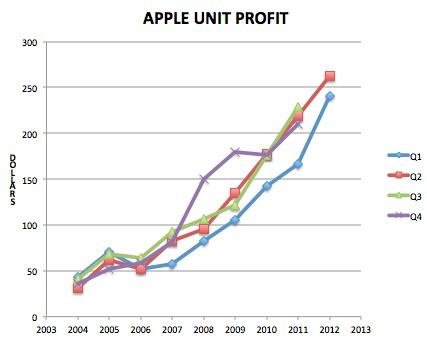 My outlook: Apple will sell 63 million units at an average $266 operating unit profit, or $16.7 billion operating income. Assuming a 24% tax and 945 million share count, Apple will earn $13.43, blowing away consensus $10.34 estimates and coming close to its record $13.87 Q1 earnings.
Disclosure: I am long AAPL.
Additional disclosure: Disclaimer: The opinions in this document are for informational and educational purposes only and should not be construed as a recommendation to buy or sell the stocks mentioned. Past performance of the companies discussed may not continue and the companies may not achieve the earnings growth as predicted. The information in this document is believed to be accurate, but under no circumstances should a person act upon the information contained within. We do not recommend that anyone act upon any investment information without first consulting an investment advisor as to the suitability of such investments for his specific situation.