By David Russell
I am the first to admit that I have been late to the Apple (NASDAQ:AAPL) party, but now I'm onboard.
Before considering why it's so attractive now, I owe readers a big mea culpa for not jumping on this bandwagon earlier. The main reason was complacency turned to false rationalization. I simply missed the AAPL rally years ago. As early as July 2006, I had eyed the pullbacks in this stock and failed to pull the trigger. Then, as it pushed higher, I invented reasons why everyone else was wrong and I was right.
It's a bit like when a child breaks a friend's toy and then declares that "it was a bad toy anyway!" Rather than taking responsibility for our actions, we make excuses for our mistakes. Most readers can probably identify moments in their own trading careers when they have acted similarly.
Just as in other parts of life, humility is usually a better policy than defiant stubbornness in trading. Fortunately, AAPL gives us plenty of chances to repent because it's in an amazing uptrend. And now the next leg up has begun.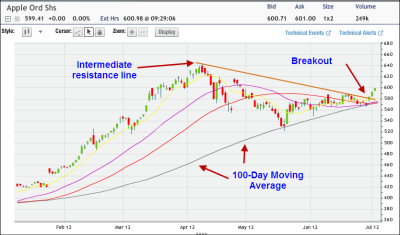 Following a big rally early in the year, AAPL consolidated between early April and late June, forming a classic bullish "flag" pattern (technical term for a pullback). There were two ways we knew that this mini-downtrend wasn't going to last.
First, while it made lower highs for three months, it stopped making lower lows in late May. Second, it found support at its 100-day moving average, which helped squeeze the stock up and through that resistance line.
While it might sound complicated, this is nothing more than classic chart work. There are really just three questions you need to ask:
What's the long-term trend?
What is the shorter-term trend?
When will the shorter-term trend conform to the long-term trend?
In the case of AAPL, the answers were:
Up.
Down.
Right now.
Based on this analysis, I assessed earlier in the week that AAPL was ready to move. So I bought the July 600 calls for $9.82 and sold the July 610 calls for $5.92, resulting in a net cost of about $3.90. If the stock closes at or above $610 on expiration, I collect $10, or a profit of 154 percent. (As of writing that call spread is worth $6.10.)
I believe this will happen because earnings come out on July 24--after my calls expire. My forecast is that AAPL will run back near its old highs around $644 and then pause before the news is released. I can then close my position or roll it forward to August.
Almost everything mentioned above is technical, but there are also other reasons to like AAPL.
One in particular that I think doesn't get enough attention is that penetration remains quite low in China. I believe that after pricing in years of dominance in North America and Europe, the market hasn't yet valued AAPL's emerging-market potential.
Another point that doesn't get enough attention is that, at some point, management needs to split this stock. It hasn't been announced, but I believe it's only a matter of time. And it will be extremely bullish when it happens.
Disclosure: I own a call spread in AAPL.