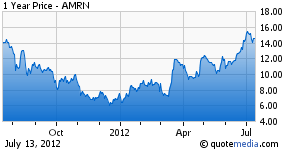 Shares of Amarin Corp (AMRN) have been cruising along for weeks now in anticipation of an expected FDA approval decision later this month for the company's treatment for high triglycerides, AMR-101. Given the solid data accumulated during late stage trials for the product, the general market consensus is that approval is all but in the bag - and the AMRN share price has reflected that sentiment by flying along and setting new 52-week highs.
Shares tailed off a bit to close the week, however, after a report by TheStreet.com's biotech blogger keyed-in on a late-June meeting between officials from both the FDA and Amarin that was not widely publicized. As noted in TheStreet's report, the content of the meeting may have determined the New Chemical Entity (NCE) status of AMR-101, a determination that would effect how long AMR-101 could claim exclusivity on the market before generics could make a play.
The article was perceived to have a negative slant to it and Amarin shares, fresh from achieving new highs, declined as investors absorbed the contents of the article. A modest recovery came quick, however, and AMRN is sure to be a hot stock to watch again during the coming week.
Volume has picked up as the FDA's decision day has drawn closer, and so has speculation that the company is primed for a buyout. It's no secret that big pharma is on the prowl for new potential blockbusters, and AMR-101 could become just that. Such speculation propelled AMRN shares to nearly twenty dollars following the positive Phase III results last year and it's highly likely that a repeat to those levels could materialize over the short term as investors start to bank on approval followed by a quick partnership or all-out takeover bid.
With the way big pharma is looking for acquisitions these days, Amarin will be playing its cards from a position of strength in any buyout scenario, if recent deals and near-deal are any indication.
Illumina Inc. (ILMN), another recently-targeted company, rejected two offers from Roche Holding AG (OTCQX:RHHBY) just a couple of month ago - one for $44.50/share and the other for $51/share - and that Amylin Pharmaceuticals (AMLN) also turned away Bristol-Myers Squibb Company (BMY) last month on a $3.5 billion, $22/share offer. GlaxoSmith (GSK) has also made headlines recently with an offer for Human Genome Sciences (HGSI) that has since gone hostile.
The days of the big dogs taking sweet advantage of the small players are over, at least for now, and Amarin - and its shareholders - could certainly be the next to benefit from that trend.
Pfizer (PFE) is another big player flush with cash that could enter the picture.
As both an "FDA approval play" and a "buyout play," Amarin is sure to continue sitting atop the "hot stocks to watch" lists and is likely to push even higher as the FDA date approaches, barring any surprise negatively-tinted news releases.
There are no guarantees in the stock market, and especially in the biotech and developing pharma sector - which makes it a wise strategy to play some trading shares during the hype stage leading into a major catalyst such as an FDA approval decision - but AMR-101 has long been considered as all but a shoo-in for a positive decision and many will likely hold through the upcoming catalyst event and bank on a quick buyout or partnership.
Needless to say, the Amarin hype will be in full swing this week and that could make for some very exciting trading.
Disclosure: I have no positions in any stocks mentioned, but may initiate a long position in AMRN over the next 72 hours.