Exactly one year ago on July 12, 2011 renewable oil innovator Solazyme (SZYM) peaked at its highest share price in its public life with a price of $27.26. The nascent company had just gone public through an IPO on May 27 in which it had offered 11 million shares at a price of $18/share. With a 51% gain off of its IPO price, undoubtedly few analysts could have expected the crushing blow experienced by the company over the next year.
On July 12, 2012 the company traded at $11.62. In a single year, this amounts to a loss of more than 57% off of its highs and more than 35% off of its IPO price. In the course of the last week alone, the company also received a fresh reminder of its volatility as shares were again rocked with a drop of 24% in just four straight trading days. The price had spiraled in a drop from $14.25 to $10.92. The reason for this forceful hit? An overreaction to an empty downgrade to "market perform" by an analyst at Raymond James who stated the company had met his target price.
For an investment world that has appeared to lose sight of what it means to invest or to look beyond mere numbers on a screen, no clearer picture of "failure" can be seemingly found than in a company like Solazyme. The company has limited revenues. Its losses have increased. Expenditures are growing.
Yet from Day 1 on the public markets, the company has also clearly provided a set of milestones to which it should be held accountable as it takes the necessary time needed in order to ramp up production capacity and truly begin its operations. To date, the company has proven to meet every one of its stated milestones. From a company perspective, they are outperforming their competition on nearly all metrics.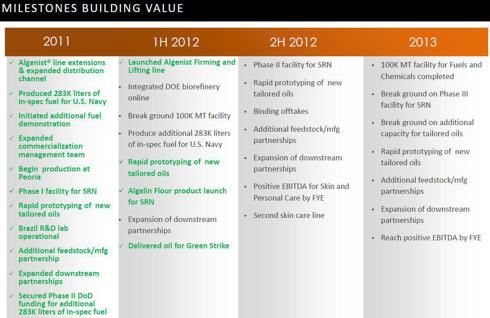 NOTE: The above chart is outdated and the highlighted accomplishments do not reflect all achievements completed in 1H 2012.
In an article concerning entrepreneurial success found here, the author argues that failure is often cited as a necessary experience that successful people typically attribute to their achievements. For its part, the management team of Solazyme appears to wholeheartedly agree. As the world retreats from failure, a differentiating quality of Solazyme's management has been to embrace it and to learn from it. In an interview after being recognized as a Technology Pioneer 2012 by the World Economic Forum, Jonathan Wolfson states the following:
...And the thing that separates an innovative idea from true innovation is the fearless pursuit of success and the willingness to be wrong frequently, and the assumption that every time you're wrong you're going to learn something out of it that's going to push you farther forward than you just stepped backwards.

-Jonathan Wolfson, Solazyme CEO
No greater can this truth be applied than in the company created by Wolfson and fellow co-founder, Harrison Dillon. Indeed, the very name of Solazyme stands as a legacy misnomer to the business model now used by the company. The company practically stands alone from the rest of the algae-based competition by utilizing a closed-system fermentation process in order to grow its proprietary algae in the dark. This doesn't sound nearly as sun-based as the company's name might suggest.
As it was, the name "Solazyme" originated from the two words of "Solar" and "Enzyme." In its early years as a private company, Solazyme pursued and failed in an attempt to cost-effectively growing algae in open ponds in order to tap into the free resource of the sun. Eventually deemed to be unsustainable, the process was abandoned by the co-founders. Rather than walking away, they then courageously came before their investors proposing a 180-degree direction change in their thinking process. Clearly they had to embrace failure in order to develop a successful cost-effective technology that today stands second-to-none.
Another example of the company's failures lies in the history of its algae strains now used for food purposes. Originally seeking the ideal lipid profile through inquiries to biodiesel manufacturers, the company managed to design the proposed profile but found additional qualities from a business standpoint that made the product cumbersome. Yet rather than giving up on this newly-achieved failure, the company pursued additional research after realizing many of the properties of the profile were similar to that of olive oil. Many years later, and this failure now stands as the forefather to an entire food division of the company. The proposed initial 50,000 metric ton joint venture manufacturing facility in France is geared to put out over $125 million in annual revenues alone.
With such stories of failures, Solazyme continues to prove its ability to thrive. Now as dealing with Wall Street gives way to another "failure" of conveying value to investors (as evidenced by the share price), Solazyme continues to push through and outperform from a business standpoint. With its IPO complete, the company continues to project that it remains fully capitalized to act upon its multi-year business plan. The pursuit for developing manufacturing capacity remains on course even as investors find little reason to invest in the company on the basis of mere financial history alone. Little do these investors seem to understand the several hundred million dollars in revenues and triple digit growth that lies in store for this company in just two years' time. Even less do investors appear ready to embrace the true potential of a company whose scope can directly address a $3.1 trillion market space today.

Disclosure: I am long SZYM.
Disclaimer: Please refer to my standard disclaimer found here.