We previously analyzed Jamie Dimon's testimony to the Senate Banking Committee and House Financial Services Committee in the wake of the multibillion dollar trading losses incurred by J.P. Morgan Chase & Company's (JPM) Chief Investment Office. We think that Dimon handled the resolution of the loss very well and it showed at his testimony to the banking committee. Furthermore, we noted that the company was able to offset the $4.4B in realized losses this quarter with $1B in realized trading gains, $2.1B in reduced loan loss reserves and $1.3B in derivatives and structured liabilities valuation adjustments and Bear Stearns loss recoveries.
Despite shaking off the huge trading loss, JPM's results pale in comparison to Wells Fargo (WFC). Wells Fargo is one of the world's most well-regarded banking institutions and probably has a stronger reputation than even JPM. Wells Fargo and its predecessor Norwest have placed a greater emphasis on basic operating fundamentals such as deposit generation, expense management and credit risk management than most other banking companies and this enabled Wells Fargo to provide consistently strong profitability and acquire Wachovia at a real cheap price. Wells Fargo also achieved this with lower risk than J.P. Morgan and its peers due to its smaller presence in the highly volatile investment banking segment. That probably explains why Wells Fargo was able to not only grow its EPS this quarter by 17% year-over-year, but also grow its revenues by 4.4% and its pre-tax- pre-provision profit by 12%. JPM was able to shrug off the non-recurring trading loss with other one-time gains, but still managed to post a disappointing 9% EPS decline and a shocking 17% decline in revenue. Wells has also enjoyed 10 straight quarter-on-quarter EPS gains since EPS bottomed out in Q4 2009.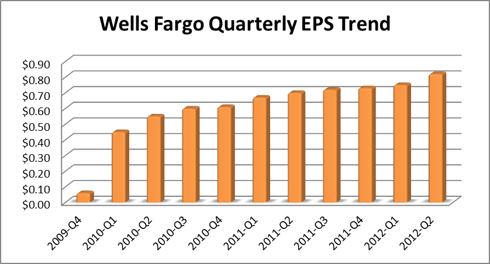 Click to enlarge
Source: Morningstar Direct
Both banks generated solid deposit growth on a year-over-year basis. Wells Fargo grew its total deposits by 8.8% and JPM grew its deposits by 6%. While JPM's 6% deposit growth rate and $67B in increased deposits is nothing to sneeze at, we are especially impressed with the fact that Wells Fargo grew its total deposits by $75B year-over-year, which exceeded JPM on an absolute basis as well as a relative percentage basis. One major advantage Wells Fargo has versus JPM is that its net interest margin of 3.91% is significantly higher than JPM's 2.36%. Wells also benefits from a lower non-interest expense ratio (efficiency ratio) of 58.2%, which is significantly better than the 65.4% ratio from JPM.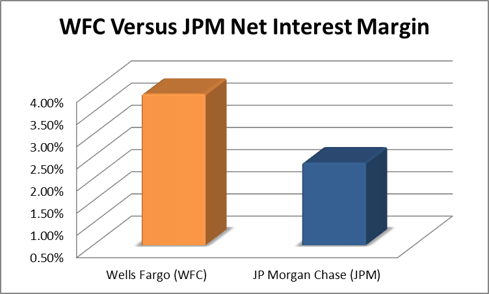 Click to enlarge
Sources: Wells Fargo and J.P. Morgan Chase Q2 Earnings Releases
Wells Fargo has three reportable segments: Community Banking, Wholesale Banking and Wealth Management (Wealth, Brokerage and Retirement). One advantage that JPM has is that it has a more detailed and granular breakdown of its business units. For example Wells Fargo has its investment and commercial banking businesses rolled up into the Wholesale Banking division for reporting purposes while JPM has a separate reporting segment for Commercial Banking, Investment Banking and Treasury & Securities Services. JPM also has a greater breakdown for its consumer banking and lending businesses. All else being equal we prefer a greater breakdown of the business units. However, we found that Wells Fargo's business units outperformed JPM's comparable business units:
Wells Fargo Wealth, Brokerage and Retirement grew its segment net income by 2% year over year versus a nearly 11% decline for J.P. Morgan Asset Management.
Wells Fargo Wholesale Banking saw its segment net income slip by 2%, versus a 2% gain for JP Morgan's comparable businesses (Investment Banking, Commercial Banking and TSS). However 13% of JPM's net income in these comparable businesses was due to a nearly $600M pre-tax increase in JPM's derivatives and structured liabilities valuation spread gains ($400M after tax) versus the comparable quarter last year.
Wells Fargo Wholesale Banking enjoyed a 9.3% increase in segment revenue growth, versus a 1.9% decline in revenue for JP Morgan's comparable businesses (Investment Banking, Commercial Banking and TSS). The positive results from TSS and Commercial Banking were not able to offset a 7% revenue decline for J.P. Morgan Investment Bank.
Wells Fargo Community Banking grew its revenue by 3.8%, which was less than the 4.7% growth of JP Morgan Retail Financial Services, Card Services and Auto-Lending. WFCB grew its segment net income by 19.5%, which was aided by a $339M pre-tax reduction in segment credit loss provisions. JPM's consumer banking businesses grew net income by 120%, aided by a $1.76B pre-tax reduction in credit loss provisions by these segments. The jump in net income for JPM's consumer segments was also aided by a nearly $800M pre-tax reduction in mortgage default and core servicing expenses.
In conclusion, we see that both these banks had continued to perform well. One thing we like about both these banks is the robust reporting analytic metrics with regards to the operating divisions of each bank. We think even multi-division regional banks could stand to benefit from adopting a robust business reporting breakdown like JPM and WFC. We were pleased that a regional bank that we held did just that for Q1 2012. We would recommend Wells Fargo over JP Morgan due to the stronger focus on deposit generation and ability to manage costs. We also liked the fact that Wells Fargo's EPS growth this year relied less on releasing loan loss reserves than JP Morgan's. We also like the fact that Wells did not need to rely on derivatives and structured liabilities valuation spread benefits or realizing trading gains on appreciated assets, unlike JP Morgan. We believe that this is why even though Jamie Dimon has achieved an almost flawless performance overseeing JP Morgan, Wells Fargo's business model is simply better than JP Morgan's, which explains why Wells Fargo's stock has gone further than JP Morgan's since Jamie Dimon succeeded Bill Harrison on December 31, 2005.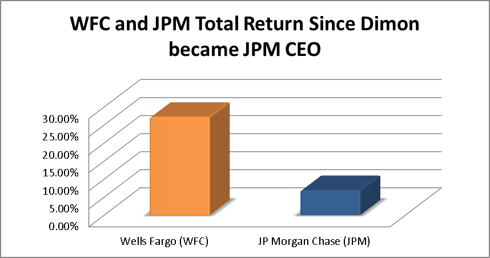 Click to enlarge
Source: Morningstar Direct (12/31/05-7/13/12)
Disclosure: I have no positions in any stocks mentioned, and no plans to initiate any positions within the next 72 hours.
Additional disclosure: Saibus Research has not received compensation directly or indirectly for expressing the recommendation in this report. Under no circumstances must this report be considered an offer to buy, sell, subscribe for or trade securities or other instruments.