WD-40 (NASDAQ:WDFC) is the company that makes and markets WD-40, their flagship product, found under sinks and in the garages of a remarkably high percentage of all U.S. households. They also own 3-In-One oil, Lava soap, SOLVOL heavy-duty cleanser, X-14, 2000 Flushes and Carpet Fresh.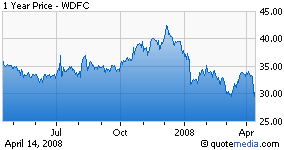 WDFC shares plunged $3.89 (- 11.62%) last week after the company lowered guidance for the fiscal year ending August 31 to a range of $1.80 - $1.90. The previous consensus view was for $1.89 - near the high end of the revised range. Thus, a 4.74% reduction in estimate caused more than twice that much in share price decline.
The closing price of $29.57 is near two-year absolute lows even though the company will be at, or near, its all-time high in terms of sales, cash flow, earnings and dividends even at the reduced numbers.
A quick glance at their 10-year numbers shows their long-term progress.
WD-40 Co.: Key Ratios* - Ten-Year Summary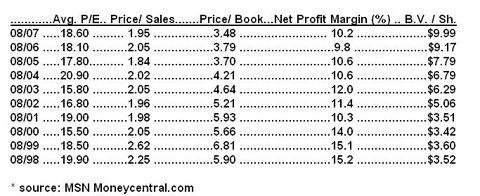 At today's quote these decent quality shares [Value Line financial strength rating = B++] now yield a very attractive 3.38% - better than most bank CDs and money market rates.
WD-40 has a good balance sheet. Their treasury cash is almost equal to their total debt, and long-term debt is only 16% of capital.
Officers and Directors owned 8.3% of the shares as of the latest proxy statement [Nov. 2007.] There were four separate insider buys in January 2008 versus no insider sales. They bought a total of 4900 shares at prices ranging from $32.13 - $32.42. We can now buy cheaper than they did.
What would be a realistic target price for these shares? WDFC's average 10-year multiple was 18.07x. The lowest price/book value of the past 10 years was 3.48x. Using a slightly lower than average 18 P/E and a calendar year $1.85 estimate leads to a $33.30 year-end goal. At 3.48x last year's book value of $9.99 we can project a $34.76 price by this December. Even with a less than typical 1.9x this year's sales would bring WD-40 shares back to about the $38 mark.
Even the lowest target price would mean a gain of 12.6% from Friday's price. Add in three quarterly dividends of 25 cents each for an expected total return of at least $4.48 or plus 15.15% in under a year.
That may well prove way too conservative, though, based on WD-40's past trading history. These shares have exceeded my low-end target by hitting peak prices of $34.20 -$42.70 at some point in each of the past six years.
The dead low prices in 2006 and 2007 were $30.80 and $29.40 respectively.
With two-year treasuries paying around 1.75% [and without any upside] maybe it's time to consider some shares in this relatively low-risk situation.
After all, Oil's well that ends well.
Disclosure: Author is long WDFC shares.