We've seen a decent rally over these past few weeks, but I have a feeling that poor earnings, along with poor economic data will lead the markets lower. First, however, let's recap some of the most recent fundamental occurrences within the markets:
The economy lost 80K jobs in March, bringing unemployment to 5.1%.
Frontier Airlines (FRNT) just filed for chapter-eleven bankruptcy protection.
General Electric (NYSE:GE) posted their first quarterly drop in profit for five years.
Oil prices traded at a record high of $112.21 a barrel last Wednesday.
The University of Michigan Consumer Confidence recorded a 25-year low for the month of April.
The National Association of Realtors' index of pending home sales dropped 1.9 percent during February to 84.6, the lowest reading since 2001.
Plainly, this is all very bearish news, leading me to believe that this recent upside move across the indexes is unwarranted. The technical picture doesn't look any better. Let's take a look at the S&P 500: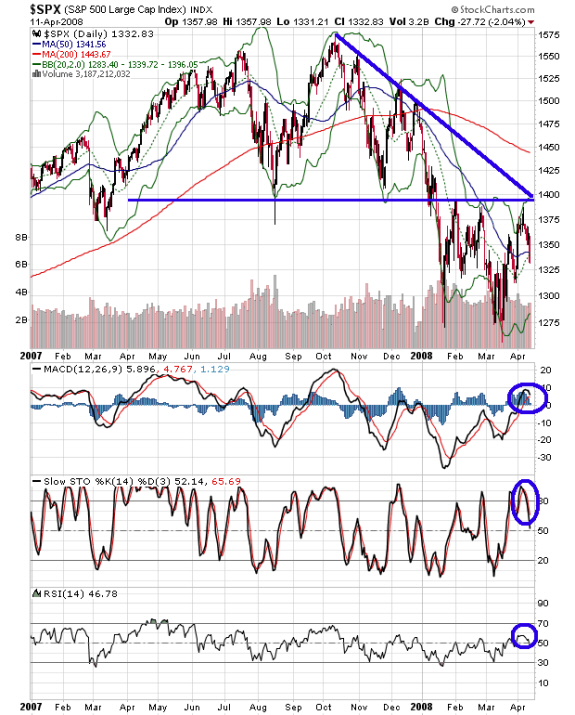 The S&P 500 has been trading within the 1270-1400 range for the past four months now without really giving us a definite path to the upside or downside. However, this recent rally to the 1390 area (heavy resistance) has been riding on very low volume and overall, this market looks to be headed lower. We recently just received a sell signal on the stochastics indicator and the MACD is rolling over as well. The Relative Strength Index also looks bearish. Could we retest the lows of 1275 in the next few weeks? Only time will tell, but I'd say the odds are fairly high that we will.
Also, just a quick chart analysis on the Financial Select Sector SPDR (NYSEARCA:XLF):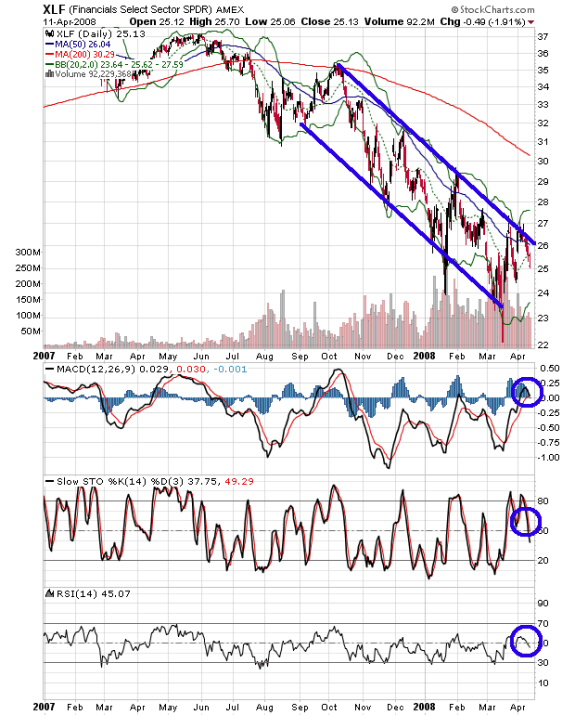 After a somewhat short rally from $23 to $27, the XLF looks to be headed lower from a technical perspective. It has been trading in a fairly tight channel for the past six months now, consistently setting a series of lower highs and lower lows. This trend looks set to continue into the coming weeks. The stochastics have already provided us with a sell signal and the MACD looks set to confirm this selling point within the next few days. Also, similar to S&P 500, volume has been fairly low on the XLF as it has approached the upper end of the price channel, thus giving us a fairly credible argument to initiate a short position for the ride back down to $23.
In my opinion, if the big money isn't playing, then I think it's safe to say that we may see further downside in the immediate future. Keep an eye on economic data due out this week, including retail sales, PPI, and housing starts. We also have earnings out from big names including Intel (NASDAQ:INTC), Washington Mutual (NYSE:WM), Coca Cola (NYSE:CCE), IBM (NYSE:IBM), Merrill Lynch (MER), and Google (NASDAQ:GOOG). These announcements will play a defining role in the direction of the markets for the upcoming weeks.
Good luck.
Disclosure: Author has no position in the companies mentioned.