Panera Bread (NASDAQ:PNRA) recently announced that it would increase the number of restaurants with a drive-through from 120 to 200, a 67% increase, during 2012. The company won't say exactly how much additional revenue is generated by drive-throughs, but founder Ron Shaich told USA Today that about half of drive-through sales are incremental.
In 2005, during its early stages of a drive-through rollout Starbucks (NASDAQ:SBUX) reported first year new store sales revenue at drive-through locations averaging $1,000,000 compared to $715,000 at traditional sites. Between 2005 and 2012 Starbucks increased the percentage of domestic locations with drive-throughs from less than 15% to more than 40%.
Panera Bread executives said on their first quarter conference call that about 20-30% of new stores built this year will include a drive-through. Including retrofits of existing locations, roughly 12% of Panera locations will be equipped with a drive-through by the end of 2012. Panera Bread's locations are primarily in suburban areas where there is high receptivity to drive-through convenience.
Panera Bread is a major player in the fastest growing segment of the U.S. restaurant industry: fast casual. Fast casual sales increased 8.4% in 2011.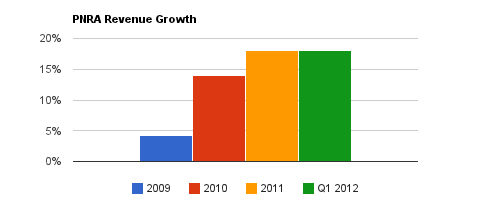 Chipotle (NYSE:CMG) executives have rejected the idea of adding drive-throughs. Significant new location additions and increased brand awareness will continue to drive Chipotle's explosive growth. Panera Bread combines those growth catalysts with drive-throughs and the following innovative measures to ramp up sales per unit:
A burgeoning loyalty program,
The rollout of national media advertisements,
Catering expansion.
PNRA is currently trading at 21.8x 2013 earnings and 18.5x 2014 earnings, which is a significant discount to Chipotle. PNRA also trades at a discount to Starbucks, another major competitor.
| | 2013 | 2014 |
| --- | --- | --- |
| Panera Bread | 21.8 | 18.5 |
| Starbucks | 23.4 | 19.1 |
| Chipotle | 35.4 | 28.5 |
I recommend Panera Bread stock based on the growth catalysts noted, relative valuation, and its position in an expanding domestic sector.
Disclosure: I am long PNRA. I may add to my position in PNRA before earnings are released on July 24, 2012.