The market finished lower yesterday, but given the big rise in oil again and the selling pressure in the financials, I suppose it could have been worse.
This post will focus on the iShares Dow Jones US Oil and Gas Exploration and Production Index ETF (NYSEARCA:IEO). This ETF has been performing very nicely of late, as the natural gas stocks have been in a solid uptrend.
click to enlarge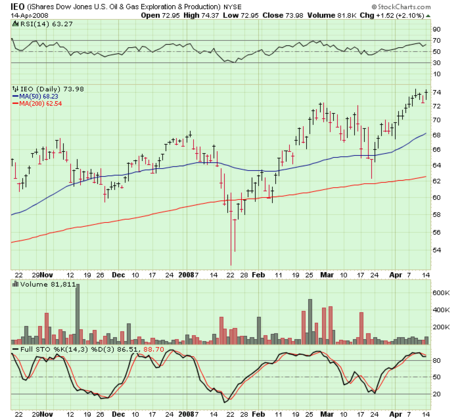 The price of natural gas continues to appear too low relative to the price of crude oil. That should keep upward pressure on natural gas prices, and help support the shares of the stocks in this sector.
Looking at the chart above, you can see that the fund has been in a long uptrend, and since hitting its January lows, it has been making a series of higher lows and higher highs.
On Monday, the fund made a new closing high. When looking at ETFs exhibiting high relative strength in this environment, IEO is near the top of the list. Energy stocks continue to be leaders in this choppy market, and as long as that continues, IEO will continue to perform nicely.
Disclosure: The author is long IEO.