Anthera Pharmaceuticals (NASDAQ:ANTH) is a pharmaceutical company focused on the development and marketing of products to treat serious illnesses, including cardiovascular and autoimmune diseases.
Anthera's product portfolio currently consists of a potential product in Phase IIb:
- Blisibimod targets elevated levels of B-cell activating factor (BAFF), which has been associated with a variety of B-cell mediated autoimmune diseases, including systemic lupus erythematosus (SLE), rheumatoid arthritis, multiple sclerosis, Sjögren's Syndrome, Graves' Disease and others.
Based on positive results in the Phase Ia and Ib clinical studies, as well as recent validation in multiple late-stage clinical studies of the role of BAFF in lupus, the company has initiated the PEARL-SC, the Phase IIb study of Blisibimod, for the treatment of Systemic Lupus Erythematosus. PEARL-SC is a randomized, double-blind, placebo-controlled, Phase IIb clinical study that will enroll approximately 540 patients in up to 90 centers in 12 countries. Patients will be randomized into three active treatment arms and one placebo treatment arm for a minimum of 24 weeks. the primary endpoint of the PEARL-SC study is clinical improvement at 24 weeks in the SLE responder index, a recently recognized FDA endpoint for demonstrating clinical efficacy.
I find at least 4 reasons to buy the stock currently
1. Phase IIb Blisibimod results
Anthera Pharmaceutical has recently presented the results of the Phase IIb on their studies for the treatment of systemic lupus erythematosus. There was a misunderstanding in the market of these results and the shares fell to $0.6 marking a new minimum of 52 wk.
Next, a comparison among the data of Blisibimod as well as the data provided to Benlysta of Human Genome Sciences, Inc (HGSI) and GlaxoSmithKline (NYSE:GSK) is established in the following charts:
Table 1: Response rates for 200mg weekly subcutaneous blisibimod versus placebo
Endpoint

(Subgroup)

12 Week Response

Placebo / Active

16 Week Response

Placebo / Active

20 Week Response

Placebo / Active

24 Week Response

Placebo / Active

SRI-5

(mITT*)

27.1% / 29.3%

26.8% / 34.8%

31.6% / 44.6%

35.3% / 43.5%

SRI-5

(Moderate*)

24.1% / 30.0%

29.3% / 36.0%

31.0% / 44.0%

34.5% / 48.0%

SRI-5

(Severe*)

27.7% / 37.5%

34.0% / 41.7%

36.2% / 52.1%

40.4% / 54.2%
* mITT: Lupus, SELENA/SLEDAI > 6, seropositive
* Moderate Subgroup: Lupus, SELENA/SLEDAI > 8, seropositive, receiving steroids
* Severe Subgroup: Lupus, SELENA/SLEDAI > 10, seropositive, receiving steroids
(Source)
Table 2: Benlysta Percentage of patients meeting Primary endpoint of SRI response at week 52
(Source)
The data show that the effectiveness of Blisibimod (43.5% - 48.0% - 54.2%) will be increased every 4 weeks. The studies of Benlysta® have been carried out in 52 weeks. It is assumed that the effectiveness of Blisibimod that increases every 4 weeks will be superior to Benlysta® when studies will be carried out in 52 weeks.
2. The chart mark oversold
(Source)
If you look at the chart we can see that Anthera is located in extreme oversold. RSI sign is in the range 28.25 and shows a clear oversold. MACD is in the time of an onset bullish symptom.
3. Insiders are buying 220,000 shares
On 29 June 2012 the President of the company Paul F. Truex bought 20,000 shares at an average price of $0.76.
The same day Christopher S. Henney's bought 200,000 shares at an average price of $0.7493.
4. Analyst price target $4.
On 28 June 2012 the Deutsche Bank analysts reiterated the recommendation for "buy" in Anthera with a target price of $4.
On 9 July 2012 the analysts of Canaccord Genuity reiterated the recommendation to "buy" in Anthera Pharmaceutical. Its target price is $3.
ANTH Analyst Stocks Recommendations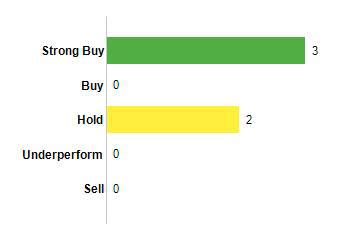 (Source)
Conclusion:
The shares of Anthera pharmaceuticals will surely go to the range of $2.00 - $2.5 before September. As I wrote in another article the company may be of interest to pharmaceutical multinationals. I might take a small speculative position in the stock this week.
Disclosure: I have no positions in any stocks mentioned, and no plans to initiate any positions within the next 72 hours.