Wells Fargo (NYSE:WFC) posted record net income of $4.6 billion in Q2 2012 as its loan book grew modestly and its mortgage business showed strong momentum. In a recent interview, Warren Buffett said that Wells Fargo should aim for $1 trillion of mortgage business (more on that below). With a strong capital position, Wells Fargo seems to be in a good position to benefit as the economy rebounds. In this update, we will look at Wells Fargo's Q2 2012 results to understand the underlying trends and continue our Q2 2012 earnings series that looks at the results of large-cap companies for clues about the general economy (see previous articles about Alcoa and JPMorgan). Following the market correction in Q2 and the reductions in company guidance and analyst projections over the last few weeks, we are interested in examining how large-cap companies are positioned for the second half of 2012 amid growing macro concerns.
How Did the Stock Perform Going Into Earnings?
Wells Fargo's stock has performed well going into Q2 2012 earnings season and is trading near its 52-week high. Although it has traded sideways since peaking in March, it has now lost as much ground as the Financial Select Sector SPDR ETF (NYSEARCA:XLF).
Click to enlarge all images.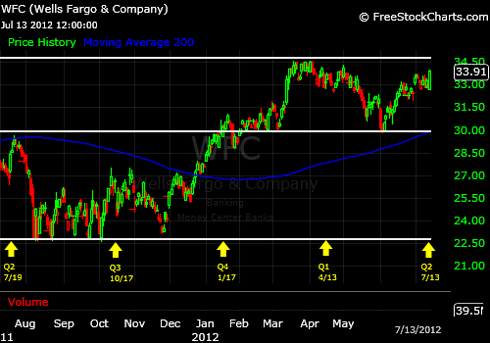 Click to enlarge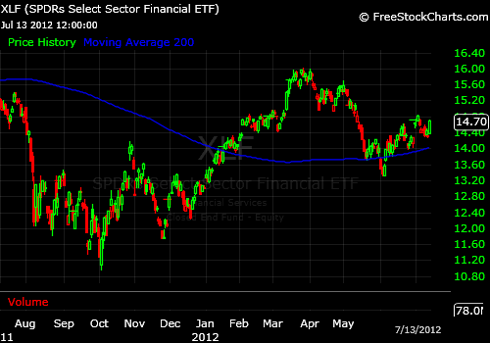 Click to enlarge
Source: FreeStockCharts.com.
Did the Company Beat Expectations and Have Expectations Been Rising/Declining?
Wells Fargo's Q2 results and related material can be found here.
The following is a summary of the results: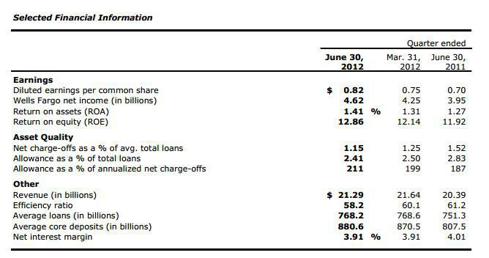 Click to enlarge
Source: Wells Fargo's Q2 2012 earnings material.
According to Reuters estimates (via Capital IQ), analysts had been projecting EPS of $0.84-$0.85 per share. However, several press reports state that the average estimate was $0.81 per share.
The Reuters estimates had been steady for the last three months and, on average, there were no significant changes to estimates prior to earnings season. It seems as if Wells Fargo's results came in in line with estimates.
What Drove the Results?
The following charts explain the key items on Wells Fargo's balance sheet and income statement.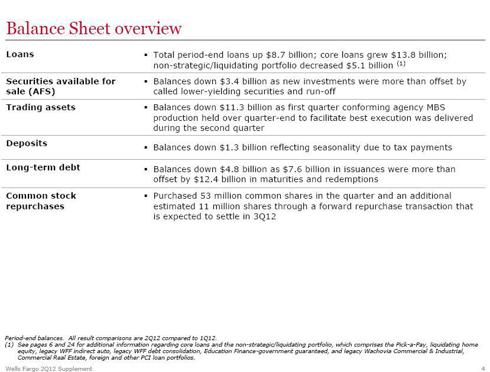 Click to enlarge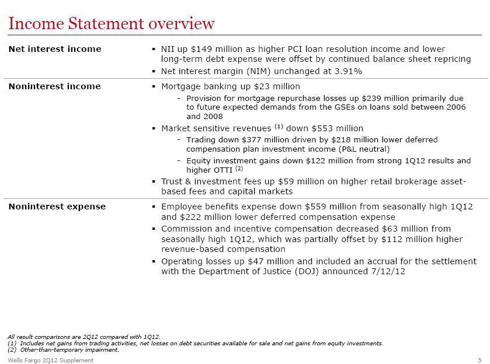 Click to enlarge
Source: Wells Fargo's Q2 2012 earnings material.
We would like to highlight a few items. Wells Fargo's loan book increased by $8.7 billion from Q1 2012 and the core loan book was up $13.8 billion from Q1 2012. Within the loan book, commercial loans were up $8.3 billion from Q1 2012, but this included $6.9 billion of acquired loans. Consumer loans increased $375 million from Q1 2012. After backing out the acquired loans, Wells Fargo's loan book still grew modestly in the quarter, which is a good sign for the economy.
Net interest income increased in Q2 2012. Interestingly, the new interest margin (NIM) was flat in the quarter. The NIM is the difference between the interest income and interest expense, relative to the size of the loan book. NIMs across the banking sector have been under pressure as interest rates remain at record low levels. Wells Fargo's NIM benefited from ~7 bps of variable items and it is hard to tell what the NIM will be going forward, but it will likely continue to be under pressure. The following chart gives more detail about the net interest income and NIM: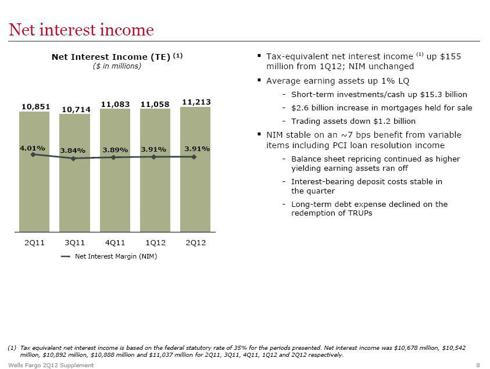 Click to enlarge
Source: Wells Fargo's Q2 2012 earnings material.
Regarding the NIM, Chairman and CEO John Stumpf said in the Q&A following the earnings call (see full transcript here): "NIM will be under pressure as -- in this low-rate environment. And while we don't manage to it, we surely talk about it. But what's important here is we're able to grow net interest income and that's really the driver."
Wells Fargo's mortgage business showed strong results in Q2 2012. Mortgage originations increased to $131 billion from $64 billion in Q1 2012. Similarly, the mortgage pipeline doubled to $102 billion from $51 billion in Q1 2012. The following chart gives more detail about the mortgage business: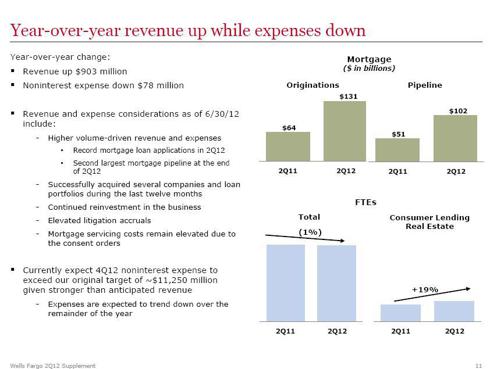 Click to enlarge
Source: Wells Fargo's Q2 2012 earnings material.
Wells Fargo measures its expenses by its efficiency ratio. The efficiency ratio is defined as "non-interest expense divided by total revenue (net interest income plus non-interest income)." The lower the efficiency ratio the better. As seen in the following chart, Wells Fargo continues to cut expenses and reduce the efficiency ratio, which is currently in its 55%-59% target range.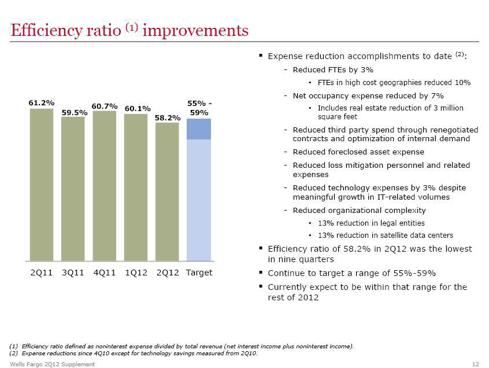 Click to enlarge
Source: Wells Fargo's Q2 2012 earnings material.
What Are the Implications for the General Economy?
There were several encouraging signs for the general economy in Wells Fargo's results. The loan book grew modestly. However, Wells Fargo's mortgage business showed strong gains and is positioned for continued growth since the mortgage pipeline is robust.
Additionally, John Stumpf said in the Q&A following the earnings call: "We're doing very well in auto; we did very well in small business; we did very well in card this quarter."
What Is the Guidance Going Forward?
The key questions for Wells Fargo going forward are: Can it continue its growth? And where do its capital ratios stand?
Regarding these issues, John Stumpf said:
Yes, let me just emphasize that. We're in that unique position of not having to do anything uneconomic or different to somehow hoard capital or to meet something. We are -- we have such strong capital, such strong cash flows and earnings here. It puts us in a position where we can grow organically, do strategic and value-adding portfolio acquisitions or whatever. So it really puts us in a great position. Capital simply is a not an issue here. Nothing I'd worry about.
Mike Mayo, a research analyst for Credit Agricole, had a good question about the mortgage business going forward. The mortgage business is providing short-term momentum and Wells Fargo's prospects look good in the long term. Mayo asked about what happens in the middle. The following is the exchange from the Q&A:
Michael Mayo, Credit Agricole Securities, Research Division: I understand the long-term: you had your whole Investor Day; and I understand the short-term mortgage: you're very optimistic. It's the medium term: if and when mortgage slows, what fills that bucket? What replaces that? Could there be kind of an oh no! quarter where mortgage slows and you haven't cut the expenses yet?

Timothy J. Sloan: Well, Mike, we could always an oh no! quarter. This is a volatile business that we're in, for sure. I think that when you're looking at the history of the company, we've had a profitable mortgage business for decades. But within that profitability, we've had a lot of cycles. We understand that the mortgage business is a very cyclical business, particularly when you look at the refi cycles that we've had over the past few years. And I would just point to the fact that while I can't promise this is going to be the case, while we've printed 10 consecutive quarters of earnings growth, we've had ups and downs in the mortgage business. And I think what that reflects is the benefit of the fact that we've got a very diversified business model, all right? The mortgage business is important to us. But when you look at the percentage of mortgage revenues for last year and the year before, it goes down because we're growing the rest of the business quite nicely. So I can't tell you specifically what would take the place of the decline in mortgage revenues, which will occur. We know that's going to happen because it's unlikely that we'll continue at this pace for the medium term as you point out. But we do believe that because we saw loan growth in many of our portfolios, we saw fee growth in many of the businesses that we can continue to grow even in the medium term.

John G. Stumpf: Yes, and Mike, I've -- and Tim's absolutely right in that. But even within the mortgage business, think about it. We are already seeing more purchase volume activity and the business is balanced pretty nicely between the servicing side and the origination side. So when originations tend to ebb, the servicing tends to do better. So I mean -- so there's a whole bunch of stuff. And there's -- we always say there's lots of different horses pulling this coach and one pulls harder when the other one doesn't pull as hard. So that's the beauty of this balanced business model. But, Mike, we will not stretch for something. If -- I mean, that we -- it's just not in our culture to do that. So if we happen to have something that goes down one quarter, that's life.
What Is the Market's Reaction to the Results?
The market's initial reaction was positive with a 3% gain in Wells Fargo's stock on Friday. Wells Fargo's results, together with JPMorgan's results, sent the market higher across the board. However, we will monitor the price action next week to see if there is upside follow through and if the Q2 earnings are a catalyst to push the stock to new 52-week highs.
Conclusions
Warren Buffet recently said in an interview, "They've got a sensational mortgage operation. ... The total mortgage market was at the $3 trillion level not that long ago. If it goes back up to $3 trillion, I hope Wells is doing a third of those." (Source: Bloomberg.)
Wells Fargo had a strong quarter. Although it faces a ongoing headwind from NIM compression, it seems able to make up for it in other parts of the business. Going forward, the mortgage business and the continued economic recovery should help drive the business.
Disclosure: I am long WFC and may add to the position in the next 72 hours.