Flying used to be fun but that was a long time ago.
Are you old enough to remember the coach lounge in 747s? I made many long flights to Hawaii flying in the back and had a ball. Obviously, things are different today. I post these images as a way of letting you know that we're hitting the airport tomorrow and will be on the road for six-seven weeks. That makes posting "iffy" given flight reliability. I may post tomorrow but Thursday is probably out of the question.

Obviously, the folks below are dangerous.





We'll be flying American Airlines and the good news is they'll be back to full service but that's also the bad news.




Okey dokey, with that out of the way let's look at markets.




I wonder if our friend above is a Wachovia (NASDAQ:WB) senior mortgage loan executive.

Not much good is expected from earnings and investors are tense as they wait. But given that expectations are negative, light volume selling and markets a little oversold, don't be surprised if bulls spin things positively: "Better than expected"; "The worst is over"; "The Fed's going to cut" and so forth. It might be a short bullish reprieve should that happen since PEs are going to get even higher [stocks not cheap] with substantially lowered earnings if stock prices don't decline significantly.

Volume has been comparatively light and yesterday was no exception. Much of this can be attributed to uncertainty.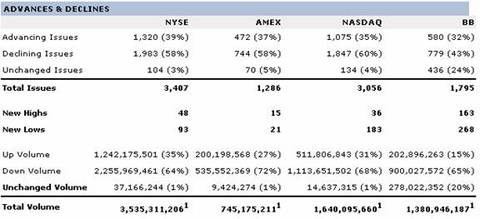 So where are we then in terms of overbought/oversold levels? We could look at just a few indicators to judge that.




Let me be the umpteenth person to blame Greenspan for our current economic problems but Stephen Roach states the case better than me in this op-ed piece. Anyway, here are the damaged goods.




Go to page 2 - Commodities, Emerging Markets >>