<< Return to page 1 - Earnings Jitters
You may have read about the crisis developing with rice prices. The chart below tells that tale well.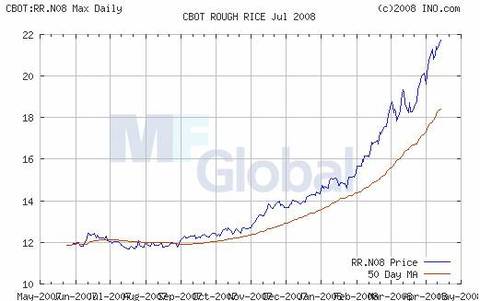 The demand for commodities, primarily in food and energy, remains strong. Grain carryover supplies are at historical lows since records have been maintained. This means any supply disruptions from drought, disease or poor planting conditions could result in food wars.
It seems there is plenty of oil around but there remains an underlying geopolitical bid in the market.
Earnings will be flowing in buckets over the rest of this week and that accounts for current light volume and nervousness.
I couldn't resist posting some of the headline images since we'll be on the road for the next seven weeks. In fact, we'll be in Washington DC when the pope arrives and then in NYC when he visits there. That only adds to the travel stress and possible delays.
Have a pleasant day and we'll try posting tomorrow.
Disclaimer: Among other issues the ETF Digest maintains long or short positions in ILF.