SUperValu's (NYSE:SVU) stock has underperformed terribly in 2012: down 64% in the past 3 months, 74% in the past 12 months, and 71% year-to-date. On July 12, 2012, this company's stock price plummeted 47% lower after bombing on earnings.
What has been going on with SuperValu Inc.? Is this a good opportunity for the long term? Let's find out.
About SuperValu
SuperValu Inc. is one of the largest food wholesalers and one of the biggest supermarket retailers in the United States, operating approximately 4,400 stores nationwide.
The company's store banners include Acme, Albertson's (acquired in 2006), Cub Foods, Hornbacher's, Jewel-Osco, Shaw's, Shop 'n Save, Shoppers Food & Pharmacy, Star Market, Cub Foods, Save-A-Lot and in-store pharmacies such as Save-On and Osco.
Business Model
The company's main business model is to operate a chain of retail and wholesale businesses while leveraging a cheaper supply chain network and economies of scale.
But this business model has not been working because of an extremely competitive pricing environment in the sub-sector. In 2010, sales declined 9%, and this downtrend in sales continued for next two years. Both sales and margins contracted significantly in FY 2011 (down 7.5%) and FY 2012 (down 4.6%).
Challenges and Response
The company has been facing three main challenges since past couple of years.
Weak consumer demand due to the economic turmoil
Collateral damage in the low cost supermarkets space due to competitive pricing
Relatively weak brand quality of store banners
The company has responded with various measures including reducing capital expenditure, introducing large scale price cuts and eliminating dividends, but the company's store brands are just not strong enough to attract today's weak consumer.
A Notable Trend
Take a look at the outperformance of dollar stores like Family Dollar Stores Inc. (NYSE:FDO), Dollar General Corporation (NYSE:DG) and Dollar Tree (NASDAQ:DLTR) since past three years as SuperValu sees heavy declines in sales and margins.
An interesting thing to note is that these dollar stores are not really direct competitors of supermarket chains like SuperValu. The trend shows where today's consumer is heading.
Click to enlarge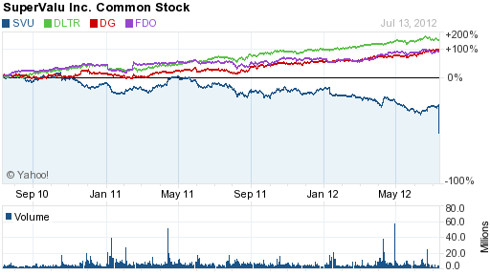 Earnings, Fundamentals and Key Statistics
The company has suffered severe setbacks in their EPS recently. Their fiscal year ends in February, and their recent 2013 Q1 earnings of $0.19 per share (announced July 11 2012) was significantly lower than the $0.38 expected by its 15 analysts.

Click to enlarge
SuperValu's cash flow is not bad, but it has been trending down. Also, both revenues and cash have been trending down, as shown below.

Click to enlarge

SuperValu's Trailing Twelve Months Gross Operating Margin is negative, indicating that the company has been losing money on an operating basis. This does not bode well for the company's fundamentals in the near future.
SuperValu's Return On Equity or ROE is a negative: -145%. The company appears to be among the worst in it's sub-industry and with a negative return on assets of -8.39%, it is inefficient in managing it's resources.
Last but not the least, the company remains highly leveraged, with a Debt-Total Capital ratio of 99%. What's worse is that for the most recent year, their debt usage in fact increased. Considering that the company's pricing plan will put pressure on earnings further and that it's Interest Coverage ratio is only 1.35, the company may even face a bigger challenge in the future - it could have problems servicing its own debt if there's no improvement.
Hope
As far the stock price is concerned, any announcements of sale of existing store banners to companies such as Kroger Co. (NYSE:KR) could be a short term catalyst. However, whether any of the existing store brands contain any strategic benefit for the competitors to acquire remains a big question.
Also, if SuperValu's pricing plan is not chased by Kroger or Safeway Inc. (NYSE:SWY), SuperValu could benefit a bit in sales, and any positive announcement could potentially cause a dead cat bounce for the stock.
Conclusion
Unfortunately, there's not enough value in this company's stock to justify any long term investment entry at this point. The company's fundamentals have been signaling distress and there's no sign of a possible turnaround.
SuperValu has decided to slash it's prices going into 2013 and 2014 but the problem with such large scale price cuts is that the earnings get hit very hard. Also, there is no guarantee that competitors will not follow the company's pricing plan, so at the end of the day, the plan might not even work.
Investors are better off choosing retailers that cater to very high income consumers or very low income consumers, rather than a company like SuperValu which at it's current stage does not have a very distinct position in either demography.
And of course, investing in SuperValu based on mere speculation of a sale of an existing store brand would be unwise.
Disclosure: I have no positions in any stocks mentioned, and no plans to initiate any positions within the next 72 hours.