Excerpt from Raymond James strategist Jeffrey Saut's latest essay:
...[L]ast week's failure by the S&P 500 at the 1370 level leaves a glaring upside failure in the charts, suggesting the rectangle formation of the last three months continues with the potential, repeat potential, of a downside retest of the lower-end of said rectangle. Consequently, we are raising stop-loss points on ALL trading positions. As for our investment positions, we remain comfortable with those positions, thinking our averaged-in prices on names like Schering-Plough's (SGP) 8%-yielding convertible preferred "B" shares, Covanta (NYSE:CVA), Delta Petroleum (DPTR), Johnson & Johnson (NYSE:JNJ), et all, afford attractive risk/reward levels for investors. We continue to invest, and trade, accordingly.

The call for this week: Gee . . . no GE (NYSE:GE); we got GE'd last Friday, and the psychological damage has the potential to change the near-term investment sentiment. Combine that with yesterday morning's negative Wachovia (NASDAQ:WB) news, and what is likely a 90% "down day" last Friday (I have not had a chance to run the numbers), and is it any wonder the pre-opening S&P 500 futures are off 8 points?! Therefore, it is important for the S&P 500 to gather itself "up" quickly, and rally, to regain its former health. If that doesn't play, the averages should revisit the lower end of the rectangle formation in the charts.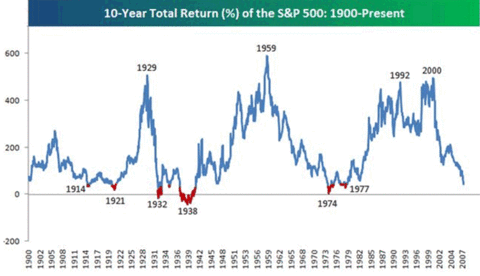 Source: Bespoke Investment Group.
Source: Reuters.