In its latest quarterly results, losses related to internet search erased all profits at Microsoft (MSFT). By tying itself to use Bing as its default search engine, I believe Nokia (NOK) and Windows Phone have handicapped themselves. Their success is only made more difficult by having a major component of their operating system prove itself to be a dud.
Imagine that you are a small business owner or employee of a larger corporation meeting with others at a conference in some North American city. During breaks, you show off your Lumia 900: Outlook is seamlessly integrated in your phone for mail, contacts tasks and calendar. You add that your documents, pictures and even music are safely and conveniently stored on the cloud via Sky Drive for free.
However, after a long day of work, you want to get together with your cohorts for a drink and a meal in this new city. You long-press your Windows button and speak "Pubs near me". Result? Websites such as smarterpub.com or pubsnear.com or scout.me.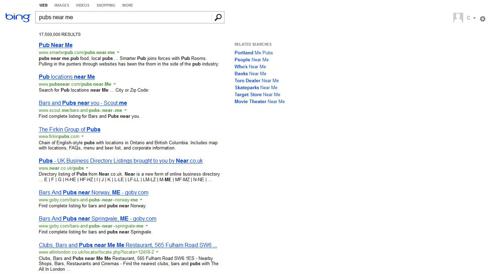 Click to enlarge
One of your cohorts says: "I'll just Google it" and he speaks into his phone. Result? Google effortlessly finds actual pubs near him. With a map. And push-pins that illustrate the exact location of each pub in relation to his current location. After pushing one of the pins, he is offered exact directions on how to get there and reviews from others who have been to that pub. Great.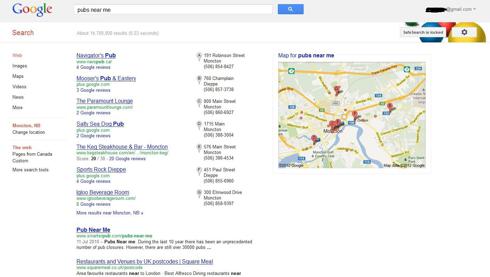 Click to enlarge
The Nokia Lumia, for all its beauty, cannot conduct basic search in a real-life situation as demonstrated in the "Pubs near me" example with printscreens as illustrations.
After years and years of attempts Bing is not a winner. It is getting better incrementally with video, news and other results on the same page. But, in the business of search, where money is made mostly through paid advertisements, you either lead or suffer greatly. Second place is really the first loser. But because MSFT has deep pockets, it can apparently afford to continue pumping money in this venture, at the expense of its stock and shareholders at the tune of approximately $2 billion per year.
Android is not perfect. In fact even its designers admit that if they could start over, they would design it differently. Android's crown is not its OS but its integration with the leading search engine Google.
Apple (AAPL) was smart. It realized that for its users to have the best experience possible, it needs to offer them the best of everything. And when it comes to search, they could see it's a no-brainer: Google is King. Apple recently announced that it was going to provide its own mapping. But, when it comes to search, what choice has it?
Let's face it: the World Wide Web is large. It's so large and growing that it's the most useful to users that 1) have access to all of it and 2) can find what they are looking for without sifting through mountains of information.
Bing Performance
For the last 3 months approximately I set my default search engine to Bing to see how they would fare. Well, it is difficult to prove my second point above, but take my word on it that it often took longer to find the information that I was looking for on Bing when I comparatively did the same search on Google afterwards.
But where it's most damning for Bing is in my first point: users of the Microsoft search engine do not have access to the entire world-wide web. Here are a few searches to illustrate this point:
SEARCH QUERY

RESULTS

BING

RESULTS

GOOGLE

how to view DCS-932L stream on my windows phone wp7.5

0

GOOGLE

73K

why is Bing news available as MSN news in Canada?

0

6.5 million

Bing sinks Microsoft profits

0

19.3 million
What is even more damning about the queries 2 & 3 in the table above is that the searches are about Bing itself. Now if it can't understand searches about itself, we are talking about an identity crisis, something that is seemingly a reflection of the entire Microsoft company. You only have to click on this Bing entry in Wikipedia to get a hint of how many times the name of the search engine has changed. I know marketing has to make adjustments over time to reflect changes, but this is ridiculous. If you read the Microsoft entry in Wikipedia you will see how many times names have changed on a global scale. The most obvious to me is the recent change from Zune to Xbox music. It should never have been called Zune in the first place. It does not make a multi-million dollar marketing effort to see that they already had a media brand that has millions of enthusiastic followers throughout the world staring them right in the face! Windows Media Center should be on my Windows Phone, every Windows PC and in every living room throughout the world the place where we go to see, watch & listen to our own and purchased media. It's in the name. But I digress.
What does Bing offer in its Help?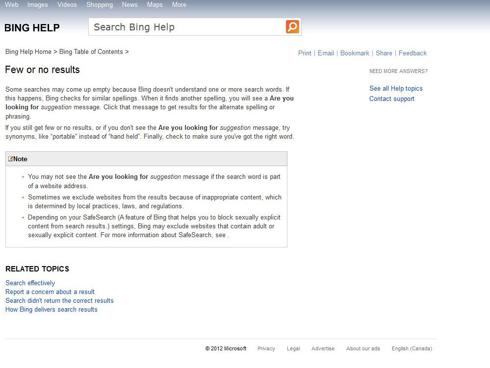 Click to enlarge
After reading the reasons behind the "Few or no results" heading, I was still left on my appetite for an answer to why my three search queries above turned up zero results. Note the last line in the "Note" window in the above graphic. "For more information about Safe Search, see ." The last words are "see" plus a space and a dot. This tells me Bing is again at a loss at where to point me for answers. If they meant I should read the Related Topics below, it should indicate this.
So why do you think adoption of Windows Phone is not growing faster? Certainly, there are many OEMs who have built reasonable Windows Phones. I believe it is the ball and chain of Bing that scares OEMs to put too much effort into it. After all, it's not good for business to be associated with a proven loser. Windows on the Desktop is a winner because it is entrenched. It was allowed to be entrenched because it reluctantly provided freedom of choice when it comes to search. The Department of Justice made sure of that.
Is Search Important?
Is it wise to dump billions of dollars of shareholder's money in search? Yes, it probably is. But… you need to have a plan with fixed objectives. If you do not meet these objectives, you need to be man-enough to admit you cannot do it, and let someone else do it. Or change tactics, and I don't mean changing the name for the nth time. For the accumulated losses in Bing alone, Microsoft shareholders should have sacked Steve Ballmer years ago.
To most adults and professionals, search is one of the most important uses of their mobile computers. I am not going to quote some obscure internet survey to prove that statement. Suffice is to say that 1) Microsoft has dedicated two of their three buttons on the face of the phone to search; 2) the number of websites that are formatted for smartphones and other mobile devices is growing all the time and 3) ask Google and Microsoft if search is important on mobile or not.
I predict that Windows Phone will ultimately provide full freedom to the user to choose the default search engine and provide full integration with that engine. Really, what choice does it have?
Microsoft doesn't have to give up on Bing but it can't force it on its Windows Phone users because that has proven to be the wrong tactic. People pay high premiums for their smartphones and they want it to be the best it can in all departments. People reject dictatorships. People want freedom.
When Bing becomes King of search someday, people will choose it freely. Until then, it's just not ready for prime time.
Disclosure: I am long NOK.