By Robert Gordon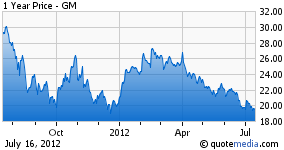 General Motors (NYSE:GM) emerged from bankruptcy in 2010 with a new initial public offering and its share price has been slipping ever since then. However, General Motors presently possesses a very attractive fleet of automobiles that, with improving economic conditions, ought to compete with both domestic and foreign car makes in the United States and Asia. That said, GM, along with Ford (NYSE:F), have had trouble with the European market and a number of economic factors in the United States and China. Additionally, I believe that both companies have competitive product lines that could result in price erosion as both serve as fierce domestic competitors.
General Motors stock is cheap by most metrics, so patient investors may be well positioned to make an entry on General Motors shares. Now that we are in earnings season, it is important to track news relating to the company's earnings. The company will announce its second quarter 2012 earnings on August 2, and the Street consensus earnings per share estimate is $0.82, ranging from $0.57 as a low and $1.03 as a high. In all, now could be an ideal time to initiate a long position in General Motors.
Valuation
Currently trading at a little above $20, General Motors shares are appealingly valued. GM's shares are priced at around 1.1 times their book value, which is below the consumer discretionary sector average of 1.2, as well as below Ford's price to book ratio of 2.2. GM also has a price to sales ratio of 0.2, which is below Ford's price to sales ratio of 0.3. GM's P/E multiple of 6 is above Ford's P/E of 2. These indicators, as far as I can see, are inconclusive in deciding to buy GM over Ford. Indeed, both GM and Ford stock seem cheap against the broader market.
Given the recent crisis, it is obviously important to look at cash flow for automotive companies. GM's price/cash flow of 3.1 is higher than Ford's price/cash flow of 1.7. In all, while I like Ford's price in respect to its overall cash flow, both stocks seem rather undervalued in respect to sales, which ought to improve in the coming months. In fact, net cash flow for GE was over $2 billion in the first quarter of 2012, an improvement from negative cash flow year over year.
Sales
In 2011, 32 percent of General Motor's total sales were in North America. General Motors has the largest market share in the continent of any automotive company in North America at 18 percent. Importantly, over 36 percent of the company's total sales were to Asia, the Middle East, and Eastern Europe, representing its largest single market. The Chinese market is critical for any retail brand, and it is equally important for the automotive industry. GM management explains in its first quarter 2012 earnings call that it is engaged in a variety of joint ventures, many directly overseen by the Chinese government, in order to distribute its vehicles to the growing Chinese market.
There is growing concern about Chinese macroeconomic indicators. A sharp decrease in inflation in China during May fueled concerns that the country's central monetary chiefs might contract its economy. The consumer price index (CPI) for the country increased by only 2.2 percent in May, the lowest in 29 months. This could erode profits for businesses like GM and slow overall consumption in the world's largest country and, perhaps more importantly, one of the world's most critical emerging markets.
However, recent sales in China have been very strong for General Motors. Over the first half of 2012, sales have increased 11 percent in China compared to the same period last year. Ford also had a blockbuster month of June, selling 15,000 units of its premier compact car, the Focus. There is considerable demand for smaller-sized compact cars and coupes like the Focus in China, a demand previously filled by makers like Toyota (NYSE:TM) that have a robust compact line-up. For GM, the Buick and Wuling brands are particularly marketable in Asia.
Sales in the United States are also looking healthy. Total lightweight car sales in the country are estimated to increase to 14.3 million units, a year over year increase of 12 percent.
Earnings
Since filing for bankruptcy, GM has trimmed its cost structure and improved its overall business model. The company has stabilized its operating margin at around 3.8 percent, while increasing its total volume of sales. Earnings per share in 2011 were up nearly twofold to $4.58, from $2.89 in 2010. Earnings for 2012 are expected at around $4 per share as the company focuses on fewer brands and as management addresses the near-term stresses stemming from the European sovereign debt crisis and sluggish U.S. jobs reports. I believe that five-year earnings growth for General Electric, given its post-IPO restructuring, will average 7 percent annually. Total capital expenditures for the company are expected to total $8 billion as the company hopes to compete in the growing market for "tech savvy" automobiles.
Conclusion
As of January 2012, GM held about $8.9 billion in debt, which is down from $10.7 billion in January 2011. In all, as the company pays off its debt and more nimbly addresses the next cycle of automobile demand, GM will be well positioned to see price appreciation over the next two years. Assuming earnings growth, a reasonable target for GM shares is around $28.
Disclosure: I have no positions in any stocks mentioned, and no plans to initiate any positions within the next 72 hours.