After the close Monday, shoe manufacturer Crocs, Inc announced drastically lower Q108, Q208, and FY08 guidance, sending shares down ~30% at the time this article was written. With the stock already down 50% before Monday's nightmare, many on the Street had considered CROX "too cheap" to ignore. The stock was fetching a single digit multiple to forward 12 month earnings and on a first look basis, it looked like things couldn't get worse. And then the tune changed.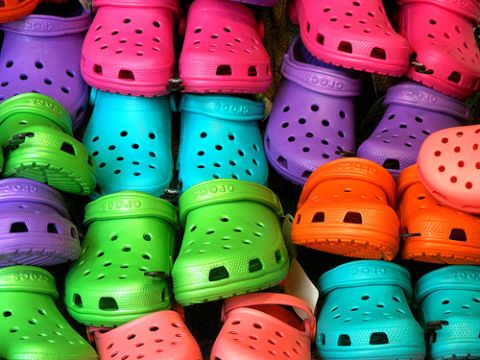 In the press release, CROX management spun it the best way they could, blaming the macro:
Despite general weakness across the industry we continue to witness solid sell-through of our Crocs branded footwear and still expect domestic sales to still grow roughly 13% during the quarter. However, retailers in general are planning more cautiously, and therefore, we did not experience the level of at business we originally expected.
In a word, estimates were too high and the sell side refused to think of CROX as other than a best in class lifestyle play that could shake off the sordid economy. The smart money was waiting for a time bomb – and on Monday, they got it.
No wonder, then, that the last 3 CROX articles on Seeking Alpha were bullish in nature (Crocs Appears Well Positioned, Stock Is Cheap - Baird; Crocs: Value Building or Value Trap?; Crox Could Rise on Piper's Inventory Comments) but as you can see for yourself, we didn't waste any time posting frequently in the comments section of these posts that CROX was road kill and likely to follow in the footsteps of Heely's Inc (NASDAQ:HLYS), a one trick pony shoe play that got slammed last fall amid inventory concerns, pathetic sell thru data, and rumors of lost contracts (HLYS ultimately did lose its relationship with Dick's Sporting Goods (NYSE:DKS)).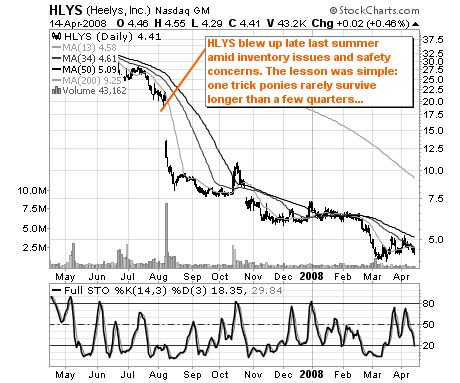 We've annotated the chart below with the same comments we made to our buy side contacts over the last few months, based on technical analysis and marinated with the inventory build our channel checks were confirming here in the Midwest. As you can see, investors had not one, but three, opportunities to dump CROX shares.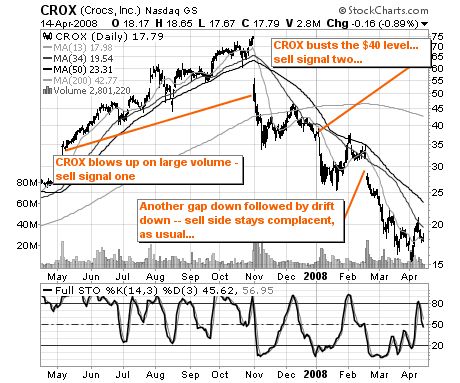 Bottom line: We are ratcheting down our price target from $15 to $9 to reflect today's outlook and reiterate the strong sell rating we've had on the stock for months. With the stock down more than 30% at the open Tuesday, no reason to get macho with the stock now. Our guys will be playing the tepid bounces and shorting them back down. If it isn't clear yet, this company's only hope is a bottle of whiskey and a Mossberg.
Disclosure: Author had no position in CROX at the time of writing