Amazon (AMZN) is a stock that tends to defy naysayers. Despite healthy revenue gains, earnings and operating cash flow growth are meager. It is also a retailer that I have shorted successfully in the past. Given recent developments and a challenging summer in the market ahead, I went short the stock again via options earlier today.
Headwinds for Amazon:
Momentum for an online sales tax is building and this is something that is increasingly likely to happen. This will erode Amazon's price advantage over retailers such as Best Buy (BBY).
Some Amazon advocates point out that Amazon will be able to deliver faster and pick up additional sales by building new distribution centers near metropolitan areas. That may be true in the long run, but it also means that the company's cap ex budgets will need to expand in short term eroding margins and earnings.
June retail sales disappointed today coming in at -0.5% vs. +0.2% expected, -0.2% prior. Ex-autos -0.4% vs. +0.1% expected. This was third bad retail report in a row and should put a negative over the retail sector.
Earnings estimates for FY2012 have gone down over the past three months even as the stock has climbed.
5 reasons AMZN is overvalued at $215 a share:
The stock is selling at the top end of its five year valuation range based on P/E, P/B and P/CF.
AMZN trades at 83 times forward earnings. To put in perspective, the company increased earnings at just under a 17% annual rate over the past five years.
The company has one of the highest five year projected PEG (5.44) in the retailing universe.
Despite more than doubling revenues since FY2009, operating cash flow is close to the same level as it was in 2009.
The stock looks a bit toppy at these levels (see chart).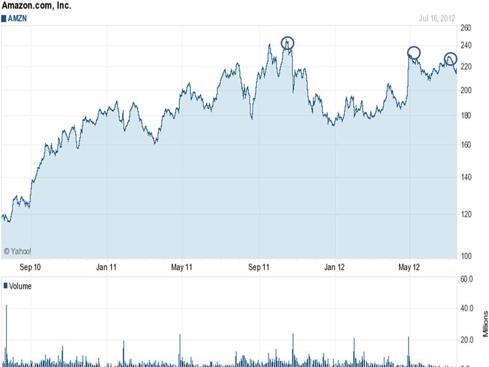 Click to enlarge
(Click to enlarge)
Disclosure: I am short AMZN.