Gold is considered one of the most popular "safe havens" during times of financial uncertainty. However, since March, gold has been in a slump and it has many investors questioning where else they could put their money. U.S. Treasuries just are not cutting it right now as yields are low and do not provide a big enough return to entice investors.
As of late investors have been turning to utilities and high grade corporate debt for their safe haven needs but history suggests that gold could be due for another bullish leg up, according to Marcus Grubb, the managing director of investments for the World Gold Council.
Grubb says that it is not unusual for gold to have a delayed reaction to macro events. In this case, gold has certainly had a very limited response to the European debt crisis. However, let's look at a historical timeline to determine whether or not Grubb's case is valid.
First, we head back to Black Monday in 1987 when markets crashed. Gold topped out at around $482.50 an ounce and began its slump. The metal later bottomed out at around $467.50 in early November 1987. However, by December of that year gold had surpassed levels seen on Black Monday to around $490 an ounce and continued its uptrend. A detailed chart of the time period is below
(chart by goldstockprophet.blogspot.com)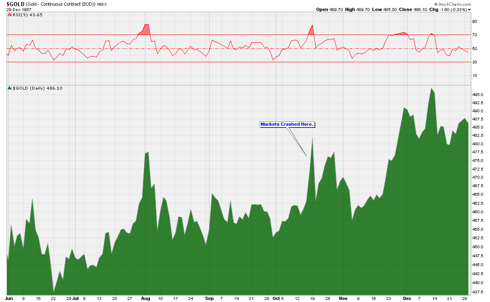 Click to enlarge
If we turn the clocks back to September 2008, when Lehman Brothers collapsed and the credit crunch effectively began, gold was trading around $900 an ounce and it didn't see those levels again until February 2009. Once gold was able to recapture the $900 mark, a new uptrend began and gold ended up returning 156% over the next three years.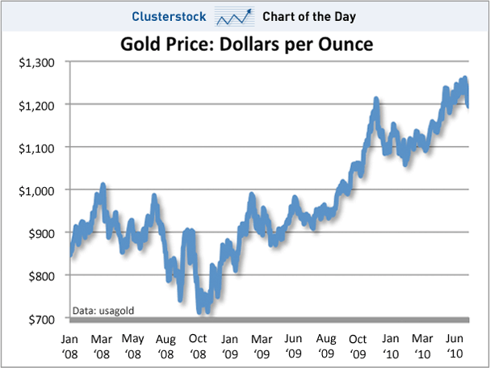 Click to enlarge
Turning back to 2012, gold has hit a high of $1,773.60 and since then has been in a downtrend and currently sits at $1,591.30. So far the stars are beginning to align just as they did previously in 1987 and 2008, notably.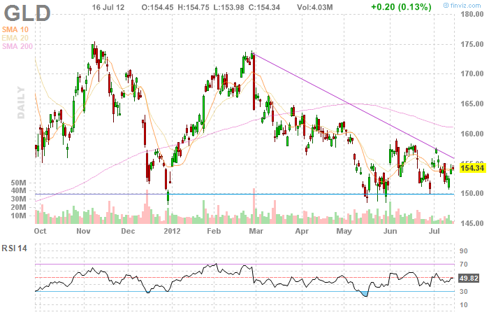 Click to enlarge
To add to my bullish thesis of gold, a new report out from the U.S. Mint shows that physical gold buying was up 13% in June. The U.S. Mint said that sales of its popular American Eagle gold coin has seen a wide range so far this year. January 2012 saw the highest sales as 127,000 ounces were sold, followed by the year's low of 20,000 ounces in April. However, May and June sales came in at 53,000 ounces and 60,000, respectively. This points to the fact that investors are starting to get back on board to gold train and Wall Street should soon follow suit.
There are a couple of ways to play rebounding gold. First, and most obvious, is buying into the popular SPDR Gold Trust ETF (NYSEARCA:GLD). However, you could also use other ETFs such as Market Vectors Junior Gold Miners ETF (NYSEARCA:GDXJ) or you could choose the more stock specific route with names such as Agnico-Eagle Mines (NYSE:AEM) or Freeport-McMoRan (NYSE:FCX). These are just a few ideas that would work in a rebounding gold market. I suggest that you do your own research to determine which strategies work best for your investment goals.
The bottom line here is that it is not unusual for gold to have a delayed response to macro events. As we saw in two of our examples, gold saw a couple of down months initially after a bad financial event but later reversed its losses and gave patient investors considerable gains. Look for continuing signs that Wall Street and Main Street are warming up to gold again.
Disclosure: I have no positions in any stocks mentioned, but may initiate a long position in GLD over the next 72 hours.