By Brendan Gilmartin
Overview
Qualcomm (QCOM) is slated to report 3Q 2012 earnings after the close on Wednesday, July 18. The results are expected to come through at 4:00 p.m. EST, with a conference call slated to follow at 4:30 p.m. Sympathy Plays: Nokia (NOK), Broadcom (BRCM), and Texas Instruments (TXN).

Outliers & Strategy
Key Measures:
Non-GAAP Earnings Per Share: For the 3Q 2012 period, Qualcomm previously indicated it expects Non-GAAP EPS of $0.83 to $0.89. Guidance tends to be conservative and actual results tend to come in at the high end of forecasts.
Revenues: Qualcomm said in April it expects 3Q revenue of $4.45 bln to $4.85 bln, an increase of 23% to 34% Y/Y.
Adjusted EPS Guidance & Revenue Guidance (4Q 2012): Guidance for the next quarter will be watched closely, given that results for the 3Q period are largely priced into the shares. The estimates are for Adjusted EPS of $0.89 on revenue of $4.90 bln. (Source: Yahoo! Finance)
At just13.3x forward earnings, Qualcomm is trading at a discount to historical multiples. With an expected 5-year earnings growth rate of nearly 13.38%, the FWD PEG ratio is nearly 1.0.
Over the past several quarters, Qualcomm has benefited from its relationship with Apple (AAPL), supplying chips for the popular iPhone device. In addition, the majority of Android devices run on Qualcomm chipsets.
Qualcomm shares fell sharply in mid-May after Gartner reported worldwide smartphone sales to end users fell 2.0% to 419.1 million units in the 1Q 2012 period, the first decline since 2Q 2009, stemming from softness in the Asia/Pacific region.
Recent News
07/13: Lazard Capital is maintaining an Outperform rating on Qualcomm with a price target of $75, according to a post on BarronsOnline. The firm reportedly believes Qualcomm has the strongest business model in the telecom equipment space and that recently negative news from Research In Motion (RIMM), Nokia and others are more vendor-specific. Furthermore, Qualcomm should benefit from improved seasonal trends, with new products from Apple and Samsung on the horizon.
07/13: Credit Suisse reiterated a Buy rating and a $74 price target, according to a report on BarronsOnline, based on strength in the Android smartphones in China and a new product cycle in North America.
07/06: Qualcomm announced a quarterly cash dividend of $0.25 per common share. The shares are now yielding 1.82%.
05/26: Qualcomm, through its acquisition of Atheros, is stepping up efforts to take market share from Broadcom to compete in the market for WiFi chips allow for much faster download speeds, according to BloombergBusinessWeek.
Technical Review
Qualcomm shares are off close to 20% from the 52-week high of $68.87 established on March 27. The shares recently re-tested and held the late-June low near $53.50, resulting in a potentially bullish "Double-Bottom" formation. Should earnings and forward guidance disappoint, watch that level for downward support. Conversely, initial resistance is at the 20-Day SMA near $55.25, followed by $57.25 - a level coinciding with the 50-Day SMA. (Chart courtesy of StockCharts.com)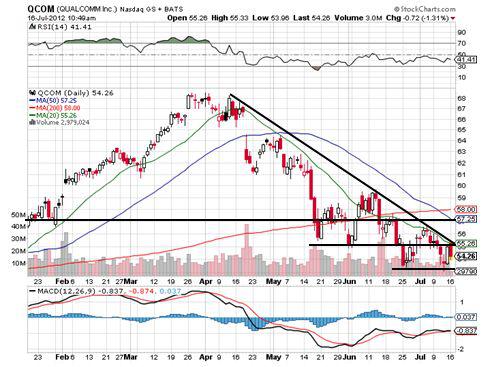 Summary
Qualcomm shares are off about 20% from the March/April high near $69 stemming from a slower global macroeconomic backdrop, evidence that smartphone shipments have peaked near-term, weak performance at the likes of Research In Motion and Nokia, and seasonal weakness ahead of upcoming product releases from Apple and Samsung. At 19.2x trailing earnings (a discount to the 5-year average of 24.2x), a forward PEG ratio of <1.0, and oversold technical conditions, Qualcomm could be due for a bounce as long as guidance reflects an upbeat outlook.
Disclosure: I have no positions in any stocks mentioned, and no plans to initiate any positions within the next 72 hours.
Disclaimer: By using this report, you acknowledge that Selerity, Inc. is in no way liable for losses or gains arising out of commentary, analysis, and or data in this report. Your investment decisions and recommendations are made entirely at your discretion. Selerity does not own securities in companies that they write about, is not an investment adviser, and the content contained herein is not an endorsement to buy or sell any securities. No content published as part of this report constitutes a recommendation that any particular investment, security, portfolio of securities, transaction or investment strategy is suitable for any specific person.