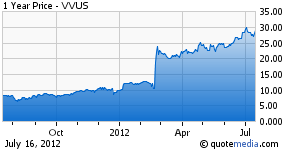 The up-and-coming drug company Vivus (VVUS) is about to get its decision on the NDA that was submitted, which could finally give us an FDA approval for Qnexa. If you remember, this NDA was delayed back on April 17th for three months. It's been a very long wait for investors who are eager for exposure into the largely unexplored territory of prescription weight loss drugs, and after seeing the approval for Arena Pharmaceuticals (ARNA) I've seen people argue both sides of the effect on Vivus' likelihood of approval.
The pessimists have said that the existence of Lorcaserin/Belviq (Arena's weight-loss drug) would reduce the likelihood of approval due to the fact that there is already a prescription weight-loss drug on the market (meaning that Qnexa would be pressured to demonstrate a notable improvement). In addition, the 20-2 favorable vote on Qnexa that we saw in February 2012 was partially based on the lack of existing alternatives.
It doesn't seem like enough to offset the behavior of the FDA, which strongly implies that it's ready to allow Qnexa the approval contingent upon the REMS studies that Vivus has agreed upon. Indeed, rather than giving a simple rejection back on April 17th, the FDA announced that it needed a little more time to review the "risk management plan."
Obesity is nothing short of a pandemic in the United States, especially according to statements by the CDC. It's been linked to everything from cardiovascular disease to cancer, and has drastically reduced the quality of life for millions of Americans. This is a drug market that is not only huge, but necessary for the pharmaceutical companies to penetrate.
At this point, it seems that the majority of people following Qnexa are simply waiting for the approval. Does that imply that this is going to be an instance of "buy the rumor sell the news," or "thank god it's approved, I'm buying more?"
After a recent pullback, VVUS is in an interesting position. The long-term trend is clearly upwards, although it seems that the stock is a bit nervous ahead of the FDA decision (judging by the ~12% pullback since July 3rd). An FDA approval would probably restore that lost confidence, which is why I expect a return to $30/share given a likely FDA approval.
The people who are sweating the most over this scenario are probably the shorts, who have positions totaling about 13% of floated shares. If we manage to break the 52-week high and bring VVUS into the 30's, I think we will also see a sizable short squeeze propelling shares closer and closer to $40 (like the analysts predict).
Basically, this is one stock where you definitely want to follow the trend. The one thing that could derail VVUS right now is a very surprising FDA rejection (I'd probably short VVUS if this happens as bears come swarming in), but it seems quite implausible at this point.
Patient buyers who enjoy grabbing the unappreciated stocks in the dark corner of the room can take a look at Orexigen (OREX), which is being deeply discounted as traders rush to ride Vivus and Arena's early start into the prescription drug market relative to Contrave (Orexigen's prescription weight-loss pill).
Disclosure: I have no positions in any stocks mentioned, but may initiate a long position in VVUS over the next 72 hours. I may also plan on shorting VVUS if we manage to see an FDA rejection for Qnexa. That would probably induce a breakdown, and bears would come "swarming" in for weeks.