The world's largest beverage company, the Coca-Cola Company (NYSE:KO) is slated to release its second quarter earnings tomorrow (Tuesday) morning, July 17, before the opening bell. The Street is looking for earnings of $1.19 per share on revenue of $12.99 billion. My estimates are for revenue of $13.2 billion and earnings of $1.21 per share on the back of stronger pricing in North America and the Pacific segments
Earnings growth over the past few quarters has been relatively muted as higher costs and slowing volume growth pressured earnings. Total volumes have increased 5%, 3%, 5%, and 6% over the past four quarters as KO managed its brands effectively through the slowdown in Europe. I am looking for approximately 3% volume growth during the second quarter, with North America lodging growth of 1%. I expect strong volume growth to come from the Bottling Investment, Pacific, and Latin America segments, with Europe, North America, and Eurasia showing stagnant percentage increases compared to the second quarter of 2011. KO purchased the North American bottling operations from Coca-Cola Enterprises (NYSE:CCE) in February of 2010, and has seen consistent volume and efficiency growth.
In the company's first quarter earnings release, the strength stemmed from India, China, and Russia. That strength should continue despite the apparent slowdown in the Chinese economy. India has seen its inflation growth rate level out, while Russia is seeing its economy stabilize despite being very tightly correlated to the prices of commodities. During the first quarter, volumes increased 27% in India, 20% in Russia, and 5% in China. KO continues to invest billions of dollars overseas in infrastructure and distribution, the most recent being a new $3 billion investment in India. The return on investment has been extremely strong thus far, and it appears that management is well on its way to accomplishing its goals for its Vision 2020 plan.
Barring a complete collapse in the Chinese economy (the Chinese government has already taken steps to accelerate economic growth), the Pacific segment, and China in particular should continue to be a huge part of the success for the Coca-Cola Company. The Pacific segment accounts for approximately 12% of revenues (compared to nearly 44% for North America), but it has been steadily increasing. During the second quarter of 2011, Pacific accounted for 12.5% of total revenues. My revenue expectations being higher than the Street's estimates stem from my belief that the Pacific segment will account for slightly more than 12.5% during the second quarter of 2012.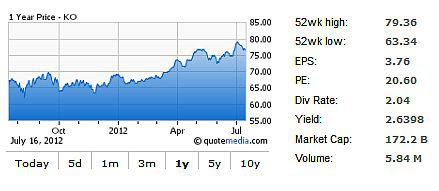 The stock price has remained relatively resilient despite the swoons in the market over the past few weeks. I would be looking to add on any pullback in the stock, especially with a 2.6% dividend yield. The company increased its dividend approximately 10% in the first quarter, and repurchased more than $845 million of stock. Management expects to repurchase between $4 and $6 billion of stock over the next twelve months (reflective of the 2-for-1 stock split). The stock split was approved on July 10, and will likely be completed on July 27 with new shares being distributed on August 10. This is the eleventh time that shares of the Coca-Cola Company have split and the first time in 16 years. There is a worry that the split will upset Warren Buffett as he is not a fan of stock splits, but he has been on the board of directors for KO for three stock splits, and recently split the level B shares of Berkshire Hathaway (NYSE:BRK.B). Mr. Buffett has said in the past he has confidence in the management team and "hasn't sold a share of Coke." I do not see why he would start now. Mr. Buffett still owns more than 8% of KO, that will not change following the split.
Despite my expectations that volume growth slows during the quarter, KO is still my favorite in the space. It offers a dual pronged investment approach; capital appreciation (through the stock price increasing) as well as through dividend growth. The company has a strong cash flow, solid return on investment, and continues to outperform its closest rivals, namely PepsiCo (NYSE:PEP) and Dr. Pepper Snapple Group (NYSE:DPS). With the volatility that is in today's markets, the steady growth of KO has been a welcome benefit. Additionally, stocks normally run into a stock split, which could be a good buying opportunity for short-term investors, however, I prefer to invest for the longer term, and KO should be a pivotal part of a longer term portfolio.
Disclosure: I am long KO.