The shares of Qualcomm (QCOM) have lost significant ground since touching a high of $68 at the end of April to $55 now. We think that sell-off is a little overdone.
Qualcomm designs, develops, manufactures, and markets digital telecommunications products and services. It operates in four segments: Qualcomm CDMA Technologies (QCT), Qualcomm Technology Licensing (QTL), Qualcomm Wireless and Internet (QWI), and Qualcomm Strategic Initiatives (QSI).
Some key metrics:
Market cap $94.25B
Revenue: $14.96B (fiscal year 2011, which runs until the end of September) [CNBC]
Cash: $15B (end of March 2012) [CNBC]
Debt $1.18B
Profit margin 45% (last quarter) [ycharts]
Cash flow from operations has been solidly positive, even in 2008 ($3.58B)
A very sound balance sheet, good cash and profits generation, solid revenue and earnings growth and 30-50% profit margins, these are all manifestations of a very well run company that is solidly entrenched in its markets and industries. Indeed.
Qualcomm claims to have come up with a new open business model. Rather than licensing individual patents, it has licensed its whole portfolio in order to create an ecosystem and accelerate technology acceptance and adoption (one can read more about that in a company study (pdf) here).
Some of that inclusive ecosystem thinking is still visible:
In the first move of Qualcomm's annual big event, the company has released an SDK for mobile developers intended to bring the very best app experiences for Android users the world over. According to the San Diego-based mobile chip manufacturer at Uplinq 2012, the idea is to encourage software makers to unlock the potential that lies within Snapdragon smartphones to create a "killer user experience". [pocket-lint]
Tighter integration between software and hardware is, of course, the latest, with Microsoft and Google now following in Apple's footsteps.
That ecosystem thinking started of course with CDMA (the rival '2G' mobile communications technology to the more dominant GSM standard), but has been greatly expanded into the 3G and 4G mobile communication markets. While 3G is maturing in the economically most developed countries, there is plenty of room left both in new access devices (tablets) and more especially in developing markets.
Witness the 164% jump in smartphone sales in China, in the past year, for instance. In some markets, there is already a move towards '4G', opening up the market for Qualcomm's LTE chips. Smartphones and tablets offer opportunities besides the modem and radio chips, more especially for Qualcomm's system on a chip (processor, memory, graphics etc.) known as SnapDragon.
Apart from Apple (iPad nor iPhone contains the SnapDragon chip, but they do have Qualcomm's LTE and wireless modem chips), the coming Windows tablets seems like a feast for Qualcomms 'SnapDragon' chips, here from Samsung, from HP, from Dell, and here from Asus, for instance. The chip is also inside mobile phones, like Nokia's Lumia 800 (and 900) HTC One X, Titan and even the Samsung Galaxy S III that have been selling like hotcakes.
Even SnapDragon run laptops are in the cards:
Qualcomm's senior vice-president Rob Chandhok has said we can expect quad-core S4 laptops before the end of the year, which will be not just thinner and lighter but significantly more powerful in the graphics department than their X86 counterparts and have better battery life. Considering they'll also come with 3G/4G onboard as standard and will, in many cases, be running Microsoft's Windows 8. [Trustedreviews]
So growth opportunities aplenty (and we have been anything but exhaustive). Revenue growth has been pretty solid:

Click to enlarge
Analyst expect earnings per share (EPS) on average to be 86 cents for the quarter and $3.74 for the year, rising to $4.14 next year. As you can see from Yahoo, analysts are, on average, slightly too conservative. There have been single digit earnings surprises the last four quarters.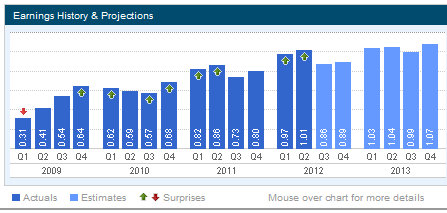 At 4.14 for fiscal year 2013 gives it a price/earnings ratio of 13, which is quite cheap for the type of company we're discussing. On top of that comes the dividend yield of 1.9% [ycharts], which is better than 10 year government yields. The company also has a $4B share buy-back program.
Q2 (March)
The last quarter (which is the second quarter in the fiscal year of Qualcomm) was no exception to that rule, producing $1.01 per share in earnings where analysts, on average, expected only 96 cents. EPS growth (y/y) was solid, with 21% and revenue growth was even faster at 28%.
The problems, and ensuing sell-off, was produced by an ever so slight lowering of guidance for Q3 results (out this week) due to shortages in the supply chain. The subsequent sell-off has bee significant, in the order of 20%, so we think that has been priced in, if not more than priced in.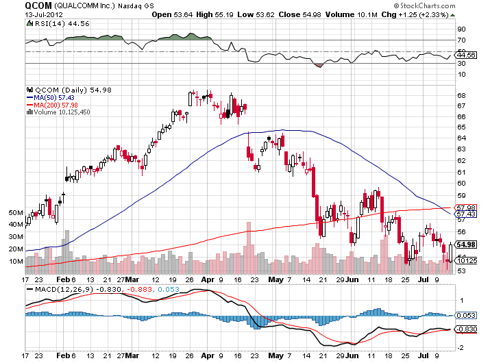 Click to enlarge
Which leaves two upward scenarios. Either these shortages were not as restraining as the company feared, This wouldn't be the first time, as SA contributor Steve Birenberg noted after the Q2 earnings release in April:
Toward the end of the call, management reminded listeners that a similar guidance issue occurred when the company reported in October 2011 and shipments ended up OK
Perhaps they've already worked on a solution, at least in part:
Qualcomm's new Snapdragon S4 processors, built on a 28nm process, have proven so popular that TSMC has said that it's struggling to manufacture the chips. Qualcomm has recognized that it needs to keep up with demand, and has signed an agreement with an unlikely partner: Samsung. The terms of the deal with Samsung haven't been disclosed, but an additional partner, United Microelectronics, will begin making 28nm chips by the fourth quarter of this year. [Slashgear]
If that history repeats itself, the shares are due for a nice bounce. In any case if supply issued did have a material impact on Q3 figures to the tune of Qualcomm's own guidance, they are likely to be a one-off. Stock markets are discounting mechanisms, unless something quite dramatic happened here, this should be fully discounted already.
So we conclude that only in case the supply issues were way worse than reflected in the slightly lower guidance for the current quarter is there room for further room on the downside (leaving aside other nasty surprises, of course). So we think there is a very high probability that the supply issues will have no material impact going forward and the shares will re-bounce.
Disclosure: I have no positions in any stocks mentioned, but may initiate a long position in QCOM over the next 72 hours.