Retail sales took a huge hit in the last recession when the U.S. economy lost almost 9 million jobs. Below is a chart of total retail sales excluding food services and a chart of total employees in the U.S.: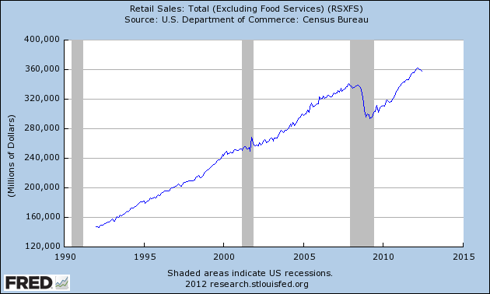 Here is a chart of total employees in the U.S.: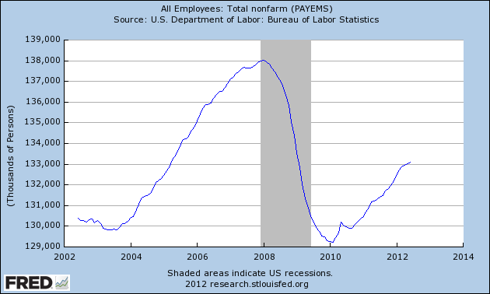 We are now approximately three years into the recovery of the recession that ended in June of 2009. Today, we got retail sales numbers for June that were .5% less than May and have declined month over month for 3 consecutive months.
I put together a chart to show the extent of what is a clear downtrend in retail sales growth.
This chart shows year over year % change in the following data sets going back to 1994: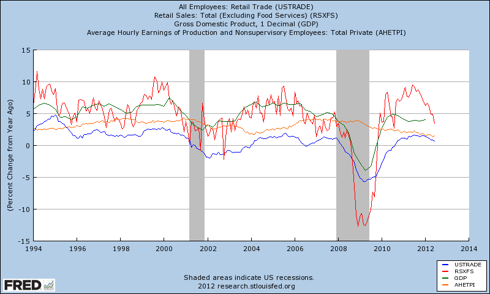 Red Line: Retail sales (excluding food services) rate of change year over year. This indicator has given us a rather clear cycle of a peak in year over year percent change in retail sales.
March of 1994, retail sales grew 11.6% year over year. Sixty-five months later, August of 1999, retail sales peaked again at 10.7% year over year. Seventy-one months later, July 2005, retail sales grew 9.4% and in June of 2011, which was seventy months after that peak, retail sales were growing at 9.5% year over year growth.
So 65, 71 and 70 are the months of time between each peak, which comes out to an average of 5.7 years. The rate of change always caught up with the rate of change of wages and would even undershoot wage growth.
This implies that retail sales are set to continue to fall and at some point in the future will once again be at a level of growth that is less than the level of wage growth, which is at the lowest level in at least the last 50 years growing at just 1.4% for production workers.
Blue Line: All Employees in retail trade which shows that the rate of change in the number of people in the U.S. with a job in retail is trending down again.
Orange Line: Average hourly wage of non supervisor production workers year over year percent change. The year over year percent change trend has been lower and lower and the most recent data shows that average wages are growing only 1.5% year over year.
Green Line: Gross domestic product year over year percent change. Since 1994, GDP rate of change more or less hugged the rate of change in retail sales.
In the last recession, retail sales overshot the rate of decline in GPD and in the recovery, retail sales growth overshot to the upside. It might well be payback time suggesting retail sales growth is heading down again.
Retail sales are coming and should continue to come under severe pressure from this perspective.
The consumer discretionary select ETF fund (XLY) has done spectacularly well in this latest retail sales recovery with many stocks in that sector setting all time highs. Here is a chart of this fund: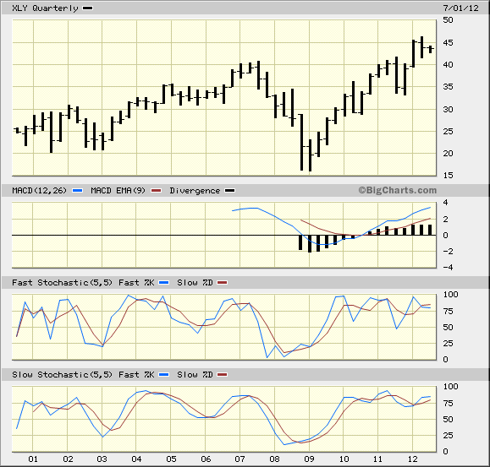 This fund remains quite overbought and from my perspective, looks ready to roll over.
To get more specific into individual names that both have benefited from the strong retail sales recovery but are now prone to retail sales growth pressure, I took a look at a handful of names worth examining.
Starting with Starbucks (SBUX), which has seen a monster recovery from its lows in 2009. Current price of $53.51 puts it at 7.91x book value and gives it a trailing P/E ratio of 30.84.
Starbucks ended their 2nd quarter March 31, 2012 and reported 10% sales increase with an 8% increase in same store sales in the U.S. coupled with a 7% increase in traffic. Yahoo has estimates that SBUX grew sales 13.6% in the 3rd Quarter that ended June 30th and will have sales growth of 12.7% the following fiscal year that ends September 2013.
I find those estimates wildly optimistic.
Here is a chart of Starbucks: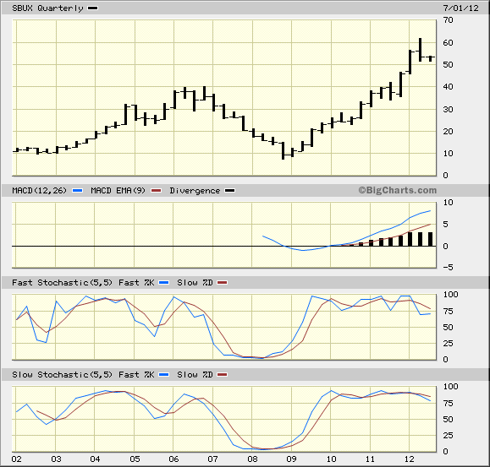 The next stock we'll look at is Bed Bath and Beyond (BBBY). Bed Bath and Beyond is selling at 3.59x book value and 14.31x trailing 12 months earnings. In the recent quarter ending May 26th, sales were up 5.1% overall and sales for stores open for at least 1 year saw gains of 3.0% Vs 7% the prior year. They are indicating the reality of the retail sales slowdown this year Vs last.
Yahoo shows estimates of sales being up 9.30% for fiscal year ending February 2013. Well, good luck with that.
Here is a chart of Bed Bath and Beyond: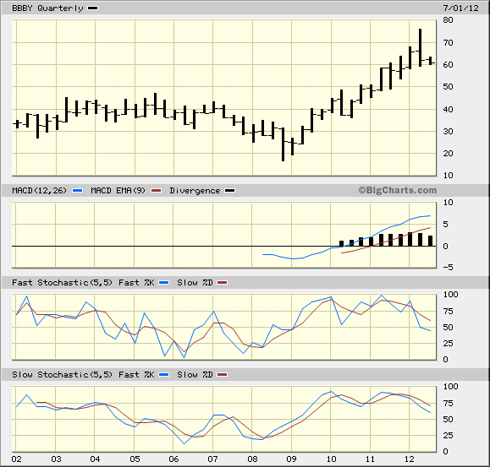 Another retail stock that has performed terrific is AutoZone (AZO). At the current price of $380.68, it's selling at 17x trailing 12 months earnings. Auto zone has a negative equity of $1.416 billion as of May 5th, 2012.
In the most recent quarter end May 5th, overall sales were up 6.7% and same store sales were up 3.9%.
Analysts expect sales to grow 7.1% this fiscal year that ends August 2012 and 6.5% the following year.
Here is a chart of Autozone: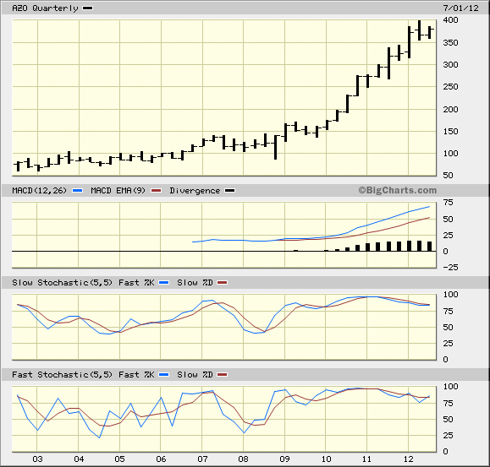 Walmart (WMT), the behemoth of retail in the U.S., is selling at $72.93 a share at last check, which is 3.6x book value and 15.71x trailing 12 months earnings.
Yahoo's compiled estimates suggest Walmart will grow sales 6.2% for fiscal year ending January 2013 and 4.8% for the following year.
In the most recent quarter ended April 30th, U.S. sales grew 5.9% year over year. Analysts are also expecting a slowdown in the rate of growth.
Here is a chart of Walmart: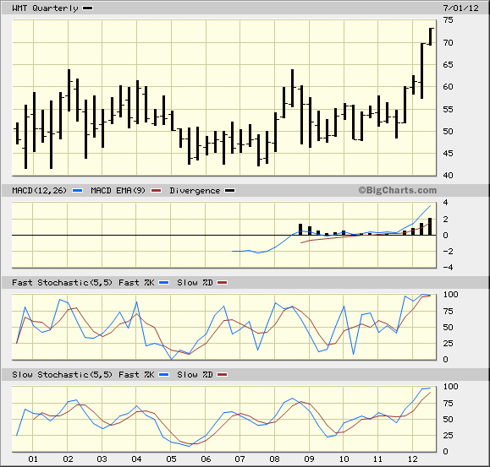 Home Depot (HD) has also seen a great rebound in share price and is just like Walmart above, very overbought currently. At the recent price of $51.45, it's selling at 4.43x book value and 19.39x trailing 12 months earnings.
Sales are only expected to grow 5.1% for the fiscal year ending Jan 2013 and slow down to growth of only 2.4% for the following year based on earnings estimates compiled by Yahoo.
Here is a chart of Home Depot: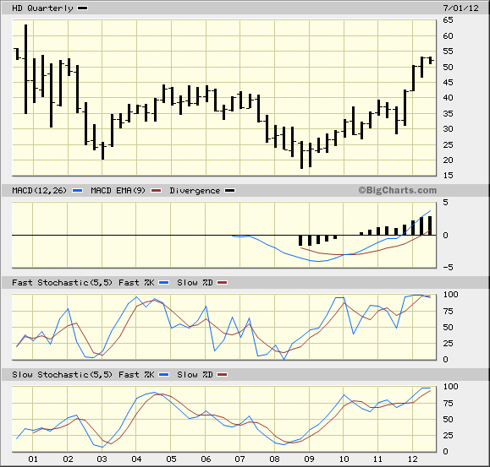 The last stock I wanted to analyze was Chipolte (CMG). These restaurants have been wildly successful and one just opened up close to me in Ithaca NY. The share price has also been wildly successful. They too will be tested in light of the current headwinds facing retailers all around.
At the current price of $394.77, it's selling at 10.63x book and 53x trailing 12 months earnings.
In their most recent quarter ended March 31st, they noted that the average revenue for each U.S. restaurant opened for at least one year was $2.072 and that was 12.7% better than the prior year. Overall revenue increased 25.8%.
Analysts are looking for sales growth of 23.60% this recent quarter ended June 30th and full year sales growth of 22.2% this year ending December 2012.
Here is a chart of Chipolte: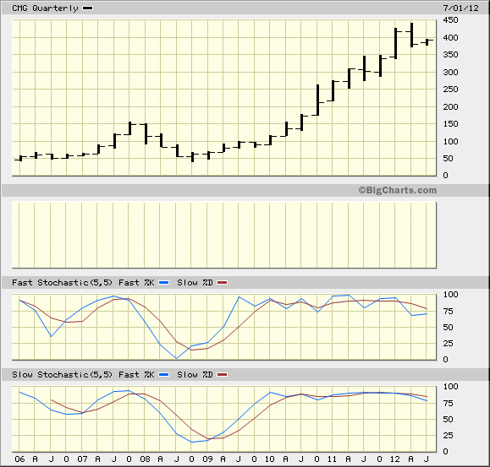 Based on my initial observations of retail sales growth and cycle trends, it's difficult to be optimistic about retail sales growth expectations for individual companies as they stand. At a minimum, I am bias we'll see both misses in revenue estimates as well as downward revisions of future estimated revenue growth.
Disclosure: I have no positions in any stocks mentioned, and no plans to initiate any positions within the next 72 hours.