Activision Blizzard (NASDAQ:ATVI) is a major video game producer and has produced notable franchises such as Call Of Duty, World Of Warcraft, and Diablo. Activision is primarily responsible for console (PS3, X-Box 360 etc.) while Blizzard is primarily responsible for online content (subscription-based services). The company underwent a major restructuring in 2009 to reduce costs and make the operation more efficient in the eye of lagging titles. It also underwent a more minor change of course in late 2010, and 2011 by eliminating music and casual gaming titles. This has resulted in a much leaner operation better positioned for the future; yet its stock price has lagged behind.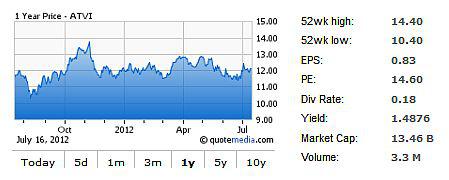 Activision Blizzard passes the eye test for return vs. risk. Its current ratio is currently above 2.5 and the company has zero debt. The company is currently trading at a relatively modest 14 P/E ratio, its five year P/E comparison is not relevant because it was artificially high due to negligible earnings at one point. Its cash flows have steadily risen over the years and yet price appreciation has not occurred.
I believe that investors may have been scared off for some of the following reasons: A decline in World Of Warcraft subscriptions, loss of Call Of Duty market share to Electronic Arts (NASDAQ:EA) Battlefield 3, relatively flat revenue numbers, decline of titles such as Guitar Hero, and the movement towards online gaming. All of these concerns are either easily explainable and some even provide value.
Looking at revenue: Some 73% of 2011 revenue came from three major titles: Call Of Duty, World Of Warcraft, and Spyros Skylanders. Net revenue has only risen 6.9% and 3.9% over the past two years. On a non-GAAP basis, revenue has in fact declined yoy. However, the company is releasing fewer titles and on a per title basis, revenue has increased. Additionally, the only major title released in 2011 was Call of Duty Modern Warfare 3 which has sold over 25 million copies. Spyro was released at the tail end of 2011 and thus will make a significant amount of revenue in 2012.
However, in 2012, Activision released Diablo 3 which sold almost 4 million copies on its first day of sales in May, in addition to 2 million copies given to WOW annual subscribers. Looking at historical trends of COD, this first day pace puts it selling about 12.5 million copies leading to an expected revenue of $750MM. Even if the next Call Of Duty Black Ops does not sell any more copies than the last one, it will still generate $1.25B revenue. WOW subscribers have stabilized at around 10.2 million and given the price of an annual pass, this should generate about $1.5B.
Finally, the company is hoping Spyro will become a $1B franchise. Even if it only does $500MM of revenue this year, this yields revenue of $4.25B and after adding in distribution revenue which has consistently $400MM over the past 3 years, yields $4.65B. The company is only expecting $4.5B. Thus I expect the company to beat estimates. However, my estimate is conservative as it does not include revenue from the other 27% of revenue from 2011, and is conservative measuring the revenue of Call Of Duty and Spyro. Nor does this include revenue from an increase in WOW subscriptions due to the potential release of a new WOW Mists Of Pandaria. Top line revenue could easily exceed $5B in my estimation.
The most important idea about revenue providing it with stability is as follows: Activision develops a product that must be purchased again and again as opposed to the consoles on which the games are played. This puts Activision in an inherently strong position.
Further revenue growth beyond this year is quite foreseeable. The new WOW should drive up subscriptions. Diablo III was the first release in the franchise in 10 years and is ripe for patches and add-ons for consumers to buy. The company is developing a new game with Bungie which should capitalize off the success of Halo. Activision is also currently developing a new massively multiplayer online game which doesn't have to be as successful as WOW to have a significant impact upon the company. This should drive revenue in the 2-3 year time horizon. Spyro should continue to grow because of users ability to buy new toys to add new functionality to the game, plus a new title in the series coming.
Activision has finally been able to tap into the Chinese market with its top franchise COD. It has been difficult to approach China because of privacy issues, but Activision will be making it free with the opportunity to buy things online like in WOW. This is a great opportunity because costs for online games are low and this is an untapped market which could change the face of COD.
Battlefield is a real threat to COD. It has received reviews just as strong as COD, and did well last year with Battlefield 3. I believe that COD will remain a strong title in the coming years. COD is already entrenched in the position. More importantly, the main way in which COD is better than Battlefield, according to users, is multiplayer game play. This is significant given the rise in social media and the rise of games that have more and more users. Additionally, the younger generation is more interested in playing with friends, making COD very appealing. Once they start with COD, it becomes tougher to make them buy Battlefield.
Activision also has a significant advantage in the massive multiplayer online gaming industry. It has approximately 60% of all online MMOG gamers. These games are inherently dependent upon network effects making its position quite protected. It also gives the company the proper platform to launch more of these types of games. This is evidenced by EA's attempt to enter the industry with the Star Wars franchise. Total users began around 1.7 million but already dropped to 1.3 million within 3 months. This also indicates that a drop in subscription for MMOG can happen and illustrates that WOW's drop was significantly smaller on a percentage basis. The release of a new WOW will definitely increase subscriptions.
Spyro is also a great venture in my opinion. It exposes the company to a totally different market, and one that is often overlooked by other game makers: Younger kids. The game has already done well. But the nature of the toy system combined with children's short attention span will give this game a more consistent source of revenue than traditional games of this platform.
These platforms give me confidence in revenue streams for the coming years. However, one should be equally excited by the company's restructuring and cost reduction. Cost of sales has consistently declined over the past three years from 31% in 2009 to 24% in 2011. Cost of intellectual property licenses, and marketing, have similarly declined. This has resulted in a non-GAAP increase in operating margin from 25.8% to 30.3% since 2009. Its margins are already strong in comparison to competitors
Electronic Arts has recently seen a sharp rise because of a turn towards profitability which has historically been much lower. Investors have reason to believe that Activision's margins can continue to improve or, at the very least, remain high given the direction of the company. The company has made a focus to decrease the number of titles to just those with strong returns, which resulted in lower costs. Additionally, the company's rising revenue is more likely to come from the Blizzard part of the operation, due to the company's focus on online games. These games' costs represented only 5% of revenue but made up 29% of revenue.
Console games on the other hand represented 51% of total revenue but its costs were 24% of revenue. With COD moving more online, more WOW coming out, and other opportunities, Activision is well positioned to take advantage of this trend. Margins may also increase due to the company's increased presence abroad. The tax rate rose this past year to 18% from 15% due to a rise in revenue in America. However, Asia has been Activision's fastest growing market at 22% and 12% revenue in 2011 and 2010 respectively and this should continue with COD moving to China and a new WOW package.
Another possible catalyst for growth comes in the debut of new games consoles from Microsoft, Sony and Nintendo. When these release, those that upgrade will have to buy new games including those from Activision. However, those that do not upgrade will not slow their pace of buying.
Looking at the company's cash flows provides further evidence of company strength. The company has increased its cash flow over the past few years. The company's FCF yield is slightly less than 7%. This is primarily due to relatively flat revenues. However, rising revenues combined with strong margins should provide a boost to this. The company was the only one of competitors among EA, THQ and TTWO to have a positive free cash flow during each of the past four years. With this FCF, the company has a payout ratio of over 90% between buybacks and dividends.
The valuation situation can be seen below. In all metrics, Activision appears to be the cheapest. Regardless, Activision is cheap on an absolute basis, especially when one examines its EV/EBITDA value. Ascribing price targets is more of an art than a science, so I am comfortable with just stating that it is cheap.
It appears that Activision presents a strong opportunity from a qualitative and quantitative perspective. Nonetheless, there are risks to this thesis. Just as Guitar Hero no longer exists, it is conceivable that one of Activision's major titles declines significantly in the coming years. As three titles make up 73% of revenue currently, this would be a major hit. This is a major risk as WOW, the company's most important title is also its oldest. It also is a risk given some of the negative reviews Diablo III and COD have received over time. Thus, investing in ATVI becomes in many respects a bet on the company's ability to produce good games in the future. This can be doubly troubling given how much Activision invests in R&D (15% of revenue) to develop these games.
However, Activision has the strongest history of all game makers in this market. Even more importantly, Activision is the leader to produce the next MMO. It's not certain, but given its prestige in the area and competitive advantages, I believe Activision is the most likely. And given gaming's move toward more people and social networking, the next MMO could be the golden ticket of the industry.
Other risks include competition. Just as Electronic Arts has ramped up competition to Call Of Duty, other companies may enter the fray in this market or other game markets. The company is inherently dependent upon the disposable income of the populace and a global tightening would surely affect the company. Additionally, video games are a luxury and a diversion; new diversions could arise in the coming years rendering game-makers on a slow downward trend. The company does not have a significant currency risk as its revenue streams are diversified.
Nonetheless, I believe Activision is a strong investment. It is well-capitalized to weather any storm. It has established itself as a leader for its products and is well protected from competitors. Its titles have positioned it well for future growth and it is poised to take advantage of trends to streamline its operations.
Disclosure: I have no positions in any stocks mentioned, and no plans to initiate any positions within the next 72 hours.