When individual stocks lag a successful sector, the market is usually telling us something about those companies' prospects. While stock price moves are often unpredictable and irrational, especially on a day-to-day basis, over the long-run most big companies are appropriately valued. So if we take an 18-month period and find an outperforming sector, the stocks that are lagging behind that sector are probably doing so for a reason.
This brings us to utilities. The electrical utility sector, a safe haven due to consistent, regulated earnings growth and strong, generally above 4% dividend yields, has outperformed the market as a whole over the tumultuous period since the beginning of 2011. After screening for companies with market capitalization greater than $5B and dividend yields above 3.5% - a pool of 22 U.S.-based companies - I looked at ten stocks that outperformed the sector as a whole with 25% or better stock price appreciation over the 18-month period, and then at six more that have performed about in line.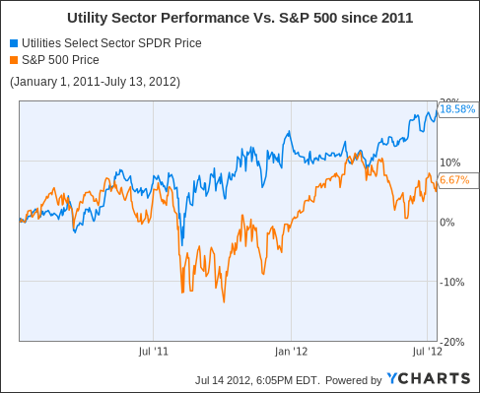 That leaves us with the six laggards in the sector. When looking at the numbers for these companies, it's easy to see why they are struggling compared to their peers: with one exception, each of these companies has negative growth forecasts and another red flag or two threatening their prospects. The more important thing is to look into what's behind these numbers and whether these utilities are out of power or have a chance to crank the growth generation soon.
So as I look through these companies with brief capsules, I will focus on causes for the stock and company's struggles, and then an assessment of whether those causes might dissipate. Information comes from TDAmeritrade, The Wall Street Journal, the companies' websites, Seeking Alpha transcripts, and YCharts. Non-GAAP earnings are used except on the charts.
1. American Electric Power Company (AEP)
Price (as of July 13th close): 41.69
Market Cap: $20.2B
2011 P/E: 13.36
2012 P/E (estimated): 13.71
2013 P/E (est.): 13.28
2011 P/FCF: 25.73
Yearly Revenue Growth: 4.32%
EPS Growth last two years: 1.99%
Estimated EPS Growth next three years: 1.73%
Dividend Yield: 4.51%
Price change (1/3/2011-7/13/2012): 15.01%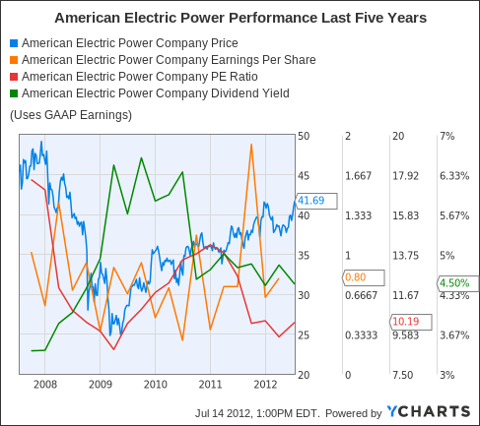 We start with the exception. Ohio-based American Electric has done ok in the selected time period, only slightly lagging the sector as a whole. The stock's strong performance in the second quarter provided a good example of how utilities benefit from investor rotations to safety stocks.
The company's primary business as a regulated electric utility, with nearly 95% of revenues coming from its utility businesses in Ohio, Texas, West Virginia, Virginia, Kentucky, Indiana, Michigan, Oklahoma, Tennessee, Arkansas, and Louisiana. American Electric is known as a major coal-burner, which could be part of what is tarring the stock, as the EPA seeks to rein in coal usage in the U.S. The other major overhang for the stock was a regulatory case involving the Public Utilities Commission of Ohio which close on July 2nd. American Electric was handed a mild defeat when the commission ruled that the company will have to charge market-rate capacity charges to other, retail electrical suppliers through 2015, when the rate will hit a fixed level.
American Electric was looking for more rate support in adjusting to a competitive marketplace and released a statement of disappointment over the ruling. Analysts' initial reaction has been positive, however, with two analysts upping their price target for the company and a third raising AEP to outperform. The market response too has been positive, with the stock up about 3% since the July 2nd announcement. The relief over the mixed decision and the certainty make AEP a more attractive proposition, at least for the market as a whole.
Short Take: The coal issues and limited growth forecasts mean American Electric isn't a smash success. But while the company doesn't have the best dividend growth record, it does have a high yield and a low valuation compared to its peers from the other lists. The company probably belongs in the better performer lists, and can be had at a relative discount for that performance.
2. Entergy Corp (ETR)
Price (as of July 13th close): 69.6
Market Cap: $12.3B
2011 P/E: 9.13
2012 P/E (est.): 13.23
2013 P/E (est.): 13.03
2011 P/FCF: 27.73
Yearly Revenue Growth: -3.81%
EPS Growth last two years: 6.89%
Estimated EPS Growth next three years: -9.50%
Dividend Yield: 4.77%
Price change (1/3/2011-7/13/2012): -3.29%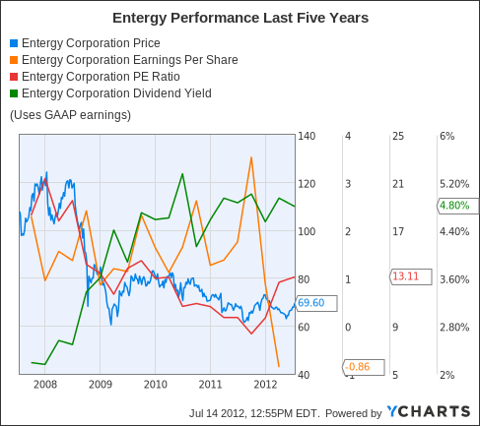 Now we're in the area of real underperformers. Despite a strong dividend and earnings that lead to a low valuation, Entergy has lost value over the past 18 months. The biggest separating factor: Entergy's nuclear business. Entergy has the second largest nuclear generation capacity in the country (behind the next company on this list). Most known for its Indian Point plant in New York, Entergy's stock struggled in the wake of the Fukushima disaster of March, 2011.
The problems that drag on Entergy's earnings are familiar ones, ones that we will see below. Along with the concern for Indian Point, which sits close to a fault line, there is the effect of low natural gas prices, which hurts the company's wholesale generation business, which earned Entergy $2.74/share in 2011. Entergy's initial guidance for this year included $1.80/share for the wholesale business, and downward revisions after the Q1 report included the impact of low prices on the wholesale business.
The combination of low prices affecting the wholesale business and the pending expirations of Entergy's nuclear operating license at both units of the Indian Point plant are weighing on the stock. The last month has seen an uptick, as Entergy got a renewal for its Pilgrim plant in Massachusetts, though the company has at the same time locked out its workers at the plant over a contract negotiations dispute.
As a last note, Entergy has raised its dividend 7 out of the past 12 years. Currently, the payout is 63% of 2012 earnings, as taken from the midpoint of Entergy's guidance. So the dividend might not grow much until the company gets on a more stable growth path, but it should be well-supported by the utility part of the business.
Short Take: If anybody has insight into or a good feeling about Entergy's chances of getting a renewal in Indian Point, this might be a decent gamble. Otherwise, there may be better ways to make a similar investment.
3. Exelon Corporation (EXC)
Price (as of July 13th close): 38.52
Market Cap: $32.8B
2011 P/E: 9.26
2012 P/E (est.): 13.81
2013 P/E (est.): 13.81
2011 P/FCF: 31.57
Yearly Revenue Growth: 1.50%
EPS Growth last two years: 0.62%
Estimated EPS Growth next three years: -11.50%
Dividend Yield: 5.45%
Price change (1/3/2011-7/13/2012): -8.15%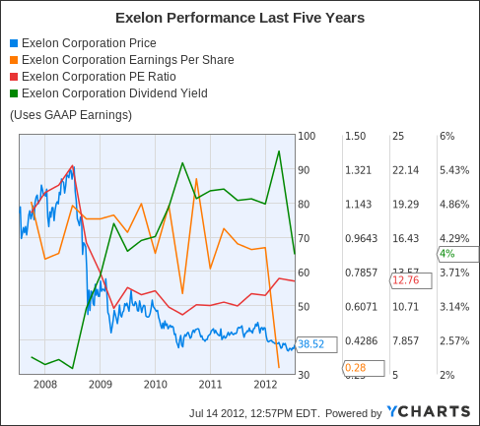 (Note: Chart misrepresents dividend, which was split in two separate payments for Q2 2012. See 3rd paragraph below)
Take Exelon. Exelon, the nation's largest nuclear power generator and the second largest utility company, just completed a major merger with Constellation Energy, an acquisition that has so far gone smoothly and holds promise of above-forecast synergies and all the good stuff business people like about mergers (without the scandal other mergers have swum in).
Exelon's growth is forecast to fall off the table this year, dropping from last year's $4.16 EPS to a management guidance of $2.55-2.85 EPS this year. Analysts expect essentially flat earnings growth from now through 2014. At issue is Exelon's generation business. The company generates energy and then sells it to other suppliers or utility markets in the competitive market. Last year, this accounted for 54% of the company's revenues and nearly 71% of its net income. With natural gas and coal prices near record-lows, the price Exelon can sell its gas at is extremely low. The Constellation legacy brand has a great share of competitive business as well, and the deal's synergies largely come in this half of the business.
The company's dividend is frequently misunderstood. The company pays $2.10/share a year in dividends, though for the most recent quarter the $.525 payment was split into two to account for the Constellation merger closing during the quarter. Management spent a great deal of time at its recent analyst day declaring that the dividend would stay at $2.10/share until growth returns to the company. That works out to a roughly 75% payout ratio at current earnings expectations for this year and the two that follow, which is high but not unsupportable.
Short Take: This is the stock I own in the sector, so I am obviously a fan of the proposition. Patient investors who expect natural gas rates to normalize in the next 2-3 years and want a safe 5.5% or so yielding dividend would do well with EXC, even if, with its reliance on economic growth, it is indeed a contrarian play.
4. PG&E Corp (PCG)
Price (as of July 13th close): 45.37
Market Cap: $19.2B
2011 P/E: 12.67
2012 P/E (est.): 14.22
2013 P/E (est.): 14.68
2011 P/FCF: neg.
Yearly Revenue Growth: 8.06%
EPS Growth last two years: 5.94%
Estimated EPS Growth next three years: -0.68%
Dividend Yield: 4.01%
Price change (1/3/2011-7/13/2012): -4.26%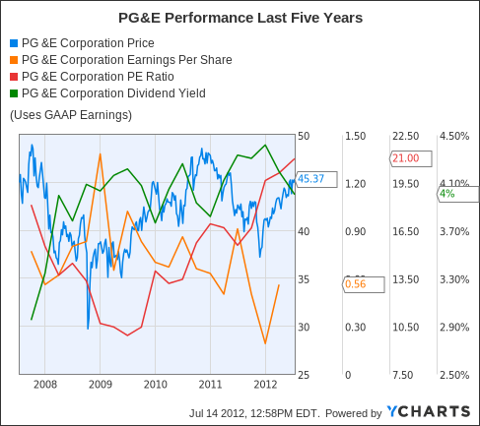 Pacific Gas & Electric Corporation, a San Francisco-based company that provides natural gas and electricity to 15 million people in California, has had a simpler problem weighing on its stock. The company was found responsible for the rupture in 2010 of one of its natural gas pipelines, a tragedy that killed eight people. The company has been involved in legal and regulatory processes to compensate victims, towns, and others affected by the pipeline, and of course has suffered a great blow to its reputation.
While the size of the payment is not yet known and still hangs over the stock, PG&E may well have already hit bottom. Year to date the stock is up over 10% and is beating the sector as a whole. The company raised its dividend five consecutive years before stopping in 2010, perhaps coinciding with the bad news of above. The dividend is decent, and the payout ratio is 57% of forward earnings at the midpoint of guidance. Once PG&E settles its legal and regulatory issues and moves forward in rebuilding its reputation, the dividend and earnings growth may not take a long time to follow.
Short Take: There's something that makes me queasy about getting into a stock that has received a "tragedy discount." With the compensation issues not wholly resolved, and with forward earnings valuations that are not much cheaper than some of the better performers in this group, PG&E can be skipped.
5. Public Service Enterprise Corp (PEG)
Price (as of July 13th close): 32.71
Market Cap: $16.5B
2011 P/E: 11.94
2012 P/E (est.): 13.63
2013 P/E (est.): 13.57
2011 P/FCF: 11.24
Yearly Revenue Growth: -6.06%
EPS Growth last two years: -6.09%
Estimated EPS Growth next three years: -3.45%
Dividend Yield: 4.34%
Price change (1/3/2011-7/13/2012): 2.86%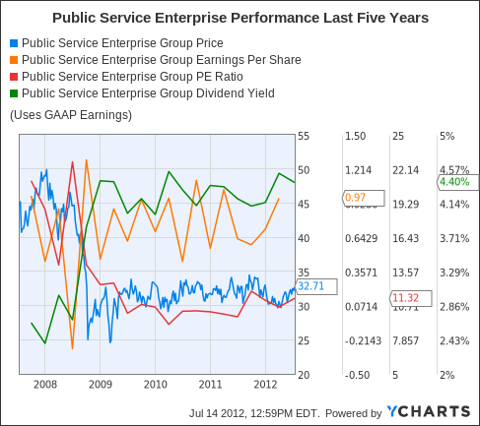 This New Jersey based utility company has a structure that seems downright foolhardy in low commodity price times like these. The company's main businesses are PSEG Power - its regional wholesale business, and PSEG - its regulated utility business. So far, so good: we're on the Entergy, Exelon, etc. path. What's different about Public Service Enterprise is that its wholesale business is bigger than its utility business - the wholesale business accounted for over 60% of 2011 operating earnings. In Q1 of 2012, the two units were equal, but Public Service Enterprise is operating at full capacity when the PSEG Power unit is leading the way.
Beyond the distinction mentioned above, it's worth noting that per the forecasts, PEG is further along the down cycle in earnings than some of the other utility companies with similar structures. PEG has already had negative earnings growth for two years, and this year is expected to provide the trough before eventually rebuilding of earnings. The dividend is sustainable with a forward payout ratio of 59%, and while the company has an inconsistent legacy of dividend growth, it did raise the dividend at the beginning of the year.
Short Take: This is the steadiest option among the losers. Public Service Enterprise does have the upside that some of the other stocks on this list have if natural gas prices recover, but the dividend and valuation proposition favors the others over this company.
6. PPL Corp (PPL)
Price (as of July 13th close): 28.47
Market Cap: $16.5B
2011 P/E: 10.47
2012 P/E (est.): 12.38
2013 P/E (est.): 11.86
2011 P/FCF: 135.57
Yearly Revenue Growth: 49.48%
EPS Growth last two years: 23.30%
Estimated EPS Growth next three years: -7.59%
Dividend Yield: 5.06%
Price change (1/3/2011-7/13/2012): 7.11%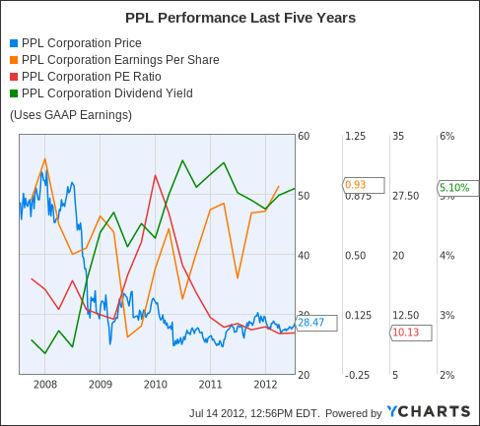 The general story behind PPL Corp's low valuation and underperformance is one you can guess by now. The company has a large electric supply business that sells its generated energy in competitive or wholesale markets; this portion of the business provided 42% of 2011 earnings, and is guided by the company to provide 30% of 2012 earnings. Indeed, per the most recent earnings guidance, the $.43 loss in earnings forecast for this year is wholly contained in the supply portion of PPL's business, in which the company expects a drop of $.45 EPS.
Unusual about PPL Corp is that while it is an Allentown, PA based company, it has a sizable UK (as in England, Scotland, etc.) regulated business. The UK business is expected to be the company's main earnings driver this year. PPL raised its dividend this year, but it anticipates its regulated business (in Pennsylvania and Kentucky as well as the UK) to more than cover the dividend. This is a common theme among diversified utility companies - the aim of having the stable, regulated business cover the dividend to secure it, while leaving the competitive business to have the upside.
Short Take: That upside seems like it could take a while with PPL as with the other stocks on this list. With its strong dividend, however, the stock is an appealing choice.
Summary
The common theme among these stocks, American Electric Power excepting, is a clear reason for the stock's underperformance. For PG&E, there is the major litigation overhang. Each of the other four companies have a sizable unregulated power wholesale or supply business that is getting hammered by low natural gas prices. American Electric Power only just barely lands on this list, and due to relatively minor regulatory issues and its coal reputation.
Of the four underperformers with the unregulated businesses, I like Exelon for its dividend and potential post-merger boost to savings and leverage, and PPL for its more balanced business model and its strong dividend. Entergy has a lot of risks attached, and Public Service Enterprise doesn't match up well on valuation and dividend. Beyond that, American Electric Power is a strong performer that can still be had for fairly cheap, and PG&E has a little bit too much risk looming still, and not enough quality valuation or dividend to make up for it.
Scraping at the bottom of the barrel can sometimes lead to a good meal, and sometimes leave you with nothing but splinters in your belly. In a normally safe sector like utilities, the stocks that trail are obviously unsafe, for one reason or another. Still, the market has priced in the risk, and with that priced in risk there is now some opportunity for reward. Tread carefully, but boldly.
Disclosure: I am long EXC.