Commodity Chart Of The Day
Daily Euro Currency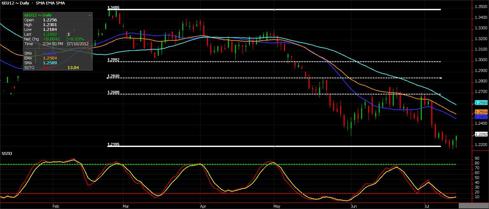 Click to enlarge
Even with dire circumstances in Europe, high to low, the euro currency is down less than 9% year to date. Yes, prices are just off a fresh 2-year low, but on a speculative basis, aggressive traders could buy as long as the recent lows hold.
My take is if the 1.2200 level can hold in the September contract, prices bounce to at least 1.2700 in the coming weeks. For outright option trades, I like the purchase of 1.2500 calls for approximately $1200, or the 1.2700 calls for about $550. Those who are a bit more aggressive could get long futures and sell 1.2500 calls 1:1. Another option would be to just run a tight stop loss below the recent lows.
Risk Disclaimer: The opinions contained herein are for general information only and not tailored to any specific investor's needs or investment goals. Any opinions expressed in this article are as of the date indicated. Trading futures, options, and Forex involves substantial risk of loss and is not suitable for all investors. Past performance is not necessarily indicative of future results.
Disclosure: I have no positions in any stocks mentioned, and no plans to initiate any positions within the next 72 hours.